Access Email on the Web
Your Outlook Desktop application is a powerful tool; however, it is not the only way to access your email at WSU. Your email can be view through a variety of applications, including a web browser.

Log In
1. Visit mail.wichita.edu
2. For Domain/User Name: enter ad\your myWSUID, for example, ad\i111i222
3. Password: Enter your myWSUid password
4. Private computer: uncheck this box if you are on a public computer.
5. Press Sign in.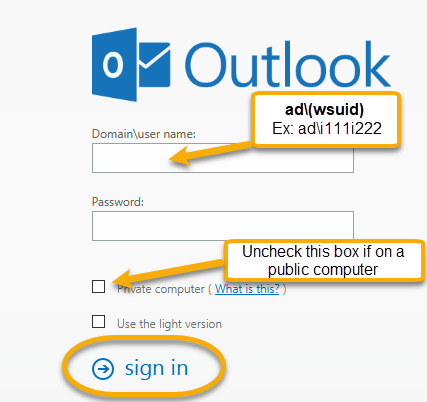 Navigation
Basic Navigation can be accessed via the App Launcher grid in the upper left. Here you can find your Calendar, Tasks, and Contacts.

Settings
Settings, items you normally find in backstage view on your desktop application of Outlook, can be accessed via the Settings gear in the upper right. Here is where you can access your rules, junk mail settings, out of office message, and more.

Account Information
Change your picture or open an additional mailbox, by clicking on the circle in the upper right. If you don't currenly have an image, this will be a grey circle.

Creating Emails
The screen is slightly different than the desktop application. The ribbon at the top contains a New button. Select this to start a new email.

Notice that the navigation within a new email is also different. Although the ability to send or attach items is at the top of the screen, as you may be used to, most ribbon features, particularly formatting settings, will appear at the bottom of the email screen.