Shocker Printing Solutions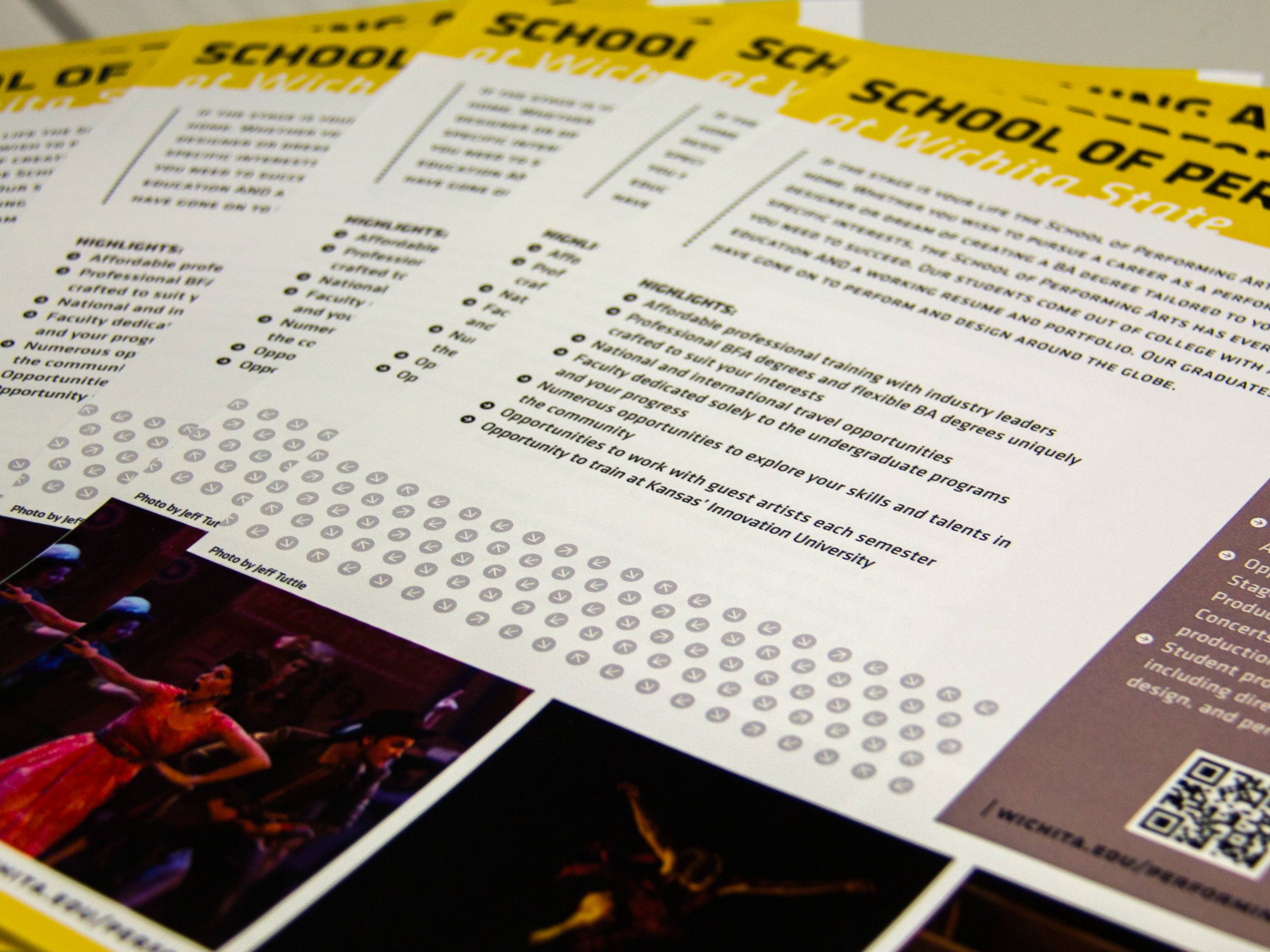 Shocker Printing Solutions is committed to delivering exceptional products and services to the university community. We recognize that our actions hold profound influence on the university's successes and progress, extending beyond mere ink on paper. Every item we create and distribute mirrors the university's values and aspirations, embodying our dedication to the mission.
Services
For pricing, see our storefront.
Digital Printing / Copying
Up to 12" x 18"
Black and white printing
Full-color printing
Wide Format Printing
Up to 60" wide
Posters
Signs
Banners
Stickers
Window clings
Canvas wraps
Flat Bed Printing
Up to 36" wide
Foamboard
Wood
Glass
Plastic
Metal
Yard signs
License plates
Direct-to-Garment
Up to 16" x 20" 50 pieces
T-shirts (cotton and poly/cotton blends)
Polos (cotton and poly/cotton blends)
Aprons (cotton and poly/cotton blends)
Offset printing
We'll assist with any print job that would be better suited to print offset.
Bindery Services
Coil binding
Folding
Booklets
Cutting
Envelope inserting
Laminating
Perforating
Padding
Official University Forms and Stationery
Letterhead
Business cards
Envelopes
Notecards
Supplies
We maintain a small inventory of office supplies, including paper, printer cartridges, envelopes and WSU logo items
All other items are ordered directly from the office supply vendor, Office Plus of Kansas
If you need a log-in for Office Plus, please email them at wsu.orders@officeplusks.com
All Office Plus orders and Dex auto-replenish toners are delivered to Shocker Printing Solutions and we provide delivery to the campus community
Campus Copier Fleet
Xerox multi-function copier / printers
Submit a TDX ticket to request toner or service for copier / printers on this program
Toner Auto-Replenishment Program
DEX program for networked desktop printers
Call 800-886-2329 to request toner or service for printers on this program.
Service levels
Most print jobs can be produced in 3-5 business days. Complicated jobs will take longer. We hope that the guidelines below are helpful. Please contact us if you have a shorter turn-around time and need assistance.
Apparel: 10 Day Minimum
Buttons: 10 Day Minimum
Canvas: 10 Day Minimum
Stickers: 5 Day Minimum
Yard Signs: 5 Day Minimum
Rush fees
Rush fees will be charged if we are required to shift our deadlines and reprioritize our existing workload in order to complete your job in a shorter-than-normal timeframe. Our system cannot calculate a percentage cost, so you may not get an accurate cost estimate. Keep in mind that rush fees only apply to printing and not to supply orders.
Printing needed in less than 24 hours: Add 30% of the total amount invoiced or $35.00, whichever is higher.
Printing needed in less than 48 hours: Add 20% of the total amount invoiced or $25.00, whichever is higher.
Templates
Business Cards and Full-bleed Documents
Retractable Banners
Guides