Several big projects moved forward by Kansas Board of Regents
As part of the April Kansas Board of Regents meeting, several key projects for Wichita State were moved forward.
While Wichita State University, alongside the rest of the higher education community, continues to grapple with the immediate and lasting impacts of this pandemic, we believe these strategic initiatives will not only help position WSU as an institution for the future by providing additional educational and research opportunities for students, faculty and staff but also will help fulfill our mission and vision to be an educational and economic driver for our city and region.
---
Faculty Senate endorses one-year extension for tenure-track faculty
On April 13, Faculty Senate voted in favor of a one-year automatic extension of the probationary and mandatory review period for tenure-track faculty. Faculty will have the opportunity to opt out of this extension if they want to maintain the current mandatory year for review. For more information, click here.
---

Troubleshoot problems with images in Blackboard tests
If you are delivering tests in Blackboard, you need to know that image uploads are not always showing up correctly for students. If you are using images in tests, please read through this short training to ensure your images have been added in a way students can see when they take the test.
Would you like a Blackboard expert to look over your test and review your test settings to ensure they reflect your goals? Email a request for a review to Instructional Design and Access at IDA@wichita.edu.
---
Town Hall recap
Wichita State University president Jay Golden joined Student Body president Kitrina Miller and others for a Virtual Town Hall on Thursday.
Provost Rick Muma, vice president for student affairs Teri Hall and Carolyn Speer, manager of the Instructional Design and Access department, also answered questions submitted during the town hall.
Virtual Town Halls are scheduled for 2 p.m. April 30 and May 14.
---
Credit/No Credit grading option now available to students
These past few weeks have been a period of great transition for our university and several changes have already been announced as we navigate our response to COVID-19.
Today I am announcing an option for students to adjust grades, on a per class basis, from the assigned letter grade to a credit/non-credit option for undergraduate students and satisfactory/unsatisfactory option for graduate students.
These options for undergraduate and graduate students will provide a grading option that will not impact GPA calculation.
---
Convergence Sciences Town Halls to be held April 23-24
You are invited to attend upcoming town halls to talk about the president's Convergence Sciences Initiative. You'll hear key information about the call for proposals, and most importantly get the chance to connect with people whose expertise you need for your proposal, or who are seeking to join a research group.
The town halls will be organized around the three topics:
Sustainability at 2 p.m. Thursday, April 23
Health Disparity at 1 p.m. Friday, April 24
Digital Transformations at 3 p.m., Friday, April 24
A Zoom meeting link will be emailed to you after you RSVP.
Convergence Science Town Halls and Events
---
Learn how to use BeoShock, The High-Performance Computing Cluster at Wichita State
Beoshock new user training with expert Kyle Hutson, BeoShock System Administrator, will be available at 3 p.m. Friday, April 24 via Zoom.
Agenda: The first hour will be an introduction to Linux and HPC in general. It will be mostly show-and-tell, discussing overarching concepts. This will be particularly useful for people coming to Beoshock from a Windows or Mac background.
The second hour will be more hands-on. We will discuss Beoshock in particular, how to submit a job, request specific resources, etc. Have your computer ready to log in. We won't get into the complexities of writing multi-node code, but we will talk about using some of them.
---
Zoom Security: What to know for a safe meeting
Zoom is great meeting tool, but due to its popularity, it has been used by anonymous users being disruptive or "Zoom Bombing". Learn about how to have safe meetings and avoid disruption through insecure settings. Learn how to control screen sharing, lock the meeting, setup the waiting room and more.
---
Faculty Senate Call for Nominations
Nominations are now being accepted for division representatives and two university-wide at-large seats for the Faculty Senate to serve a two-year term starting in the 2020-21 academic year. Senators represent the faculty at the university and serve as a liaison for their academic divisions. The Senate meets twice-a-month during the regular academic year from 3:30-5 p.m. on the second and fourth Mondays of the month.
All faculty are eligible for nominations. Current senators whose term is expiring are eligible for another term.
Please submit your nominations to Lee Ann Birdwell before midnight tonight (Friday, April 17). Self-nominations are strongly encouraged. Your participation is essential to a fair and inclusive process of shared governance.
---

It's time to update your Strategic Planning Initiative
The Strategic Planning Committee and Activation Teams recently completed the review of the 167 submitted Strategic Planning Initiatives (SPI). To see the high level documentation of the efforts to support the mission of Wichita State University you'll find the preview of the TeamDynamix dashboard, here.
All university SPI's should be updated for end of year reporting by Friday, May 1, 2020. To update your SPI's, navigate to the WSU Strategic Planning website. Additional assistance can be found in the How-to-Guide.
Link to the Team Dynamix Dashboard
---

State Employee Health Plan updates in response to COVID-19
Gov. Laura Kelly announced four provisions on March 13, that are effective immediately and for the next 60 days for employees and dependents enrolled in medical insurance through the State Employee Health Plan.
SEHP will cover medically necessary diagnostic tests that are consistent with CDC guidance related to the COVID-19 at no cost share to member, where it is not covered as part of the Public Health Service response.
SEHP will allow early refills on 30- or 90-day prescription medications and / or allow members to use their mail order benefit.
Given the nature of the COVID-19 outbreak, seeking in-person medical care has the potential to further spread the virus. SEHP partners with Aetna and Blue Cross Blue Shield of Kansas to provide Telehealth services with a virtual doctor's office. There is 24/7/365 access to this service. The member cost share will be waived for any Telehealth service.
Blue Cross Blue Shield members - Amwell
---

Open / Alternative Textbook (OAT) application forms open
The Open / Alternative Textbook (OAT) initiative is designed to promote, incentivize, and grow the use of freely available resources in WSU classes to reduce the economic impact of textbook costs on the student body.
The project has two elements:
OAT Course Designation: Provides an incentive to faculty based on a $10/student course fee, which will be applied to an approved course that is using Open / Alternative textbooks that have no cost to the students. This money is split between the department offering the course (60%) and the Open / Alternative Textbook grant program (40%).
OAT Grant Program: Provides $2,000-5,000 grants to faculty who apply for the grant to redesign a course with no-cost resources, or to write or contribute to an open educational resource, or other alternative text that can be provided to the students free of charge. These grants are funded by the course fees.
The OAT Initiative will be managed by Academic Affairs. OAT Course Designations and Grant Applications will be submitted via web form and reviewed by a panel be made up of: Two faculty members (appointed by Faculty Senate), a representative from University Libraries , a representative from Instructional Design and Access, at least one student (appointed by SGA), and the Associate Vice President for Strategic Enrollment Management (ex officio).
Apply NOW Grant applications and Spring 2021 course designations due May 1 for AY 2020-21.
Open/Alternative Textbook Initiative
---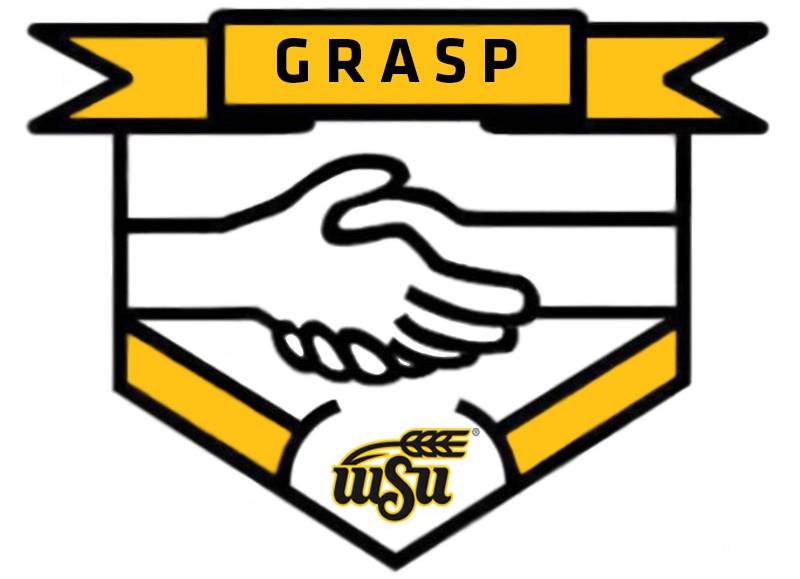 GRASP 2020 to be held on Blackboard -- Call for judges
In the spirit of continuing their support of graduate student research even while not on campus, the Graduate School will hold the annual Graduate Research and Scholarly Projects Symposium online this year; Blackboard will host virtual posters and written explanations from graduate students across campus. All WSU faculty, staff, and students will be able to self-enroll in the Blackboard Organization to view projects on May 1. Want more information about GRASP? Visit our website at wichita.edu/grasp.
Additionally, the Graduate School is seeking faculty and staff volunteers to judge the poster session remotely from 9 a.m.-5 p.m. Friday, May 1. If you have access to a tablet, computer or smart device, this would be a wonderful opportunity to learn about the diverse research and scholarly projects in which graduate students across campus have been engaged. Volunteer sign-up will close at the end of the day on Thursday, April 23. Click here to sign up.
---
University Libraries seeking faculty feedback
University Librarians are asking for faculty input on how the library can replace face-to-face with remote library instruction sessions and workshops. This quick survey will help us to better gauge what kind of support students may need so that we may prioritize our efforts.
---
Butler, WSU add two majors to articulation agreement
Leaders of Wichita State University and Butler Community College have signed an agreement that adds two majors to a list of degrees that students can start with two years of study at Butler and complete at WSU – aerospace engineering and applied computing.
Known as 2+2 agreements, the arrangement allows Butler students earning an associate of science degree in pre-engineering with a minimum cumulative GPA of 2.0 to be guaranteed admission to WSU upon completion of the appropriate application requirements.
Butler pre-engineering graduates will enter WSU with junior status, as they transfer 64 credit hours from Butler to WSU. Students would then need to complete another 62-64 hours of coursework to receive a bachelor's degree from Wichita State College of Engineering.
---

Call for artists
Gallery selections are approaching, but there's still time. We would like to ask you to encourage your students and your department to apply for the chance to become a Cadman Art Gallery exhibitor. Benefits include increased exposure, as well as experience in designing and installing their own shows.
Applications to exhibit in the Cadman Art Gallery are available through Tuesday, April 21, on the Cadman website at wichita.edu/cadmangallery.
---

Need to spruce up your resume? Attend this Virtual Resume Workshop with the Career Development Center
A resume is a document that presents your education, experience and qualifications in a clear, concise and compelling way, customized for the position to you are applying for.
Find out from how to organize your experiences, talents and skills together – and most importantly – what employers are looking for in a resume, in this virtual session with the Career Development Center from 1-2 p.m. today (Friday, April 17). You never have a second chance to make a first impression. Let us help you make sure you are putting your best foot forward!
---

Join us today for the live TikTok Talent Show!
All WSU students, faculty, staff, and alumni join us for the live showing of the TikTok Talent Show at 2 p.m. today (Friday, April 17). Students have created videos in various categories to show off their talent. Come watch and support all of the talented Shockers in the live premier show and vote for your favorite videos. Each category winner will receive a prize.
Join the talent show on Zoom here.
For more information, visit wichita.edu/virtualevents.
---

WSU graduate helps Reno County deal with COVID-19 data and respond
Working in politics appealed to D.J. Gering. He saw himself crunching numbers for a campaign or researching policy and turning those experiences into a career with a think tank.
"When I graduated from WSU, I told myself the one thing I really didn't want to do was health," he said.
Three years later, Gering is helping his community deal with a pandemic as a public health analyst for the Reno County Health Department.
---

First-Generation Student Organization virtual Zoom meeting today
The First-Generation Student Organization (FGSO) seeks to raise awareness within Wichita State University's student and professional community through activities and programs designed to foster the education of first-generation students.
We will be having our virtual meeting at 11 a.m. today (Friday, April 17) via Zoom.
Plus, we have the pleasure of hosting Courtney Lockhart financial aids Assistant Director of Student Services and Outreach. You will have the opportunity to ask questions and engage in conversation at this time also.
We are looking forward to making long-standing connections and doing great things with and for the first-generation college students here at Wichita State University, while having fun in the process. Please join us.
---
Shocker nurse stands on frontlines of the East Coast COVID-19 crisis
When Wichita State University alumna Krista Giggy leans over a COVID-19 patient to insert an intubation tube, she believes destiny led her there.
"It's been a fortuitous track that brought me here, but I have no regrets," said Krista, a certified registered nurse anesthetist at Dartmouth-Hitchcock Medical Center in Lebanon, N.H.
As with most health care workers, there have been dramatic changes in Giggy's professional world.
"I'm a nurse anesthetist, and I typically work in the operating room," she said. "But I joined the airway team at my hospital. It's an all-volunteer emergency team for when a patient needs a breathing tube or to be resuscitated."
Giggy, a 2004 Wichita State University graduate, is one of a few professionals on the team who go into the room to insert a breathing tube, IV lines or monitoring lines.
---

Tuesday Talks with Sandy and Student Health Services
Sit down with contraception specialist Sandy Hill, APRN, and Nurse Heather for a Q&A about contraception and your body! Tune in to Student Health's Facebook Live at 2 p.m. Tuesday, April 21, and ask your questions about contraceptive methods, updates, and more.
---

Check out Student Health Services' YouTube Channel
Tune in each day to Student Health Services' NEW YouTube Channel! We'll be posting tips and tricks to staying healthy while being stuck inside during the coronavirus, as well as our new staff interview series featuring Faux L'Beau!
Student Health Services on YouTube
---
Virtual meetings with TIAA Financial Consultants are available
TIAA Financial Consultants are available to help participants in the Kansas Board of Regents Retirement Plan with virtual meetings to confirm they are on track for retirement, discuss market volatility, and consider recommendations on how to invest their funds.
These virtual meetings are private and secure, with only the employee and the Financial Consultant joining the virtual meeting. Through a computer or tablet, the participant is able to see the consultant as they talk, and the consultant can share information on their screen to create an experience very similar to a traditional face-to-face meeting.
Click the link here to schedule an appointment or call TIAA at 800-732-8353 to set an appointment.
Please email Jeremy Kohn, TIAA Financial Consultant, at jeremy.kohn@tiaa.org if you have problems setting an appointment and need assistance.
---