Celebrate Earth Day with the Shockers!
The WSU Sustainability Committee is excited to share the wonderful ecofriendly things happening at WSU and in the Wichita Community during Earth Week, April 17-22, 2023! Events will include a showcase of community efforts and information, electric vehicles, panels, presentations, student research, movie showing, and a K-12 student poster display.
2023 Schedule of Events Participate in Earth Week Events Film Screening: Earth Emergency
---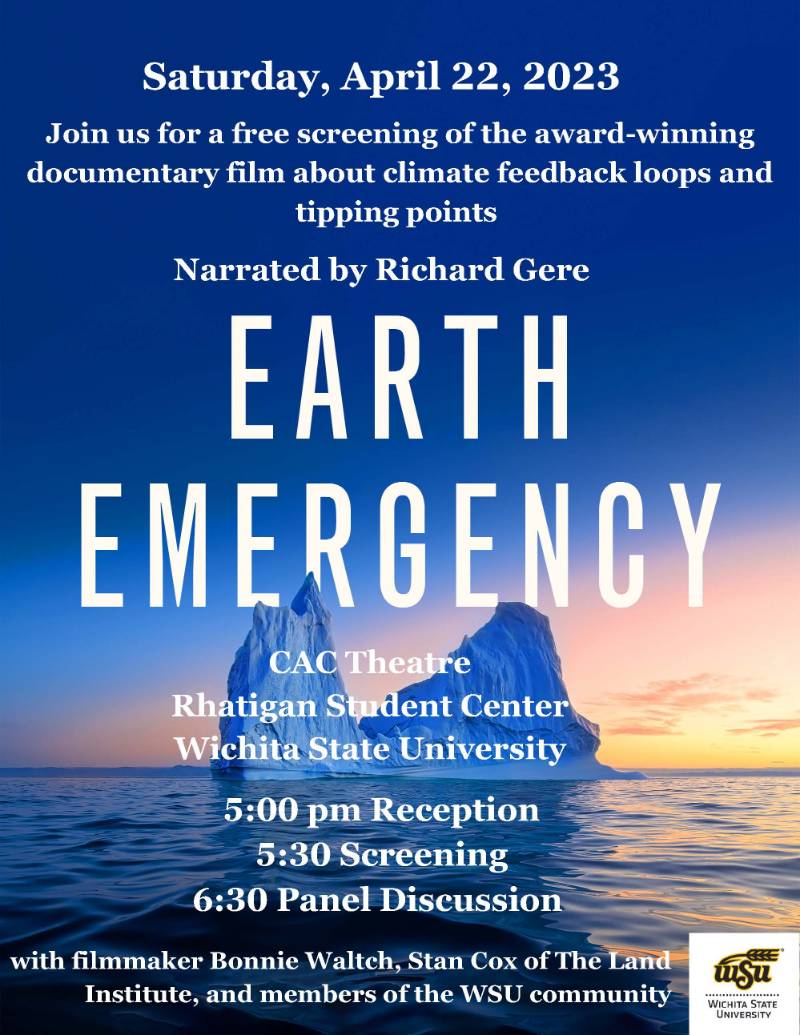 Earth Emergency Film Screening
Saturday, April 22, 2023 | 5:00pm | CAC Theater, Wichita State University
Narrated by Richard Gere and featuring the Dalai Lama and Greta Thunberg, Earth Emergency explores how human activity sets in motion Earth's own natural warming mechanisms, releasing greenhouse gases into the atmosphere, and further warming the planet. Leading climate scientists examine this missing piece of the climate puzzle which is pushing the climate to a tipping point.
- 5:00pm - Reception
- 5:30pm - Film Screening
- 6:30pm - Panel Discussion
Panelists
Bonnie Waltch, Filmmaker
Bonnie Waltch is the award-winning senior producer and writer of the one-hour PBS and international broadcast documentary, Earth Emergency, and series of five short films, Climate Emergency: Feedback Loops, narrated by Richard Gere. She has worked for a variety of television science series such as NOVA, Scientific American Frontiers, and Discover Magazine. She has produced, directed, and written films for the Woods Hole Oceanographic Institution, the Isabella Stewart Gardner Museum, the Pikes Peak Visitor Center, the Tennessee State Museum, the Mob Museum, and the National World War II Museum, among others. She was executive director of Filmmakers Collaborative, a nonprofit support organization for independent filmmakers, for 10 years. She is about to begin yet another round of querying her incubator novel, Finding Black Jaguar.
Stan Cox, Land Institute
Stan did his graduate work in plant breeding at Iowa State and performed the field research phase (on sorghum) at the International Crops Research Institute for the Semi-Arid Tropics in Patancheru, India. After graduation in 1983, Stan worked for 13 years as a wheat geneticist for the USDA Agricultural Research Service in Manhattan, Kansas. There, he worked developing new disease-resistant wheat germplasm using hybrids between wheat and its wild ancestral species. Since joining The Land Institute in 2000, Stan has been working on developing perennial sorghum. Read Stan's "Interview with a Plant Scientist". Stan has transitioned in early 2020 into a new position as Ecosphere Studies Research Fellow.
Dr. Holger Meyer, Professor of Physics, WSU
Dr. Holger Meyer's area of research is experimental high energy particle physics. He also has a background in nuclear physics. He worked at Brookhaven National Laboratory and Fermi National Accelerator Laboratory before he moved to Wichita. His current research is in neutrino physics. He is a member of the collaborations that perform the currently running neutrino long baseline experiment NOvA (Fermilab, Batavia, IL to Ash River, MN) and construct the future long baseline experiment DUNE (Fermilab, Batavia, IL to Lead, SD). With colleagues at Wichita State University, NASA's Marshall Space Flight Center, and other universities he is investigating the feasibility and physics interest in detecting neutrinos in space. Dr. Meyer also has an interest in climate science and environmental physics.
Learn more about sustainability on campus
Recognizing the educational, cultural, economic, and environmental benefits of sustainability, WSU is committed to engaging and empowering students, faculty, and staff to value, develop, adopt and promote sustainable practices. To uphold that committment, Wichita State has a Sustainability Plan and offers mulitiple academic opportunities around sustainability across several colleges.
Shockers Go Green Planning Committee
Ikramuddin Ahmed, Co-Chair
Associate Professor, College of Engineering

Melisa Alfonso
President, American Society of Mechanical Engineers Student Group

Michelle DeHaven, Co-Chair




Program Manager, Environmental Finance Center

Alice Fitzgerald
WSU Green Group

Deepak Gupta
Professor, College of Engineering

Bayle Sandy
President, Green Group

Toni Willis-Jackman
Lecturer, Fairmount College of Liberal Arts and Sciences

Holger Meyer
Associate Professor & Director of Physics, Fairmount College of Liberal Arts and Sciences

Naquela Pack
Director of Engagement, Office of Engagement

Coleen Pugh
Vice Provost for Research & Dean of the Graduate School

Bayram Yildirim




Professor, College of Engineering