The BRONZE PROPELLER COMPETITION


(Last update: 5/14/19)
The 2019 Boeing/WSU Aerospace Engineering Bronze Propeller Competition is history! May 11th 2019 was an amazing day with near perfect weather. Eleven teams competed in the tenth-annual event. The mission, once again, proved challenging. Here is a final summary of results.
Overall:
First Place - WSU Team 3 with 4.59 points
Second Place – WSU Team 21 with 2.73 points
Third Place – WSU Team 5 with 1.21 points


WSU Undergraduate:
First Place - Team 3 with 4.59 points
Second Place – Team 21 with 2.73 points
Third Place – Team 5 with 1.21 points


High School:
First Place - Team 20 with 0.57 points


Professional:
None
Congratulations to Team 3 - their names will be placed on the world famous Bronze Propeller Competition trophy!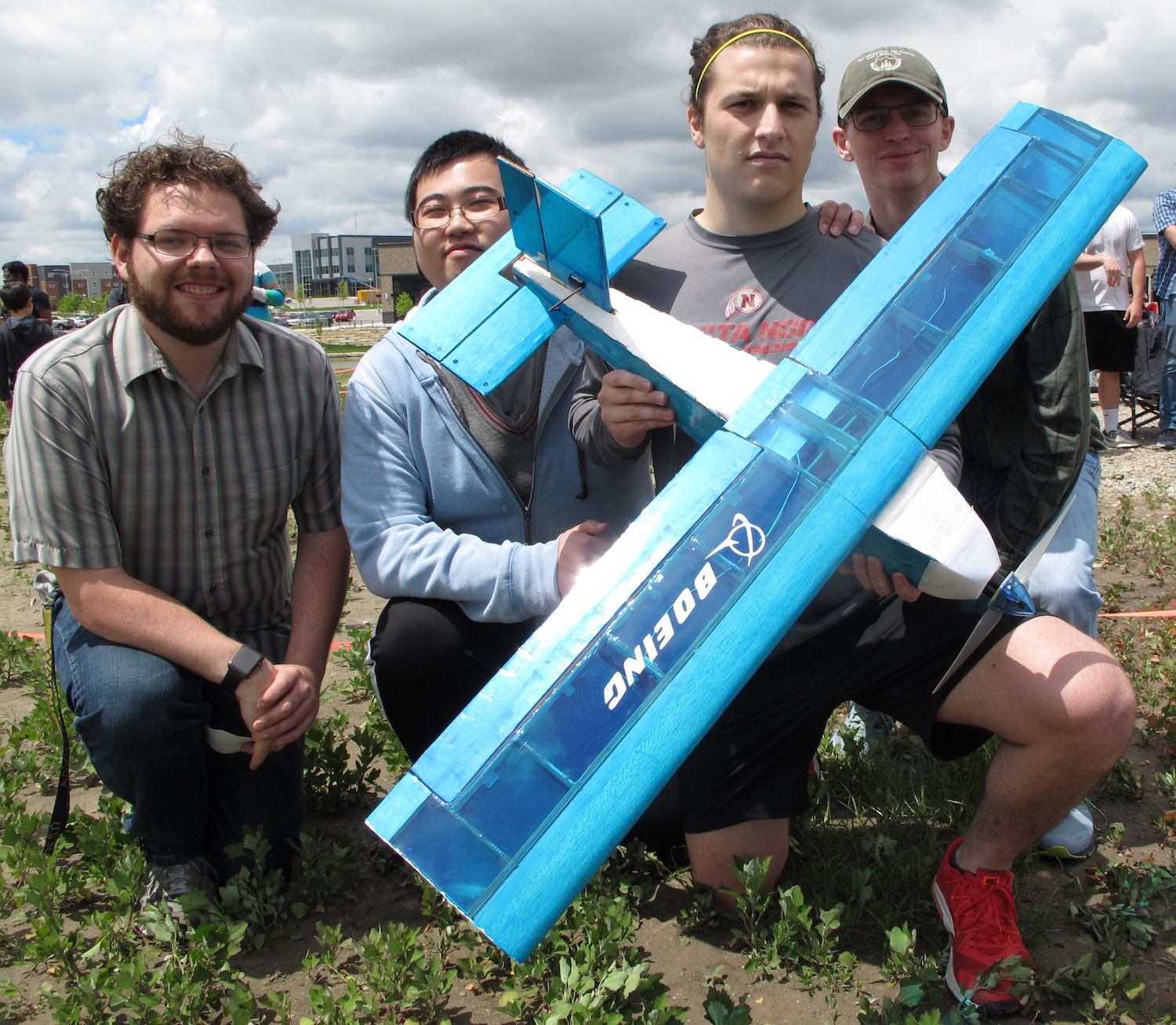 First Place Overall – Team 3
Joshua Lynn, Yau Chan, Jack Watson, & Austin Hunt
Second Place – Team 21
Abbas Qamar, Jeffrey Briggs, Chris Trevino, Kyle Wetter, & Yasaman (Jasmine) Taheri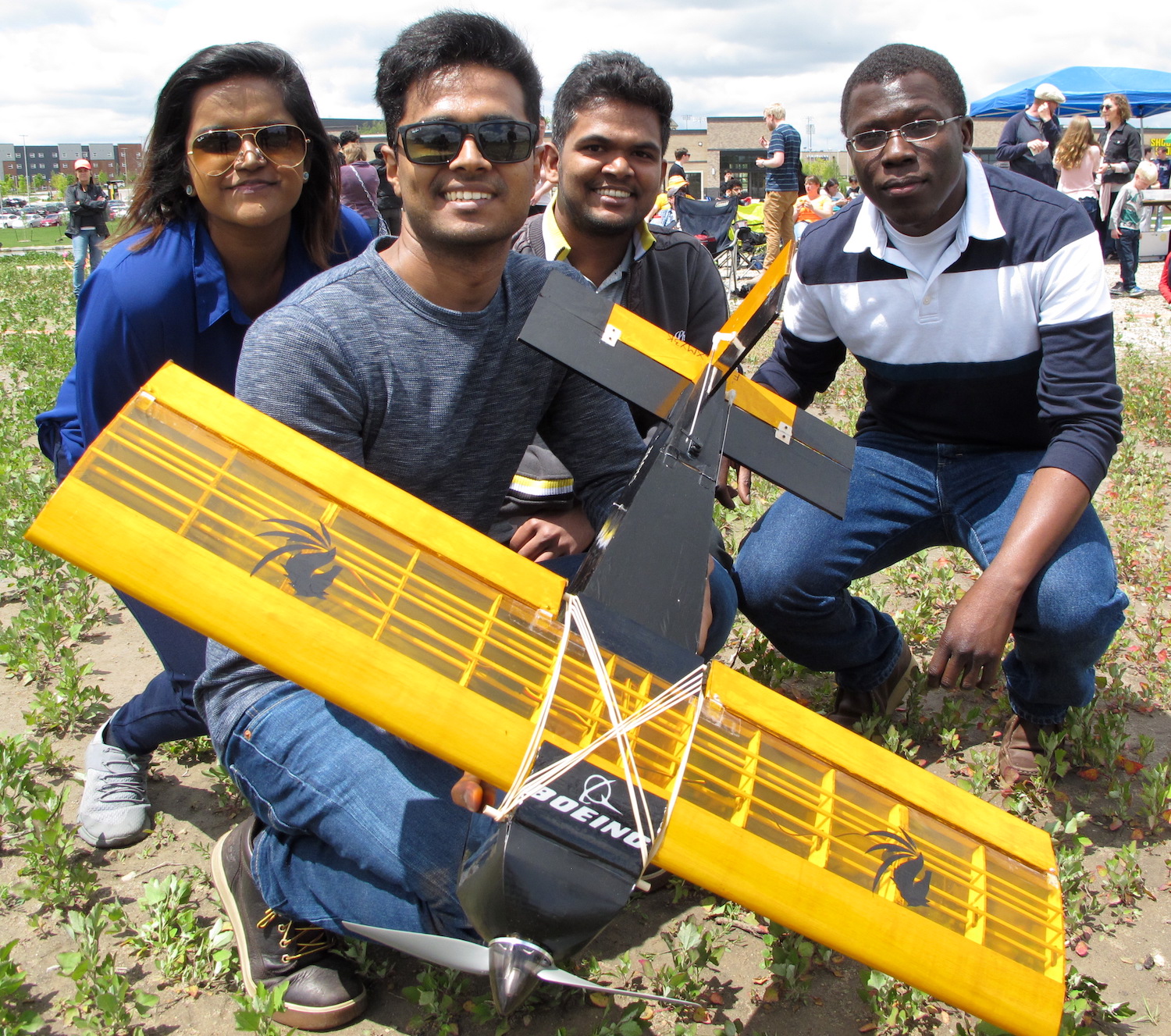 Third Place – Team 5
Samadini Arachchilage, Rameesha Wijerathne, Virajitha Ethige, & Chimuka Cheepa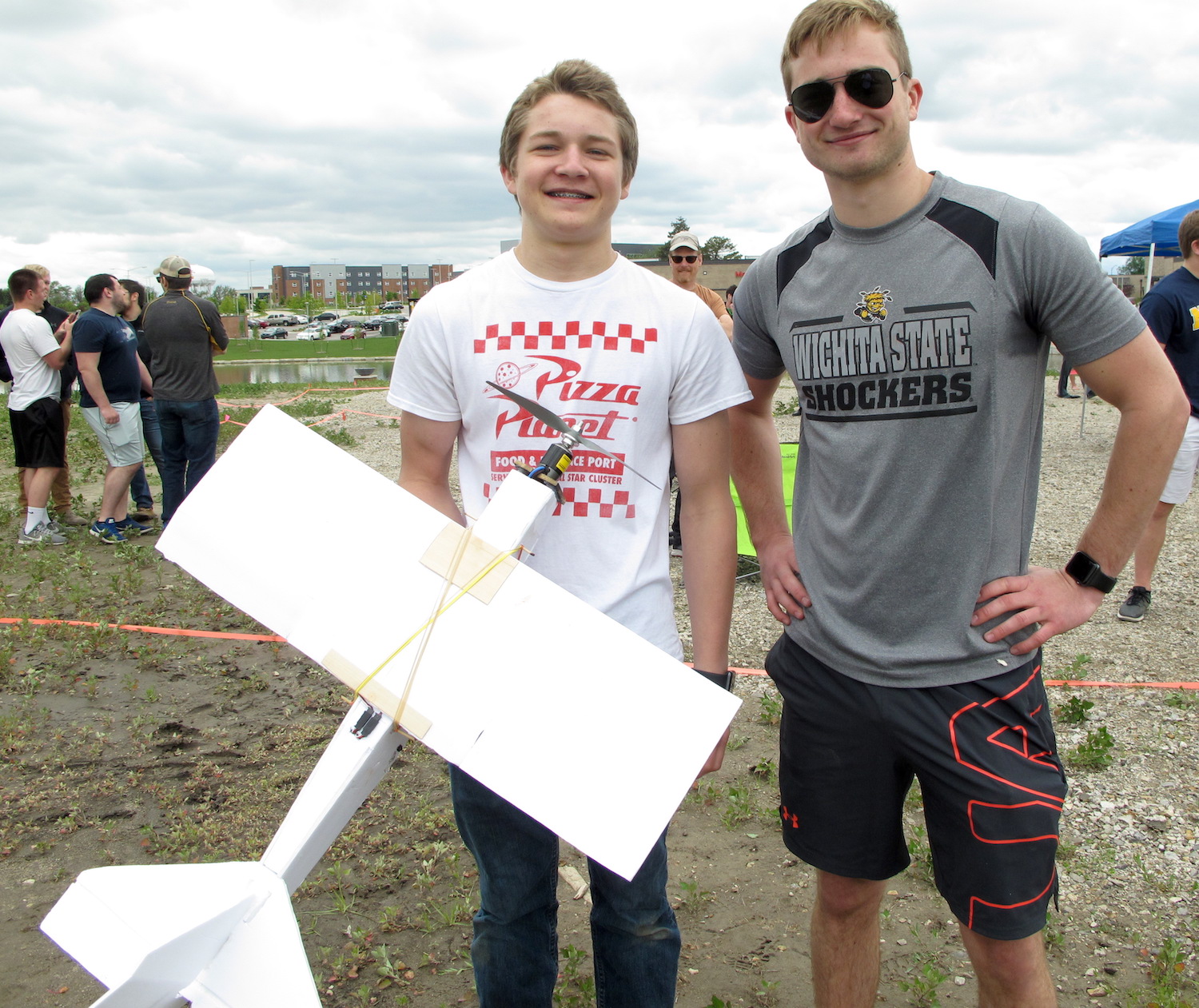 First Place High School – Team 20
Mathew Moses & WSU mentor Joseph Moses
Special mention goes to the underclassmen of Team 12. They made a competitive aircraft that flew nicely and had lots of potential. (Unfortunately, the plane suffered an inflight structural failure on it's second flight. With a little more academic and engineering experience, I'm certain their next plane will be fine.)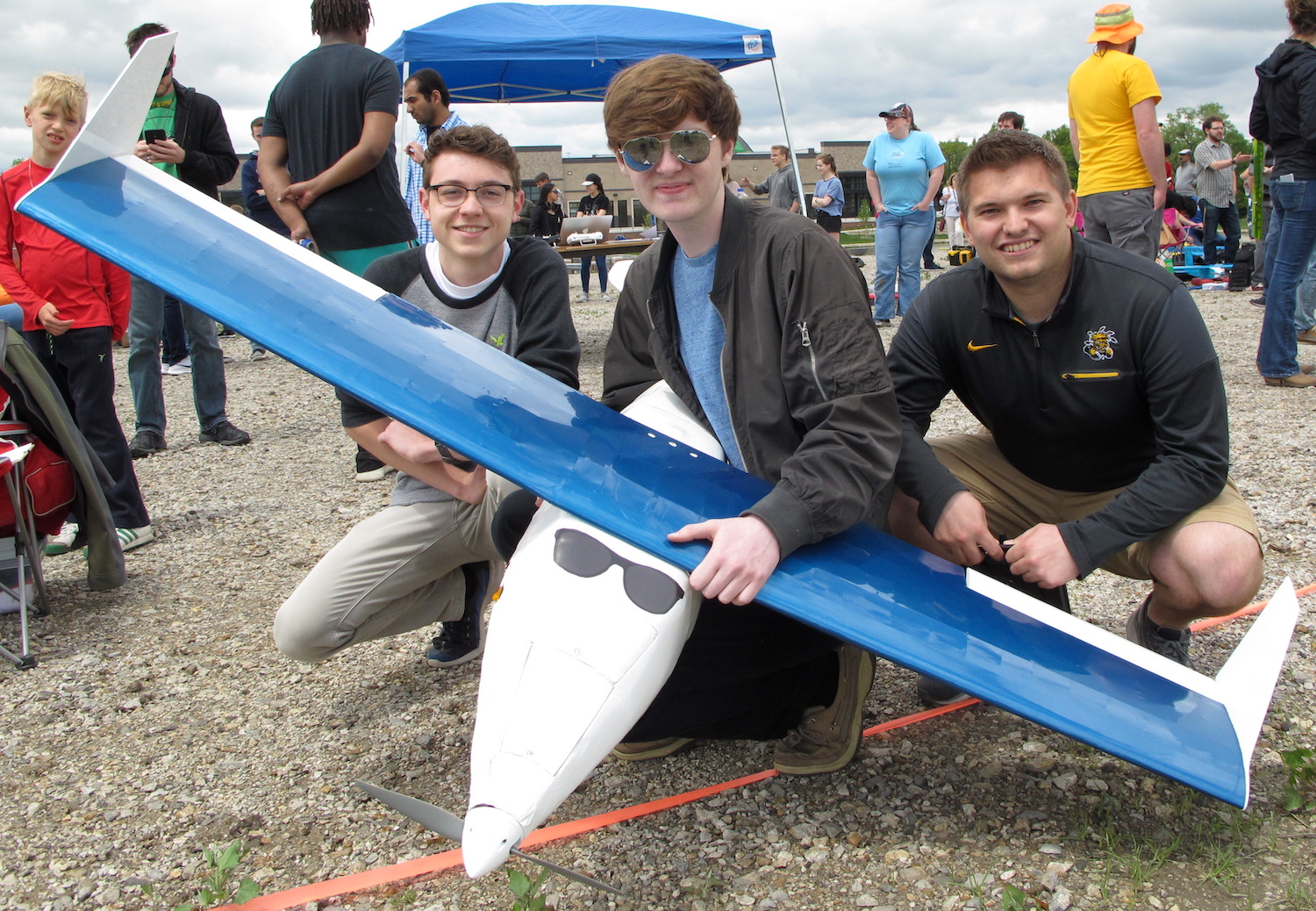 Special Mention – Team 12
Spencer Lueckenotto, John Randall, & William Valentine
More Results
Here are some interesting statistics from the competition:
Shortest Mission Time (MT) – Team 21 (74-seconds)
Highest Payload Weight (W) – Team 3 (1.12-lbs)
Number of teams with zero strikes - 4
Number of teams with an out – 2
Number of tree landings – 1
Number of inflight failures – 1
Number of birds guarding a nest - 1 (see next photo)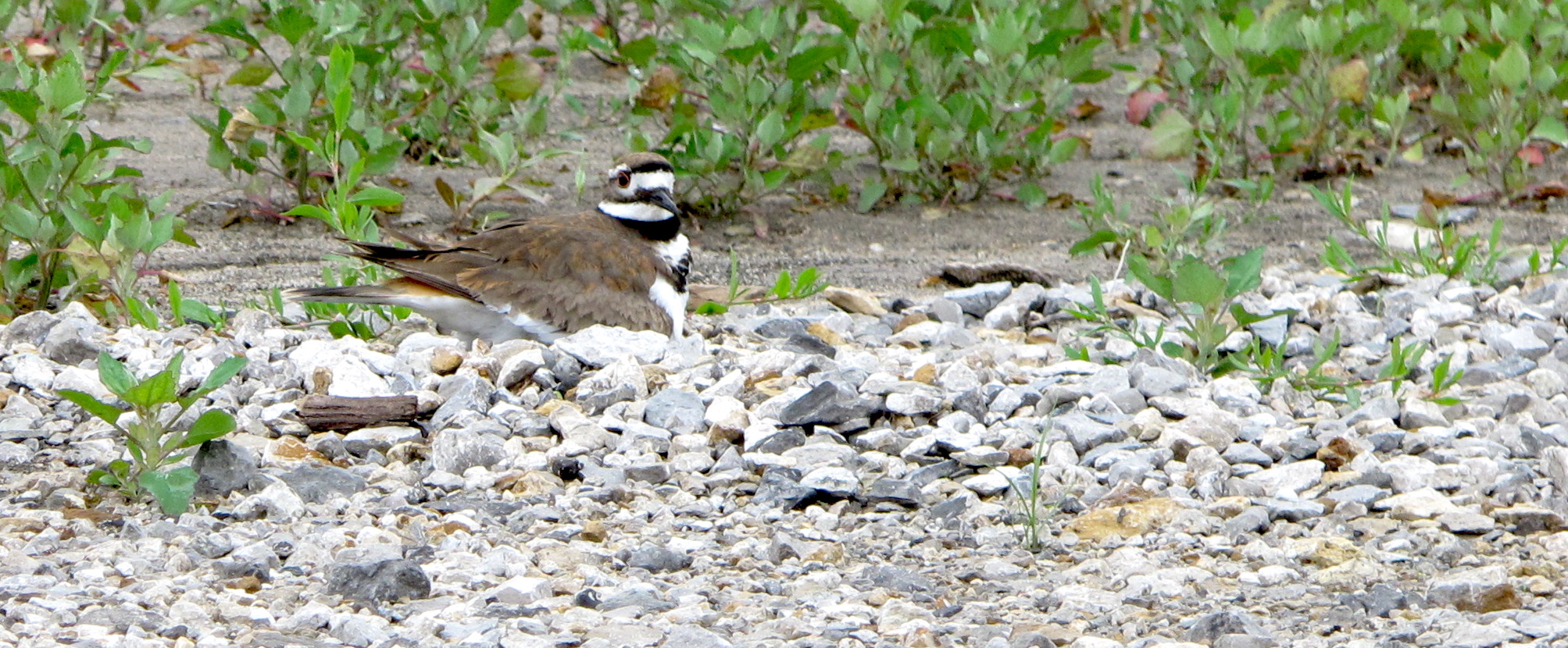 Thanks!
We would like to share our thanks to all who helped with the tenth annual competition. Family and friends are appreciated as well.
Boeing's interest and support has changed the event and inspired our students to perform at higher levels.

The competition pilot, Jonathan Mowrey, once again supported the event with tremendous professionalism and skill. He is a truly amazing pilot and generous Shocker Alum.
Jonathan Mowrey - An amazing pilot and friend!
A number of other folks from WSU supported the event as well. Here is a short list:
Yrithu
Vijay
Linda
Colton
Kayle
Craig
Oases
Kevin
Maggie
Angela
Laura
Emily
Please forgive me if I forgot someone (send me an email and I'll add you to the list). It takes a lot of time, planning, and work to make the event happen. It is difficult to make it work, but we do our best.

A special moment in time - Team 11 takes to the air for the first time.
Comments 

Designing and building a flying vehicle is an amazing thing. Seeing your own creation fly is breathtaking. The Bronze Propeller Competition trophy includes the following quotes:
"Who dares, wins" (unknown)
"We choose to do these things, not because they are easy, but because they are hard" (Kennedy)
"What I cannot build, I cannot understand" (Feynman)
These are fitting words for competition participants. Congratulations to them, and to their friends and families who provided support.
The 2020 Competition 

Watch for news of the 11th annual competition. Details will be posted in late August. Get a team and plan to participate in the 2020 event!
Additional Information 

Contact Dr. Miller, by email, with questions - scott.miller@wichita.edu


For reference, the sections below provide additional basic information on the 2019 event.
2019 Competition Background
The WSU Aerospace Engineering department annually hosts an aircraft design competition. The goal is to encourage involvement in a fun and educational activity. Competing teams design and build a small electric-powered aircraft to fly a challenging mission. Undergraduate winners get their names on the Bronze Propeller Trophy.
The tenth annual Bronze Propeller competition will be held on Saturday May 11th, 2019. 


Once again, The Boeing Company is teaming with WSU to support the event!
There are three participant categories:
WSU Undergraduate (1st Place $2,500, 2nd Place $1,500, & 3rd Place $500)
High School (1st Place $1,000, 2nd Place $500, & 3rd Place $250)
Professional (1st Place $1,000)
Teams with an alumni or graduate student member must participate in the professional category. High school or undergraduate teams cannot elect to compete in the professional category.
A successful design is well understood and properly developed from the beginning. Don't let someone create a better overall design. Use aerospace engineering principles and methods to win!
Don't be shy. Form a team, build a plane, and fly! Mentors for high school and undergraduate student teams are recommended. Contact Dr. Miller for help finding a mentor. 


Mission
This year's design competition is for "A Semi-Autonomous Aerial Firefighting Aircraft." The mission is to deliver a large payload of fire retardant (water in this case) as quickly as possible.
Interestingly, the water payload must be delivered autonomously (without direct human control).
The aircraft's mission profile includes the following: 

Preflight – inspect, weigh, and install the payload and pass a structural check (5-minute limit)
Launch
Autonomously release the payload after the second lap
Fly a total of at least 5-laps
Land successfully and verify the payload was fully released
Rules
All aircraft and participant categories must meet the following rules, requirements, and constraints:
Teams are requested to register with contest organizers (see below)
The aircraft must be 100% conceived, designed, and built by team members
The vehicle must be fixed-wing (rotary wing aircraft are not allowed)
The plane will use a single LiPo or NiMh battery pack to operate aircraft flight systems
The battery pack cannot be modified (only wire connectors can be changed)
The total on-board capacity, for all batteries, must be less than 1,500mAh
A single, exposed, and easy to access fuse is required to safe the motor
The fuse must be located at least 6-inches from anything dangerous
Aircraft must be registered with the FAA prior to a first flight (download this document for related information)

(updated 4/10/19)

Only a WSU designated test pilot will fly the plane

Aircraft employing autopilot systems are allowed (after safe mission demonstration using a human pilot)
All aircraft components must remain attached during a mission
The aircraft can use only one transmitter (TX) and one receiver (RX)
The payload (water) must be carried in a non-leaking balloon
The balloon must be dropped or fully emptied after the second lap (not before)
The payload must be released autonomously with no human interactions
The onboard autonomous payload release system can use a dedicated battery
Mission scores are not counted for aircraft sustaining significant flight damage
Aircraft can be repaired and flown again, as long as all rules are satisfied
Review all sections of this web page regularly, especially the Q&A's
All competition rules, requirements, constraints, and award related aspects are subject to interpretation and change, at anytime, at Dr. Miller's discretion
There are no further requirements or constraints for Professional teams. High School and Undergraduate teams must also meet the following requirements and constraints:
Aircraft must be made from commonly available model aircraft materials (e.g., balsa wood, basswood, spruce, foam) – nothing exotic
Source wood thicknesses are constrained to 1/32, 1/16, 3/32, or 1/8-inches (nothing more)
Use of composite components (e.g., graphite tubes or skins) is not allowed
Use of aluminum tubes (e.g., arrow shafts) is not allowed
The only adhesives allowed are simple

Cyanoacrylate

(e.g., CA), Wood Glue (e.g., Elmer's), or spray adhesive (e.g., 3M Super 77)
The use of any Epoxy based adhesives is forbidden
The use of any type of tape to secure or cover anything is prohibited
All critical systems/components/payloads must be firmly mounted and accessible for quick repair, replacement, or installation (< 2-min)
Velcro may be used to secure only the battery, Electronic Speed Control (ESC), receiver (RX), and wires (nothing else)
RX channels are limited to 8-total
The payload must be released from a permanent opening
Bomb-bay style doors, actuated openings, or fall-away panels for payload release are not allowed
Aircraft changes, during the competition, that deviate significantly from the initial design configuration are not permitted
Competition Day, Location, Preflight, & Drop Zone
There will be one competition day, Saturday May 11th, 2019, from noon to 4pm. The exact competition location will be announced in the spring. Planes are expected to fly within an approximately 400x100-ft area at all times. The launch, landing, and drop zone is in the middle of the course, with turns approximately 300-ft apart.
Competition day flying is from an unprepared field (e.g., grass, rocks, or dirt) not from a pristine field or prepared hard-surface runway.
Preflight is a critical part of the competition. Teams, once called, have 5-minutes to: weigh and install their payload, pass a structural test (show the plane can be supported by just the wing tips without breaking), and launch.
Scoring Equations
The mission score (MSCR) is calculated, when successful, using the following equation,
MSCR = W (120/MT)3
The Mission Time (MT), in seconds, starts the moment the plane is launched and ends when the plane comes to a stop after mission completion. The value is rounded to the nearest second.
The filled water balloon weight (W) in pounds is rounded to the nearest hundredth.
A team's score (TSCR) is calculated as,
TSCR = MSCR – Ks
Where MSCR is the team's best mission score from all competition flights and Ks is the total number of "outs" incurred by the team during the entire competition.
The highest TSCR wins!
Strikes and Outs
A strike is given if:
The team fails to complete preflight and fly within the 5-minute window
The payload balloon releases, breaks, or leaks prior to the second lap
The plane fails to fully release the payload
The plane flies less than 5 complete laps
The plane leaves the designated flying area
As in baseball, three strikes yield an out. There are no fractional values for outs (e.g., two strikes equals zero outs).
Obviously, you should avoid receiving outs at all cost. A good team effectively utilizes engineering principles, sound design methods, good construction techniques, and preparation to achieve mission success.
Don't undervalue the beauty of simplicity within all your efforts!
Recognize that proper engineering is not about trial and error or playing around until you discover something that works. Try very hard to keep a zero strike count. Employ engineering concepts and design to win!
Battery Pack/s
All competitors (high school/undergraduate/professional) are required to use:
Commercially available LiPo or NiMh battery pack/s
A total on-board capacity, for all batteries, of less than 1,500mAh
Unmodified packs (except for connector changes as desired)
Keep in mind that battery suppliers typically advertise performance for less than realistic conditions (e.g., low current loads).
We have managed to test a few commonly available battery packs, up to our test system power limit (700-watts). The attached files give basic specifications and performance information for six common, 1,500-mAh LiPo, batteries purchased at Tower Hobbies.*
Some of the batteries might be okay at even higher currents. However, keep in mind a few important battery basics:
Battery output voltage drops as load current increases.
A well-behaved battery pack shows a smaller voltage drop over time and, hence, more area under the measured curve.
The area under the test curve is the battery pack's actual capacity (i.e., mAh value).
Motor Electronic Speed Controls (ESC) cut off when the pack voltage drops below a set value (see it's data sheet).
Batteries at their limit show a significant drop in voltage over shorter times and get dramatically hotter!
Excessive heat damages or destroys a battery. Unfortunately, manufacturers do not share actual temperature limits.
Hopefully, this data will prove useful as you design and work to meet vehicle and mission performance goals. Keep an eye on this page - we might post new data.
*Special thanks go out to Kevin Hagen and David Van Ommen for testing the batteries!
Components
For high school and undergraduate teams, the AE department might be able to loan components to build planes. Here is basic information on the most commonly utilized Receiver (RX), Engine Speed Control (ESC), and servos systems:
RX – FrSky 8-Channel Receiver (click here for a link)
ESC - Great Planes Silver Series 25A Brushless ESC 5V/2A BEC (click here for a link) or equivalent
Servos – Futaba S3114 Micro High Torque Servo (click here for a link)
There are other (riskier) options, but we typically have these recommended components available to use.
Payload Release System
Each team is responsible for designing and building their own autonomous payload release system. An additional battery can power the system, but it's capacity and the propulsion system battery capacity must sum to less than 1,500mAh.
The pilot, another person, or an off-board system cannot release the payload. The water must be delivered autonomously by an onboard system (without direct human control).
Competition Registration
Teams are requested to register for the competition. The process is easy, simply complete the attached form (click here) and email it to Dr. Miller (click here).
The intent of registration is to establish communications, to identify a likely number of participants, and to better assist off-campus participants (allocate mentors, etc.).
Please register as soon as possible. The registration deadline is April 1st (no joke).
Although we really want you to compete, there is no commitment associated with registering.
Department Support
 & Mentors
The planes are relatively inexpensive to build. Some teams may be eligible for limited AE department assistance to help build their plane (e.g., motors, RX, ESC, servos, laser/foam cutting, etc.). However, support must be requested, prearranged, and approved at least 6-weeks before the competition.
Additionally, as mentioned, the department will do what it can to provide mentors to help less experienced teams. Contact Dr. Miller for further information on support and mentor opportunities.
WSU support is contingent on the viability of the team's participation and the availability of components and mentors. Be sure to work with the AE department in a timely and organized fashion. Dr. Miller may request additional information from interested participants to make sure resources are allocated with the highest educational impact possible.
Engineer of 2020

Eligible WSU students, especially seniors, might be able to earn "Engineer of 2020" service-learning credit serving as a mentor to underclassmen or high school teams. These opportunities must be prearranged. Contact Dr. Miller or Angela Blackerby (click here) for further information.
Q&A's 

Visit this section regularly for official Questions and Answers (Q&A's) that can have an impact on your design efforts.
Q1: Do we have to release the payload at a specific time or on a target after lap 2?
A1: No, you simply need to release the payload anytime after lap 2 is completed.
Q2: Do we have to drop the balloon, or can it be ruptured within the plane to release the payload?
A2: The balloon is simply used to hold and load the aircraft payload. The balloon can be dropped or popped. However, in all cases, the water must be released from the balloon and onto the ground. The mission fails if water doesn't come into direct contact with the ground.
Q3: Can we use multiple balloons?
A3: No, only one (1) balloon is permitted.
Q4: Is there a specific target the payload is to be dropped on?
A4: No, there is no specific target. There is only a drop zone (anywhere between the course turns).
Remember to check this area regularly! Contact Dr. Miller, by email, with questions - scott.miller@wichita.edu


Special Thanks
Special thanks go to WSU alumni and friends who provided ideas and suggestions for this year's competition. Obviously, we are extremely appreciative of The Boeing Company's support. Their investment in young engineers is important and most welcome!
Additional Information 

Contact Dr. Miller, by email, with questions - scott.miller@wichita.edu


Here is a Bronze Propeller competition flyer you can print, post, and share (click here).
"What I cannot build, I cannot understand" - Feynman
Visit this page often; don't miss important competition information, Q&A's, and news!