About the Competition
The Aerospace Engineering department annually hosts an aircraft design competition, the Bronze Propeller Competition. The goal is to encourage involvement in a fun and educational activity. Competing teams design and build a small electric-powered aircraft to fly a challenging mission. Undergraduate winners get their names on the Bronze Propeller trophy.
What I cannot build, I cannot understand.
Feynman
Competition Information
The below is based on the 2023 Bronze Propeller Competition. Check back for more information on the 2024 Bronze Propeller Competition, which will likely be posted in August 2023.
Past (2023) Bronze Propeller Competition
The 2023 competition was for a small "marketable light delivery airplane."

2023 Competition Details
Mission Definition
For the 2023 Boeing Bronze Propeller competition, you need to design and build a vehicle that performs a challenging engineering task and has market value.
The engineering part of the competition is relatively simple. The vehicle needs to be light, quick to build, and drop a payload accurately.
Additionally, you need to invent a context within which your vehicle has broad and, ideally, marketable value. Then you have to effectively explain the mission in a well-written abstract. External judges will review and score the abstract prior to competition day by considering the following:
"Does the product have a favorable impact on?"
community health
public safety
public well-being or prosperity
a world-wide scale
different cultures
lifestyles, occupations, religion, wealth, and educational attainment
the environment
the economy
To boost your competition score you need to address as many of these value or marketability aspects as possible. Do a good job both inventing and communicating your mission.
Competition Summary
The contest included:
12 teams, 11 undergraduate and 1 professional
81 flights or attempted flights
An average MAT of 72
An average PV of 5.3
An average Wo of 0.91 pounds
5 planes with Wo less than 1.0 pound
18 target HITS, by 5 teams
2 teams had 6, or more, HITS each
The winning undergraduate team scored HITS on 60% of their flights
The winning professional scored HITS on 73% of their flights
35 payload drops that missed the target
Only 2 penalties assessed
A great crowd, of faculty, staff, students, friends, and family
2023 Winners
This was an extremely challenging competition. The difficulty teams had hitting the target was not anticipated in the contest planning stage. Since we didn't want to disqualify seven teams, both competition Score and HITS are considered. Hence, second and third-place ties are being awarded.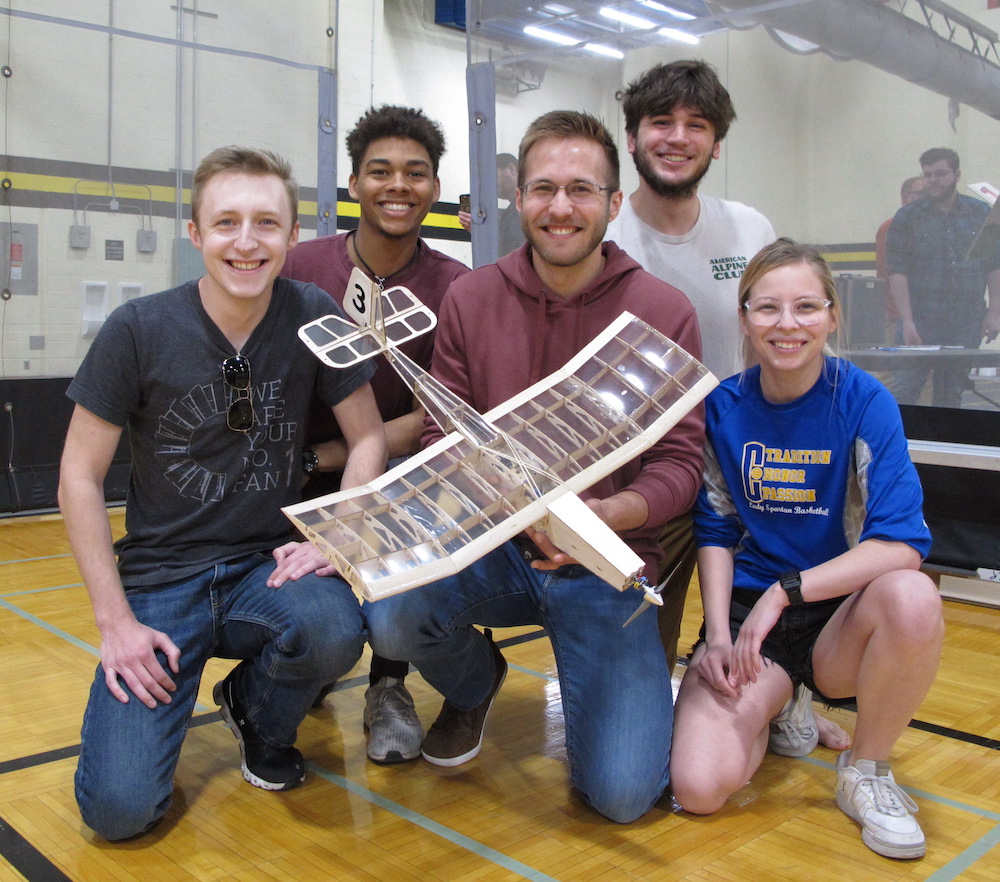 First Place Undergraduate: Team 3
Score=35.2 MAT=38, PV=5.8, W=0.56, P=0, & HITS=6
Comprised of (L-to-R):
Logan Mauch
Gabriel Kimuri
Alexander Dewerff
Trent Oberlander
Amanda Mudra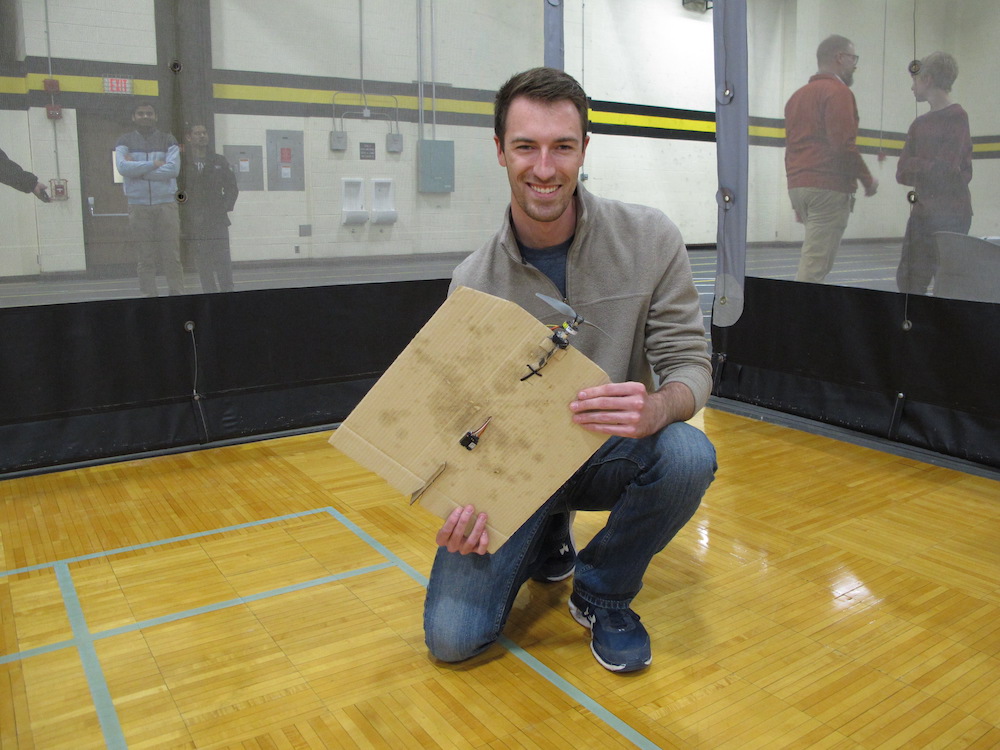 Second Place Undergraduate (tie): Team 15
Score=34.3 MAT=19, PV=2.4, W=0.53, P=0, & HITS=0
Comprised of:
Robert Ross (with an old pizza box converted into a plane)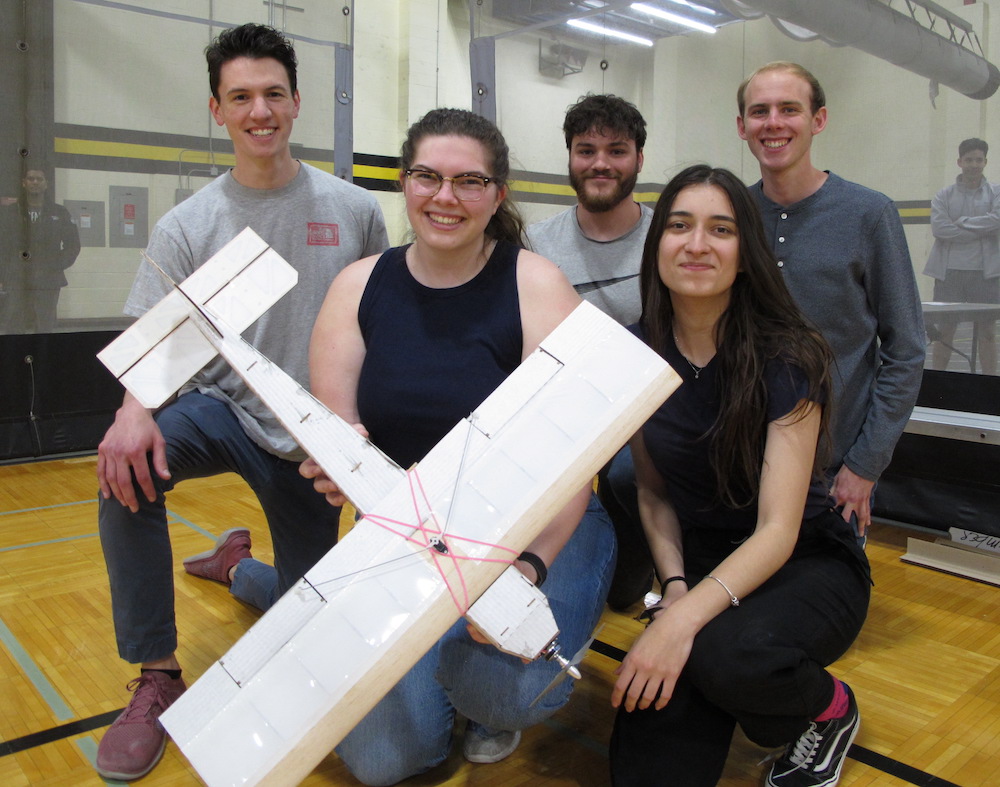 Second Place Undergraduate (tie): Team 15
Score=21.2 MAT=39, PV =5.8, W=0.73, P=0, & HITS=2
Comprised of (L-to-R):
Benjamin Griffin

Megan Drake

Brycen Schroeder

Sofia Bahr Konkel

Jackson Caldwell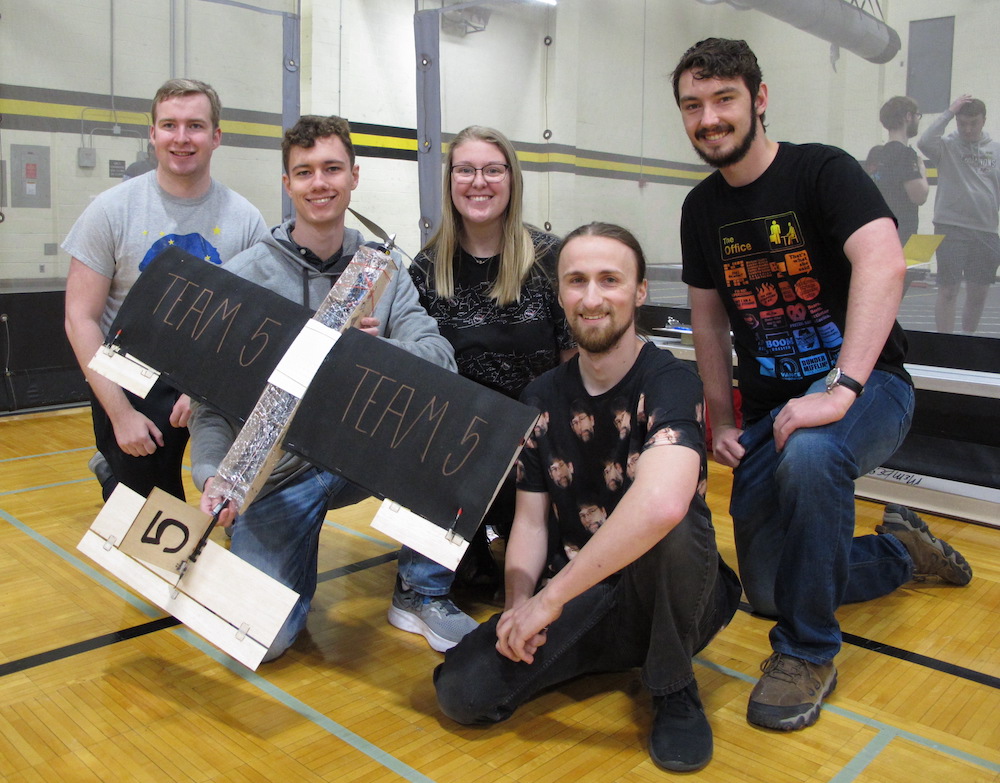 Third Place Undergraduate (tie) - Team 5
Score=15.5 MAT=24, PV =6.0, W=1.13, P=1, & HITS=0
Comprised of (L-to-R):
Nathan Wahlstedt

Samuel Lindow

Kayla Wyrick

Nathaniel Richardson

Nathan Kulhanek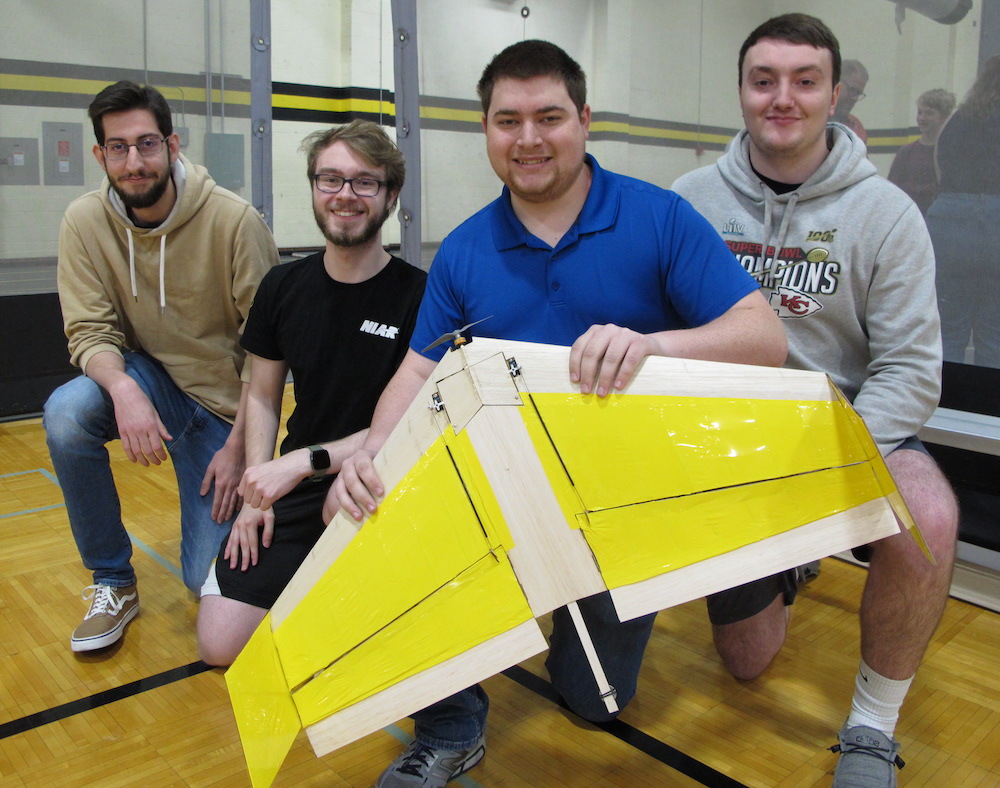 Third Place Undergraduate (tie) - Team 10
Score=13.7 MAT=85, PV =5.9, W=0.76, P=0, & HITS=1
Comprised of (L-to-R):
Jared Fournier

Cade Mansfield

Kale Macormic

Cameron Cropper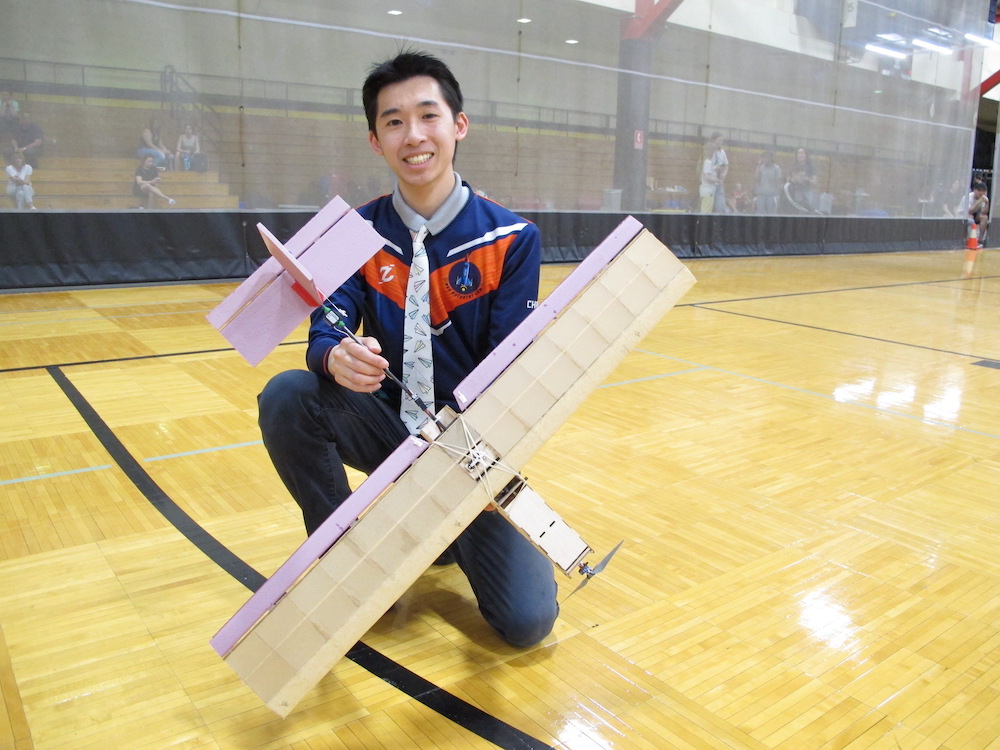 First Place Professional - Team 13
Score=41.9 MAT=58, PV =6.1, W=0.46, P=0, & HITS=8
Comprised of:
Julian Chee, a WSU AE Alum
2023 Support
Once again, Boeing was the competition sponsor.

We would also like to thank:
Dean Anthony Muscat who served as the timer.
Dr. Buerge who weighed planes.
The AE lab staff got everything ready and helped (special recognition goes to Amanda, Megan, Joey, and Manny).
Jonathan Mowrey, the pilot, who is a WSU AE alum, Spirit employee and loyal friend of our program, students, and the university, as well as the "Best dang pilot in the solar system."