NAFTZGER YOUNG ARTISTS AUDITIONS & AWARDS
March 18-19, 2023
Please feel free to send any questions to naftzgeryoungartists@wichita.edu.
The 2023 brochure has the rules and requirements.
2023 Judges

Robert Carnochan
Winds/Brass/Percussion Judge
Robert M. Carnochan is Director of Wind Ensemble Activities, Music Director/Conductor of the Frost Wind Ensemble and Professor of Conducting at the Frost School of Music. Besides overseeing all aspects of the wind band program, Professor Carnochan also teaches graduate and undergraduate courses in conducting and wind repertoire.
Dr. Carnochan's multi-faceted career has included numerous high-profile collaborations with a number of esteemed colleagues and composers, including Andy Akiho, Steven Bryant, John Corigliano, Michael Daugherty, Donald Grantham, Daniel Kellogg, Jonathan Leshnoff, John Mackey, David Maslanka, James Mobberly, Carter Pann, Joel Puckett, Gunther Schuller, Joseph Schwantner, Frank Ticheli, and Dan Welcher. He also invests substantial time in commissioning and performing works of the new generation of talented composers, among them, such rising stars as David Biedenbender, Andrew Boss, Viet Cuong, Paul Dooley, Ian Dicke, Aaron Perrine, and Zack Stanton.
In addition, Dr. Carnochan maintains a vibrant career as a guest conductor, clinician, and adjudicator in performances throughout the United States, and has conducted concerts overseas in London, Spain, Austria, Luxembourg, Switzerland, and Singapore. He has also produced a number of acclaimed recordings by both The University of Texas Wind Ensemble and the Dallas Wind Symphony and his own recording of Donald Grantham's Tuba Concerto with soloist Charles Villarrubia and the University of Texas Wind Ensemble were recently released on the Longhorn Music Label and is available for download from iTunes. He has conducted five recordings with the world-renowned University of Texas Longhorn Band and has appeared with them in numerous nationally and internationally televised events, including three Rose Bowl halftime performances, two Rose Parades and three performances at the Formula 1 United States Grand Prix in Austin Texas.
Before joining the faculty at the Frost School of Music, Dr. Carnochan was Professor of Music and Director of the Longhorn Band at The University of Texas in Austin for 13 years. He also served as Associate Director of Bands at the University of Colorado at Boulder, Director of Bands at Northeastern Oklahoma State University, and Associate Director of Bands at Stephen F. Austin State University. Dr. Carnochan began his professional teaching career as Director of Bands at Dundalk High School in Baltimore, Maryland, a position he still cherishes.
Dr. Carnochan's efforts have gained him induction into the Alpha Chapter of Phi Beta Mu. He is the recipient of numerous prestigious service and teaching awards, including The Eyes of Texas Award, The Texas Blazers award, the DeCloux Fellowship, and the Marinus Smith Award. He holds memberships in the American Bandmasters Association, the Band Directors National Association, the Conductors Guild, the Florida Music Educators Association and the Texas Music Educators Association. His degrees include a Bachelor of Science degree in Music Education from Towson University, a Master of Music degree in Wind Conducting from The University of Colorado at Boulder, and a Doctor of Musical Arts degree in Wind Conducting from The University of Texas. He counts among his teachers of note Allan McMurray, Jerry Junkin, and Dana Rothlisberger.
Lin He
Strings Judge
Violinist Lin He made his Carnegie Hall solo debut in November 2014, after a performance there earlier that year with principal players from the Metropolitan Opera, New York Philharmonic and Philadelphia Orchestra in orchestral setting. Over the past seasons, he performed the Bruch Scottish Fantasy with the Sonoma County Philharmonic, Korngold Concerto with the Rapides Symphony Orchestra, Mendelssohn Violin Concerto with the Shippensburg Symphony and the Sibelius Concerto with the Lake Charles Symphony.
Inspired by the Complete Sonatas by Beethoven, Mozart and Schubert for Violin and Piano in the past three season, 2019-2020 season of concerts will include Brahms Complete Sonatas for Violin and Piano and Faure Sonatas for Violin and Piano in multiple venues; chamber recitals as the violinist of Caladium Piano Trio; violin soloist of the Vivaldi/Piazzola Four Seasons with the Rapides Symphony Orchestra; violinist with principal players of major orchestras for the Concert of Solidarity for the Rohingya Refugees at Carnegie Hall; solo recitals and masterclasses at University of Houston, University of Southern Mississippi, University of Oklahoma and Northern Illinois University; and series of concerts and masterclasses in mainland China and Taiwan.
He has presented recitals at universities across the United States and China. Most recently, he shared stage with Shanghai String Quartet and violinist Charles Castleman; performed solo recitals and gave master classes at Arizona State University, Florida State University, Longy School of Music, San Francisco Conservatory of Music, University of Houston, University of Las Vegas, University of North Texas, and University Alberta, Edmonton, Canada.
As an orchestral player, Mr. He has performed with the Shanghai Symphony, Rochester Philharmonic and New World Symphony. He is a regular addition to the Louisiana Philharmonic Orchestra.
Summer festival appearances have taken Mr. He to venues such as the Music Academy of the West, the Tanglewood Music Center and the Aspen Music Festival. Lin He has been a laureate of the Padesta Solo Competition and the ASTA competition.
Mr. He is now serving as the Associate Professor of Violin at the Louisiana State University School of Music and the Associate Concertmaster of the Baton Rouge Symphony. During the summer, he teaches at the Sewanee Summer Music Festival, InterHarmony International Summer Music Festival, Montecito International Music Festival and BayView Music Festival.
Born in Shanghai, China, Mr. He began his musical training at the age of five. Mr. He received his doctorate from the Eastman School of Music, where he studied under the tutelage of Zvi Zeitlin. Other major influences include Steven Staryk, Sylvia Rosenberg, Kyung Sun Lee and Paul Kantor.
His CD release from Centaur Records of French Sonatas for Violin and Piano with pianist Gregory Sioles received favorable reviews.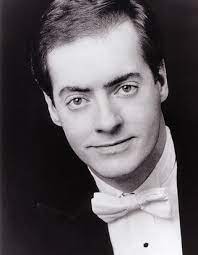 Ted Taylor
Voice Judge
Equally at home in the pit conducting a repertoire of over 50 operas and musicals, on the stage accompanying some of the world's pre-eminent vocalists or appearing in the country's top cabaret venues, TED TAYLOR enjoys a varied international career. As pianist he has appeared with such luminaries as Sylvia McNair, Christine Schäfer, Ben Heppner and Kathleen Battle, for whom he played thirty-four concerts on four continents, and in March 2014, he co-conducted LE NOZZE DI FIGARO with Seiji Ozawa in Tokyo and on tour in Japan. More recently, he led performances of CARMEN in January 2017 for Greensboro Opera and was at the helm for Massenet's CENDRILLON in November '19 for Westminster Choir College.
Maestro Taylor has been a member of the conducting staffs of the Metropolitan Opera, Lyric Opera of Chicago and Santa Fe Opera, and has appeared with many American opera companies, including New York City Opera, where he made his debut in 2003 leading LA TRAVIATA, as well as those of Atlanta, Cincinnati, Indianapolis, Wolf Trap and Central City. World premieres include the April 2009 production of Libby Larsen's opera PICNIC for the University of North Carolina at Greensboro. In the early years as conductor, he was appointed music director by Beverly Sills of the New York City Opera National Company for two years, and he served in the same capacity for Mobile (Alabama) Opera for eight seasons.
Praised in the New York Times as a "sophisticated and unusually sensitive accompanist" (with Jan Opalach) whose "playing had a full lusciousness ideal for Strauss" (with Christine Schäfer), as well as for his cabaret appearances ("one of the best in the business," raves Associated Press), Mr. Taylor has appeared over the years with many wonderful singers, among them the legendary Eileen Farrell, whose CBS cable show for which he was pianist ran the musical gamut from lieder to blues. As a pianist in master classes, he has worked with such great artists as Elizabeth Schwarzkopf, Regine Crespin and Carlo Bergonzi. On CD, he may be heard as harpsichord soloist with Seiji Ozawa in the Philips recording of Stravinsky's THE RAKE'S PROGRESS and as pianist with Sylvia McNair in a disc of Gershwin songs on BBC Worldwide, live from London's Wigmore Hall. His most recent release, "Where Should This Music Be: Songs of Lola Williams" with Sarah Moulton Faux, arrived on New World Records this past September.
Appearances by Mr. Taylor include the New York Philharmonic Orchestra, the Cleveland Orchestra at Blossom Festival, and the Ravinia Festival with the Chicago Symphony Orchestra. He has performed with the Chamber Music Society of Lincoln Center, the Philadelphia Orchestra Chamber Music Series, Castleton Festival, Newport Music Festival, La Jolla Music Society Summerfest, The Princeton Festival and Music Mountain. Among his cabaret venues are the Algonquin's Oak Room, Feinstein's, Café Carlyle, the Royal Room of The Colony Hotel in Palm Beach, and most recently, Café Sabarsky at the Neue Galerie with Joyce Castle. His recent recording with Sylvia McNair, "Subject to Change," was highly praised by Downbeat Magazine.
As vocal coach and teacher, his students and clients regularly appear with the great performing organizations of the world, including the Metropolitan Opera, Covent Garden, La Scala, New York Philharmonic, Cleveland Orchestra and National Symphony, among many others.
Mr. Taylor's earliest professional years in the music business were in Nashville, where his work as pianist, conductor and arranger for live shows and television production led to a five-and-a-half week tour of the Soviet Union with 'Tennessee' Ernie Ford in 1974. At the age of 22, he was named assistant music director for Opyland USA, the musical theme park, where he worked as leader/conductor/arranger in a wide variety of musical styles. Following graduate studies in conducting and opera at Indiana University, he began his coaching career with Santa Fe Opera, subsequently moving to New York, where he soon joined the music staff of New York City Opera.
In the field of contemporary opera, Mr. Taylor served as assistant to Academy Award winning composer Tan Dun for the premiere of his first opera, MARCO POLO, at the Munich Biennale and prepared the Hong Kong Philharmonic and Tokyo Philharmonic orchestras for subsequent performances. For New York City Opera, he led excerpts of new works for the company's Showcasing American Composers series.
As an educator, in addition to his twenty-four years on the faculty of the Opera Program at Mannes School of Music in New York City, thirteen years with the Institute of Sacred Music and sixteen at the School of Music at Yale University, he has been invited to guest conduct at such prestigious music schools as Indiana University, where he led the university premier of Mark Adamo's LITTLE WOMEN, and Cincinnati Conservatory of Music, conducting Rossini's IL VIAGGIO A REIMS, awarded first place in its category in the National Opera Association Competition. He taught for nine years in University of Houston's institute LE CHIAVI: THE KEYS TO BEL CANTO and served as master coach for eight years at CoOPERAtive of Westminster Choir College in Princeton. He is currently Music Director for Bel Canto Institute of San Miguel in Mexico, which is anticipating its seventh season.
A frequent adjudicator, he has judged the Connecticut, New York and Western Tennessee District Metropolitan Opera National Council Auditions and this January judged the Boston Regionals. For four years Mr. Taylor coached and played the Metropolitan Opera National Council Grand Final Awards at the Met.
A native Texan, Mr. Taylor maintained an active studio in Manhattan as coach and teacher for 42 seasons and has recently happily relocated to Missouri to join his family.
Peter Miyamoto
Piano Judge
Peter Miyamoto has enjoyed a brilliant international career, performing to great acclaim in recital and as soloist in Canada, England, France, Germany, Greece, Italy, Poland, Russia, Serbia, Switzerland, China, and Japan, and in major US cities such as Boston, Chicago, Dallas, Indianapolis, Los Angeles, Miami, New York, Philadelphia, San Francisco, and Washington D.C. In 1990, Miyamoto was named the first Gilmore Young Artist. He won numerous other competitions, including the American Pianist Association National Fellowship Competition, the D'Angelo Competition, the San Francisco Symphony Competition, and the Los Angeles Philharmonic Competition.
Dr. Miyamoto holds degrees from the Curtis Institute of Music, Yale University School of Music, Michigan State University, and the Royal Academy of Music in London. His teachers included Maria Curcio-Diamand, Leon Fleisher, Claude Frank, Peter Frankl, Marek Jablonski, Aube Tzerko, and Ralph Votapek, as well as Szymon Goldberg, Felix Galimir, and Lorand Fenyves for chamber music.
Currently the Catherine Paine Middlebush Chair of Piano at the University of Missouri, Peter Miyamoto formerly taught at Michigan State University and the California Institute of the Arts and has presented masterclasses worldwide. From 2003-2015 he served as head of the piano faculty at the New York Summer Music Festival and more recently served on the piano faculty of the Curtis Institute of Music's Young Artist Summer Program and the Curtis Mentor Network Program in Philadelphia.
Miyamoto's six solo CDs, available on the Blue-Griffin label, have received excellent reviews in periodicals such as Gramophone, International Record Review, Fanfare, and American Record Guide and were recognized by the American Prize. A CD of six commissioned duos for violin and piano produced by GRAMMY winner Judith Sherman was released by Albany records.
---
2023 Naftzger Young Artists Auditions Winners
Congratulations to our 2022 Naftzger Young Artists Auditions Winners: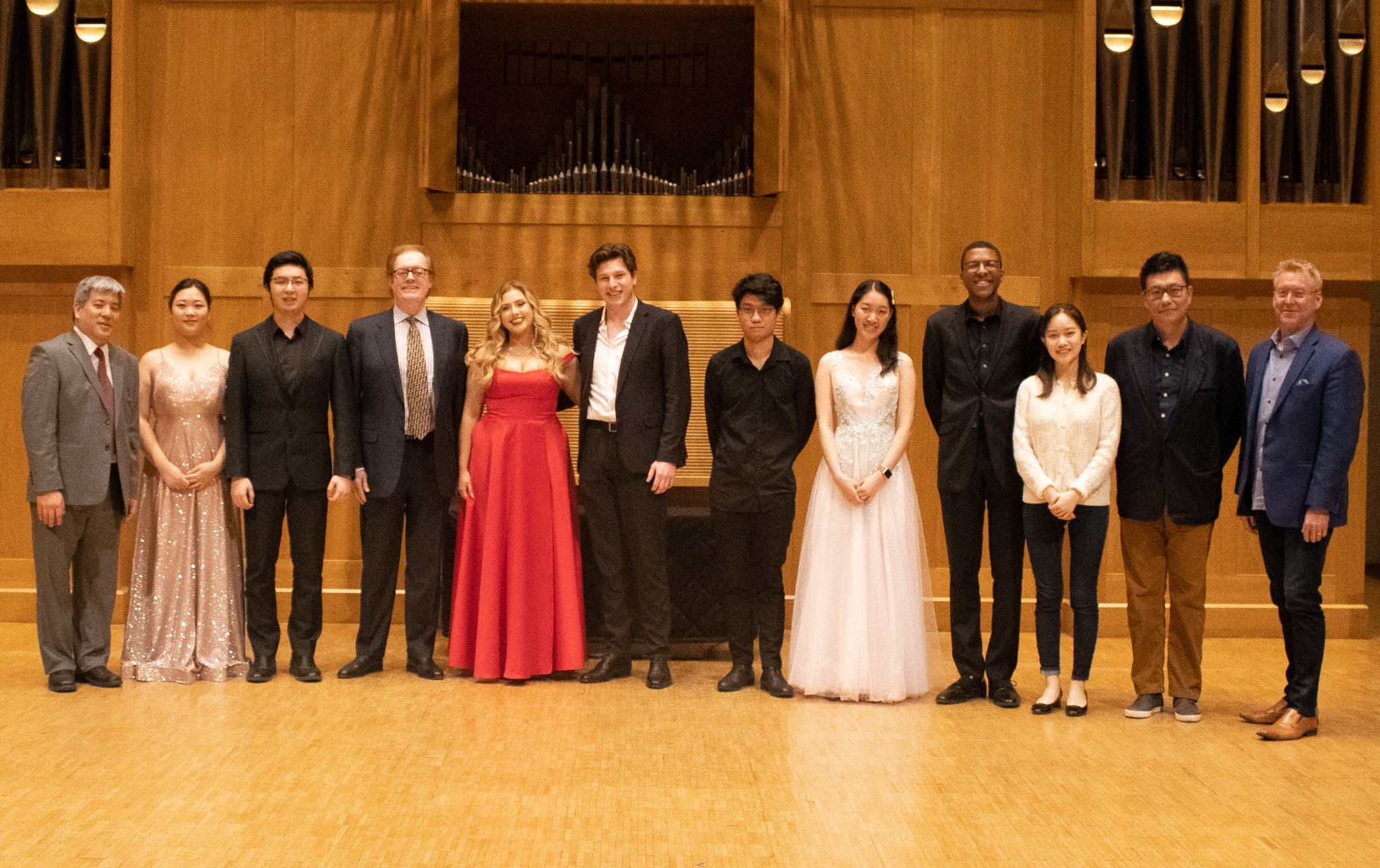 Pictured from left to right: Peter Miyamoto (judge, piano) Jiyeon Lee (piano), Zhengyi Huang (piano), Ted Taylor (judge, voice), Ashley Ruckman (soprano), Cole Mcllquham (tenor), Ilkhom Mukhiddinov (violin), Ann Kuo (flute), Najee Greenlee (clarinet), Qianru Elaine He (violin), Lin He (judge, strings), Robert Carnochan (judge, winds & percussion)
---
NAFTZGER YOUNG ARTISTS AWARD RECIPIENT ($5,000 Grand Prize)
Zhengyi Huang, University of Michigan, piano
DIVISION WINNERS ($2,000 Cash Prize)
Strings Division Winner: Qianru Elaine He, Manhattan School of Music, violin
Vocal Division Winner: Cole Mcllquham, Wichita State University, tenor
Woodwind/Brass/Percussion Division Winner: Ann Kuo, Colburn School, flute
DIVISION RUNNERS UP ($500 Cash Prize)
Strings Division Runner Up: Ilkhom Mukhiddinov, Park University, violin
Vocal Division Runner Up: Ashley Ruckman, Wichita State University, soprano
Piano Division Runner Up: Jiyeon Lee, Missouri State University
Woodwind/Brass/Percussion Runner Up: Najee Greenlee, Rice University, clarinet
---
Administration
The Naftzger Young Artists Auditions and Music Awards are administered by Wichita State University's School of Music and are made possible by The Naftzger Fund for Fine Arts, Inc. Created by Mr. and Mrs. M.C. Naftzger in memory of L.S. Naftzger, Ida L. Naftzger, and Lee Southwell Naftzger II.