Sept. 26, 2020 9am-3:30pm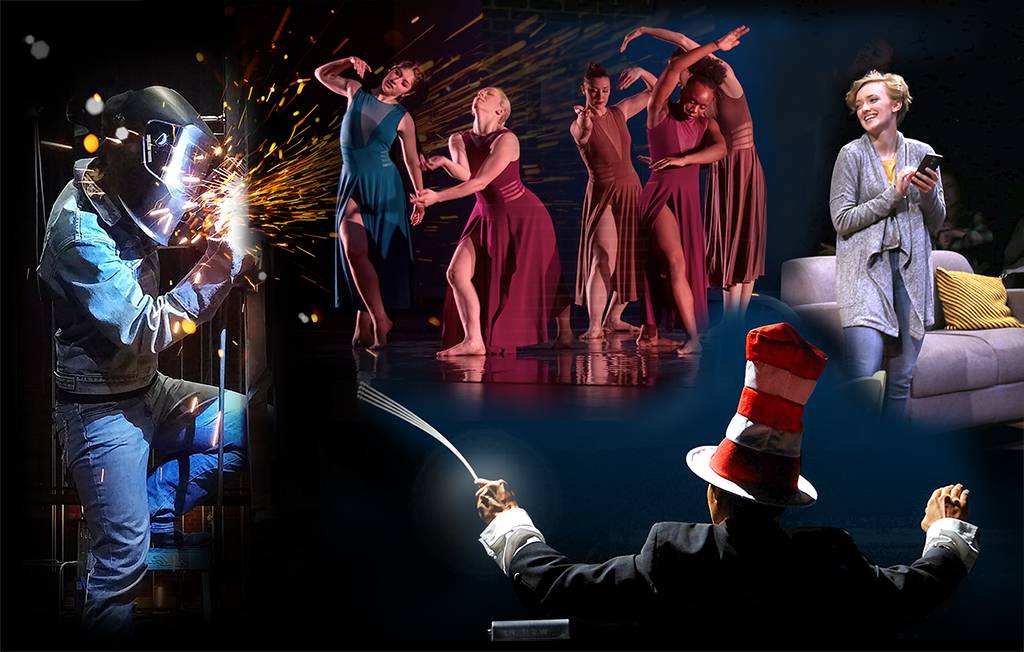 Due to the safety of our prospective students, faculty, and staff, Performing Art Day will be virtual this year.
---
Join us for our annual event for all prospective students (high school juniors, seniors & transfer students). Find out more about the BFA & BA programs in Dance, Music Theatre & Theatre (which includes performance & design/tech).

It's a day full of workshops across all programs where you will discover new skills, expand your interests & enhance your technique. The day is geared toward preparing you for your artistic journey!

Agenda
Time
Session
Title
Program
9-9:30a
Welcome & Introductions
Meet the faculty & staff & learn more about our differnt programs.
All
9:45-10:30
Workshop #1
Self Tape Auditioning How To's
Today's technology gives control of the audition back to the actor. In this workshop you'll learn tips on how to create a professional looking self-tape audition.

Theatre
10:45-11:30
Workshop #2
How to Set-up a Portfolio


Interested in design or backstage side of theatre but not sure how to showcase your what you do? This workshop explains what a portfolio is and covers successful techniques to present that work for college or job applications.

Design & Tech - Theatre
Lunch
Q & A with Admissions & Advising
Hosted by Sanya Wiles & Kayla Jasso. Enjoy your lunch & find out more about the admissions process & advising for your degree.
WSU
12:30-1:15
Workshop #3
Musical Theatre Audition Tips & Tricks


We will discuss effective ways to showcase your unique talents and how to have a successful Musical Theatre Audition. You will also get to know the WSU Musical Theatre faculty and learn how to navigate our audition process.

Musical Theatre
1:30-2:15
Workshop #4
Dance: Enhancing Career Prospects


Own and operate a dance studio? Have a professional career as a performing dance artist? Create and use social dance programming to benefit special populations and community? Work with dance companies as a movement therapist? Prepare for a graduate degree in dance or other artistic fields such as arts administration? Work as an entertainer on cruise ships, amusement parks or television? Be a member of a local arts council?

Dance
2:30-3:30
Q & A with Current Students
Have questions or just curious about the student experience? Come & chat with current School of Performing Arts students.
SPACO & MADT
Register Now!
---
Prospective students must:

Audition for scholarship consideration & acceptance into the Dance & Musical Theatre programs.

Audition and/or interview for scholarship consideration in the Theatre program which includes theatre generalist (BA), theatre performance (BFA) and design & technical theatre (BFA). Students interested in the BFA in Theatre Performance program must audition for acceptance.

See specific information on the virtual offerings this year

Representatives from Admissions & other departments will be on hand to assist & answer questions too.

Currently enrolled students do not need to audition for acceptance into the Musical Theatre or Dance programs. However, a new scholarship application will be required every year.
---
Questions? Need more information?
Contact Stacy via the email below or 316-978-3360