About Advanced Education in General Dentistry (AEGD)
The AEGD program at Wichita State University is an innovative and exciting one-year postdoctoral educational program. It is innovative through its planned design in both physical structure and educational staffing. The interior physical structure models a state-of-the-art dental office, while the exterior is newly built in a suburban location allowing easy access for patient visits.
Dental residents come to Wichita State University to become advanced general dentists. Our clinic offers fully digital operatories, including cone beam technology for diagnosis and computer-aided design and manufacturing. Innovation happens during patient care conferences and collaborative thinking between faculty and residents.
Educationally, AEGD faculty are licensed private practitioners from the community. Specialists and general dentists with diverse backgrounds contribute collectively to the education of the resident. Our faculty mentor all phases of patient care, from the start of a treatment plan to the completion. It is the goal of our faculty to seamlessly assist the resident in their educational goals. Also, AEGD faculty support the residents in developing long-term alumni relationships with WSU AEGD and the Wichita community professional family.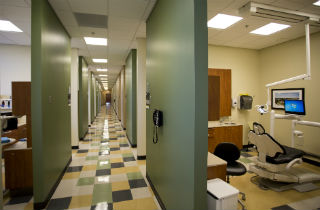 Our residents are both student and staff of Wichita State University. They share the responsibilities and receive the benefits of both positions. Residents are enrolled as students who receive a stipend through graduate medical education funding (GME) provided by Via Christi Hospital. As staff of WSU, residents are eligible for benefits, such as medical, dental, vacation and sick leave. All dental residents are required to have a Kansas dental license before their first day of residency. Because our residents are presented and viewed by patients as dentists, not students, this program models an independent practice setting. Residents also have the added benefit of being fully in charge of the treatment plan without division of care through other resident specialists.
Mission Statement
Our mission is to train, educate and graduate competent and compassionate clinicians in all areas of dentistry with emphasis on quality comprehensive care, outstanding customer service and socially responsible community outreach. Additionally, our mission is to recruit and retain dentists to practice in under-served areas throughout the state of Kansas.
Vision Statement
To be the premier advanced education in general residency program locally, nationally and internationally.