Dental Hygiene Clinic at Wichita State University
Quality, affordable dental hygiene care
The Delta Dental of Kansas Foundation Dental Hygiene Clinic at Wichita State offers a wide range of low-cost preventative, therapeutic and educational services.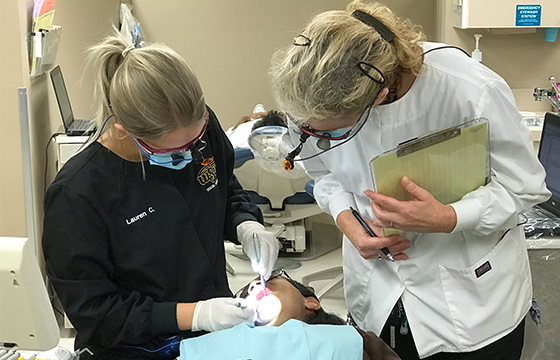 Anyone can make an appointment in our clinic, regardless of association with Wichita State.
Services are provided by dental hygiene students under the direct supervision of licensed dental hygiene instructors and dentists. The clinic provides hands-on applied learning for dental hygiene students while making quality, affordable oral health services available to our community.
Our clinic is Kansas' largest dental hygiene clinic for student education. The 24-chair clinic is open to the public and serves people of all ages. Your participation is a vital part of our students' education and helps them gain the necessary clinical experience to complete professional curriculum requirements, graduate from our program and pursue a license to practice.
Call 316-978-3603 to schedule your appointment.
Read our Conditions of Treatment and Patient Rights and Responsibilities.