In the fall we reported our fall-to-fall retention rates which track specific cohorts of students over time. An equally important measure of retention, sometimes referred to as "grit," is term-to-term persistence.
The advantage of looking at persistence rates is that we are not restricted to a cohort's entry term but can instead track all similarly defined students from term-to-term.
We have seen a steady increase in fall-to-spring persistence for under-represented minorities, first-generation and low-income students, moving from the mid-70 percent to the upper 80 percent over the past four years.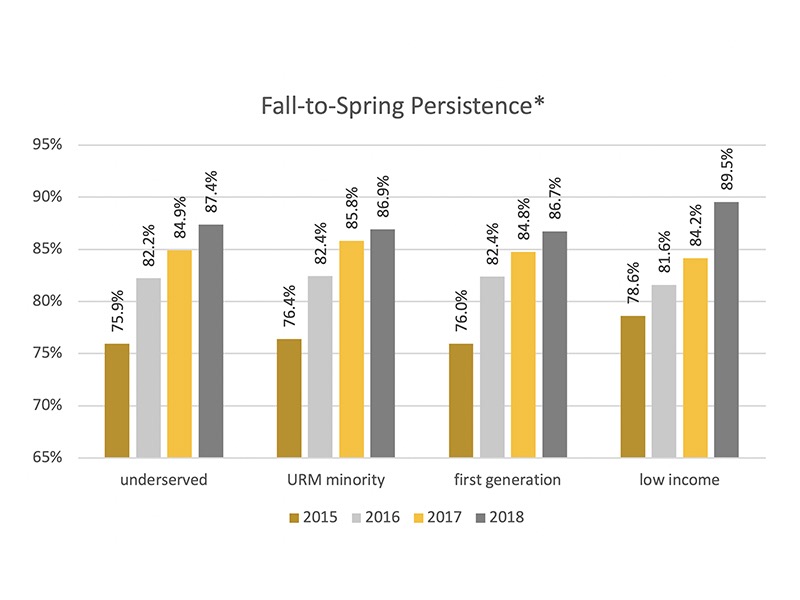 Multiple departments and efforts have been underway to strengthen the support of underserved students. A few of those are outlined below:
Success coaches assigned to the colleges of Applied Studies, Barton School of Business, College of Fine Arts and the Fairmount College of Liberal Arts and Sciences have conducted targeted outreach campaigns through Navigate (formerly SSC Campus) to first-generation students in an effort to be sure they are getting connected to academic and personal resources they need.
The Office of Diversity and Inclusion has increased outreach initiatives to grow the following programs that specifically target underrepresented minority student retention:
a. Passage to Success
b. Multicultural Student Mentoring Program: grew 16.8 percent from 2017-18 to 2018-19.
c. Men of Excellence: grew 77 percent from AY 2017-18 to 2018-19.
d. Phenomenal Women: grew 63 percent from AY 2017-18 to 2018-19.
Kaye Monk-Morgan, the assistant vice president of Academic Affairs, has developed the First-Generation Coordinating Council that has been working hard to bring together departments that serve first-generation students and organize messaging, outreach and celebration of our first-gen students. Additional programs serving our first-generation students include a new student group, called First2Finish, the fourth-annual Ad Astra conference and our TRIO programs.
Teri Hall, vice president of Student Affairs, created the Students in Financial Need ad hoc committee that explores alternative solutions for student financial challenges. These include:
a. Enhanced communication between Housing and Residence Life and Financial Aid to proactively advise students about lower housing options.
b. Identified $20,000 a year that will be used for food scholarships for students.
c. Exploring alternative textbooks via Access Now that provides a lower cost option for text books.
Alicia Newell, assistant vice president of Student Affairs, established first-year interest groups that focus on supporting student transition to WSU, academically and socially.
a. Mi Gente strives to create a community of support to assist Latinx students transition to college.
b. Students Who Are Parents (SWAP) is committed to supporting students who have children by creating opportunities, connections and services at WSU and in the Wichita community to enhance student success.
c. First Gen Success strives to enhance the student experience by providing first generation freshmen with context, guidance and community to support their growth as first-year students at WSU.
What can you do?
Identify if you are FGEN and if you are interested in supporting initiatives. Visit www.wichita.edu/first for information on how to get involved.
Be proactive in approaching "lost" students and taking the time to help them. Be willing to slow down and assist students or direct to them to the appropriate resource(s).
Because everyone can't be an expert in every service area, it is important to know how to make effective referrals. Consult the resource The Art and Science of Making Student Referrals for suggestions.
Review communication and policies for clarity and student-centered messaging. Find examples in the Chairs Toolkit located on the SEM plan website.
Clearly communicate that you care about your students' success. Sometimes we assume students recognize we care, but we don't specifically tell them that we do.
Create a welcoming environment for students. Are they greeted with respect and a smile when they enter your space? If you keep your doors to your office closed, is there signage encouraging them to come in? Are your student hours or office hours posted so students know when they can find someone to help?
Focus on building community. Establishing community both in and out of the classroom / department is an effective way to build a network for students, which reduces feelings of isolation. A sense of community can also support healthy study habits and high academic performance.
Get to know your students by their first names. They are more likely to seek out advice or help when they need it, if they feel like you know them.
* Underserved students include under-represented minorities (American Indian / Alaskan Native, Black non-Hispanic, Hawaiian, Hispanic), first generation students and students from low-income families at or below 125 percent of the poverty line.