Admissions: Incoming Freshmen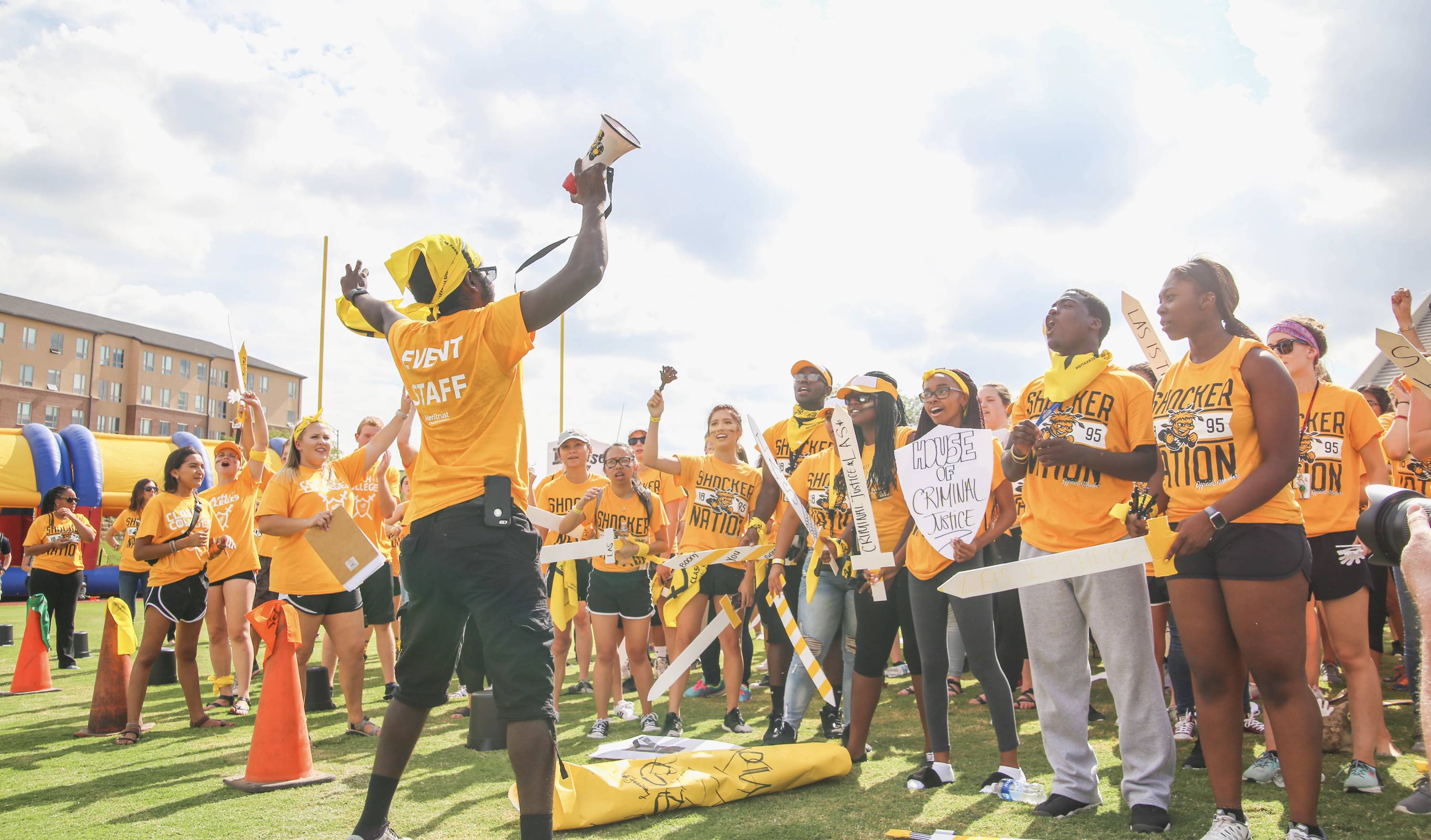 If you're ready to build your ideal future, Wichita State is the place to do it. By combining a traditional college atmosphere with the resources, opportunities and experiences found in Kansas' largest city, WSU has everything you need to succeed in college and beyond.
Not an incoming freshman?
Select your status below to get admission information tailored for you.
Tuition, scholarships and financial aid
Funding your high-quality Wichita State education is easy. Just get admitted, and if you're eligible, we'll send you an automatic scholarship offer. You could also qualify for some of the more than $100 million in other scholarships and financial aid we award each year. In addition, many of our out-of-state students qualify for in-state or reduced tuition.
More admissions information
Freshman admission requirements
Freshmen are assured admission to Wichita State if they meet the following:
1. Have a cumulative 2.25 or higher GPA on a 4.00 scale, OR
2. Achieve an ACT composite of 21 or higher OR a minimum combined SAT ERW+M score of 1060 (test optional for admission)
And, if applicable, achieve a 2.0 GPA on all college credit taken in high school.
Please note, if you do not meet the guaranteed admission requirements, you're still encouraged to apply. Your application will be reviewed individually.
If you graduated from a non-accredited high school or were homeschooled, you must:
Achieve an ACT of 21 or higher OR a minimum combined SAT ERW+M score of at least 1060, have a cumulative 2.25 or higher GPA on a 4.00 scale. If you enroll in college courses while in high school, you must also achieve a 2.00 GPA or higher in those courses.
If you obtained your GED, you must:
For GED tests from 2002-2013: Have a minimum score of 510 on each sub test and an overall score of 2550 to be admitted.
For GED tests from 2014 and on: Have a minimum score of 150 on each sub test and an overall score of 680 to be admitted.
Common App

Wichita State is a member of the Common App. If you'd like to apply using the Common App, add us to your My Colleges list.
High school guest and nondegree admission requirements
If you are a college guest, you must:
Have a minimum cumulative GPA of 2.00 (on a 4.00 scale) from your home institution. Students admitted as college guests are not eligible to receive financial aid.
Open admission students
Students who are looking to take up to 30 credit hours for self-enrichment purposes and meet one of the following criteria may be an open admit:
1. Graduated from high school, or have earned the equivalent of a high school diploma OR
2. Have not graduated from high school, and are at least 21 years of age OR
3. Currently on active military duty OR
4. Hold a baccalaureate or higher degree
Students not meeting the requirements above may be considered for nondegree admission at the discretion of the Office of Admissions. Students under open admission are not eligible to receive financial aid.
High school guest students
The high school guest program offers a special opportunity for academically talented high school students to take college courses at WSU before high school graduation and earn full college credit. » Learn more about being a high school guest.
Frequently asked questions
Don't see what you're looking for? Browse our list of frequently asked questions for more information on the admissions process, steps for admitted students, high school guest and concurrent enrollment, counselor and advisor information, Shocker Family programs and more.