What is the Pizza Hut Museum?
The Pizza Hut Museum is housed inside the original Pizza Hut building. It contains artifacts collected over the years, and offers many interactive aspects.
Where is the Pizza Hut Museum?
The Pizza Hut Museum is located behind the Marcus Welcome Center just off 21st Street.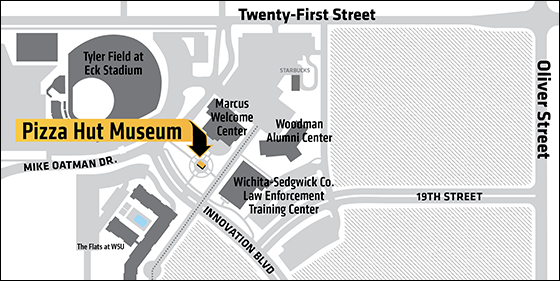 What are the museum hours?
Monday - Friday: 9 a.m. - 5 p.m.
Where do I park?
Museum visitors may park to the north of the museum in the Marcus Welcome Center parking lot, or west of the museum by Eck Stadium.
How much does it cost to get in?
Admission is free for all guests.
Can you order pizza at the Pizza Hut museum?
There is no food available in the museum.
What else is there to do on the Wichita State University campus?
Why not make a day out of your trip to the Pizza Hut Museum? WSU is also home to the Ulrich Museum of Art, the Cadman Art Gallery, the Lowell Holmes Anthropology Museum and one of the largest outdoor sculpture collections in the country. Check out more about the museums on campus.