In 1958, brothers and Wichita University students Frank and Dan Carney started what they thought was going to be a small pizza joint at the corner of Bluff and Kellogg in Wichita. The business, staffed by friends and family, served the newest food trend in America. The business thrived instantly and the company took off when its first franchised restaurant opened in Topeka. Now, it is the largest pizza company in the world with more than 11,000 restaurants in 90 countries.
In 1986, the original Pizza Hut building found a fitting home on Wichita State University's campus. It served as a landmark and a source of pride for students.
In 2017, the building was moved again, but this time to the east side of WSU's campus. By turning the building into a museum, it can be enjoyed by all in an interactive way. This story of the pizza place started by two brothers perfectly exemplifies the entrepreneurial spirit of Shockers and Kansans. We hope it will inspire future generations of dreamers and entrepreneurs.
We are proud to be the Home of the Hut.
---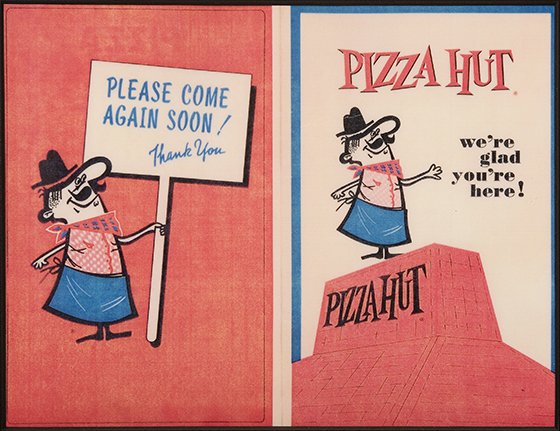 Who is Pizza Pete?
At the beginning of Pizza Hut's rise to fame, the brothers decided the business needed a mascot. The iconic Pizza Pete represented the restaurant. Pete wore a checkered neckerchief, apron, hat and mustache. The famous cartoon first appeared on advertisements, cups, bags and on restaurant exteriors and signs. Pete is remembered by Pizza Hut fans today and his likeness is a permanent fixture in the museum where guests can get a picture with the mustached mascot.