In an effort to make Wichita State University more energy efficient and promote sustainability, most buildings on campus utilize a centrally controlled heating, ventillation, and air condtioning control system. If the thermostat in your area looks like one of those in the following image, this information will explain its operation.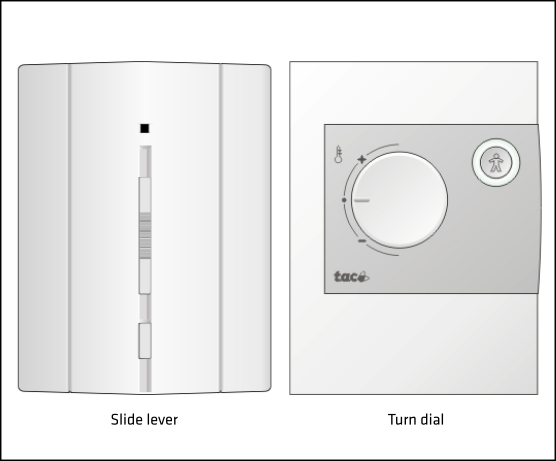 To increase the temperature turn the dial toward the plus ( + ) sign or slide the lever up. To lower the temperature turn the dial toward the negative ( - ) sign or slide the lever down. This will offset the setpoint by +/- 1 degree.
The system works as follows: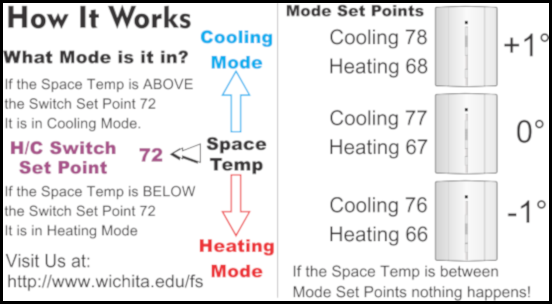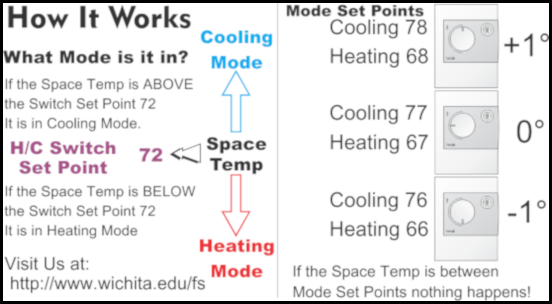 (Right-click image and choose "Save as" to download)
Depending on the type of system in your building there may be times when there is no air coming from your vents. This is normal if the temperature in your area is above 68 degress but below 76. The room temperature demand is satisfied and does not need any heating or cooling.
These temperature settings are based on industry standards and best practices that result in building comfort while maximizing energy savings. These settings have been adopted across campus according to WSU policy.