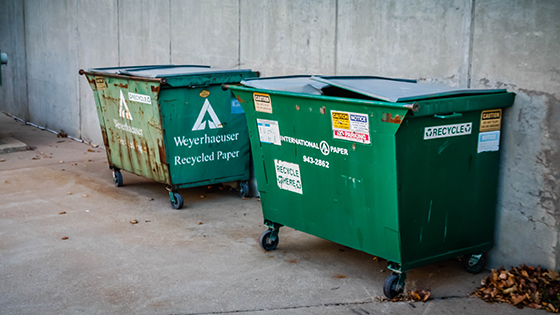 Your participation is greatly appreciated, and we hope you will continue to utilize the recycling centers and encourage others that are not participating to join in.
Learn more about materials accepted for recycling
Below are some helpful tips and guidelines to remember when using the recycling program.
Please do not put food scraps in the recycling centers. It is unpleasant and unsanitary, leading to the discarding of all contents in that particular bin.
Please bag all shredded paper, to avoid creating undue littering while transporting it on campus.
Styrofoam cannot currently be recycled in our program. Please bag it separately and ask custodial staff to dispose of it. Do not leave it inside boxes to be recycled.
If you have special pick-ups, such as storage room clean-outs, file cabinet clean-outs, disposal of excess brochures, catalogs, etc., please place a work order with staff in Gaddis Physical Plant administration building, 316-978-3444. Make arrangements before you clean out, in order to make our work manageable, and in order to maximize the safety in your area.
Confidential records cannot be shredded by recycle staff, as we have no means to do so. Please notify Francis Bias, Director of Facility Services, Custodial Maintenance, with questions regarding other alternatives.
Do not bring your own recyclables from home, to add to that of WSU. This hurts us financially more than it helps us.
Cardboard boxes are to be broken down and taped in bundles of sizes and weights to be easily handled. Masking tape works well for bundling. Unbroken boxes are hard to transport across campus, and our recycle staff has no time to break down boxes for you. Do not include trash in the bundles and boxes.
Contact custodial staff, to dispose of your cardboard bundles for you. Do not leave them in hallways or stacked on or by wooden recycle centers. That practice is unsightly, and hazardous.
Plastic beverage containers only are to be placed into the appropriate bin of wooden recycle centers inside campus buildings. Please do not drop other plastics in, such as, shopping bags and plastic food boxes.
Remember, we have a limited recycle staff. Without your help and cooperation, we cannot meet demand.