Applied Learning at Strategic Communications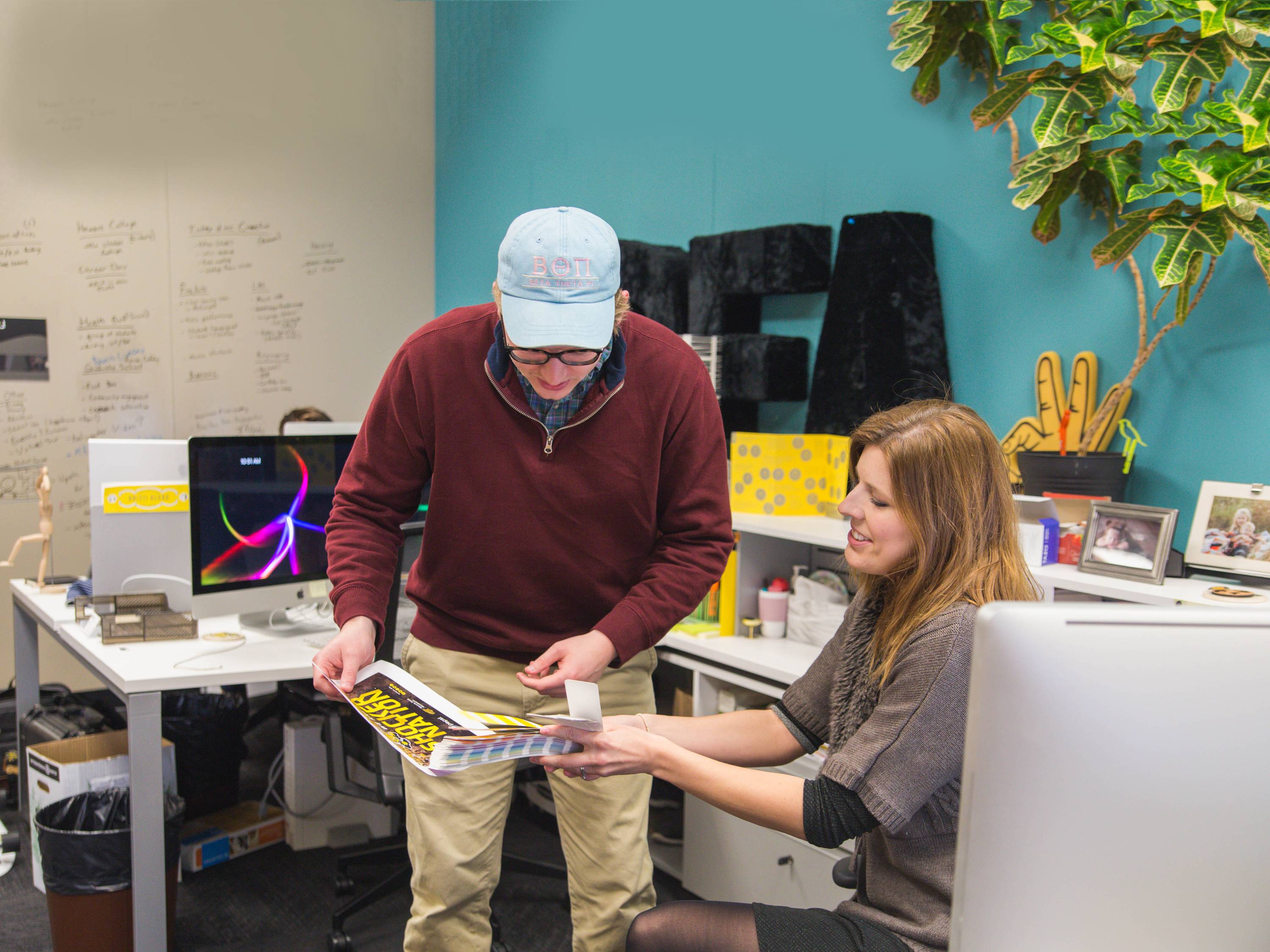 Where can applied learning at Strategic Communications take you? Just ask our current interns and recent grads who've taken advantage of our unmatched opportunities to discover their dream careers in news, public relations, advertising, graphic design and more.
I can't say enough about the team surrounding me during my time as a student assistant. The mix of intelligence, humor, hard work, play, support, trust and innovation is difficult to match. I learned how to be a good manager and leader because it was modeled for me daily during my time with the team!
Roni Ayalla Bean, Presentation and Visual Designer, Sandpaper Productions, LLC, Austin, TX
---
My time at Strategic Communications has helped me grow as an individual as well as a professional. I have learned communication and organizational skills, and have improved my time-management ability. The team is a fun group of people who love what they do and strive to make Wichita State University the best it can be. Because of my experience at Strategic Communications, I have been given a number of different freelance opportunities, and after graduation, I landed a job at KAKE due to the connections I've made.
Aaron Lair, Commercial Media Producer, KAKE-TV, Wichita, KS
---
My time working with Strat Comm was one of the best experiences I had during my college career. I learned so many skills that I now use in my current position with Wichita State University. I'm thankful for the time I spent there and everyone who helped me become the professional I am today.
Jessa Roberts, Digital Media Specialist, International Education, Wichita State University, Wichita, KS
---
With the Strategic Communications Department I had the opportunity to work in an incredibly educational environment and also had the pleasure of working alongside amazing mentors. I am thankful to have worked in an environment that gave me the opportunity to learn about the many different occupations that make up the field I chose.
Rey Alfraih, Communication and Outreach Intern, Syria Relief and Development, Wichita, KS
---
Being an intern in the Strategic Communications Office completely changed my experience at Wichita State University. I felt like I was really part of all the events happening around campus, and it made me even more proud to be a Shocker than I already was. On top of that, it greatly expanded my experience with writing, editing, social media, and video work. These skills, along with the confidence I gained, have helped me succeed after graduation.
Sydney Payne, English Language Arts and Digital Media Teacher, Norwich High School, Norwich, KS
---
My internship in the Office of Strategic Communications provided me real-world, hands-on experiences that weren't offered in the classroom. That can be said for most internships, but as a communication student, it was important to me to learn all facets of communication, not just how to improve my writing. The internship forced me out of my comfort zone and provided experience in design, video, photography, social media and of course, writing. The skills I gained not benefited me when job searching post-graduation and gave me a leg up when applying
Madison McCalla, Marketing and Communications Associate, Allen, Gibbs & Houlik, L.C., Wichita, KS