FEATURED STORIES
Wichita State to hold panel discussion on freedom of expression
Free expression is a fundamental value for an institution such as Wichita State University, Neal Allen, associate professor of political science, maintains.
"We owe all of our students, and all Kansas citizens that we serve, our best effort to include all points of view," he said. "I believe that democratic government depends on having both involved citizens and trained professionals."
The open exchange of ideas may not produce a tidy ending.
That exchange, however, is crucial to our nation's discourse, no matter how difficult the conversation. Wichita State University recognizes the important role universities play and will present a virtual panel on Freedom of Expression from 3-4:15 p.m. Wednesday, March 31.
Read more about the panel discussion and how to watch
---
Join Dr. Muma for donuts on March 5
Employee Appreciation Day is right around the corner on Friday, March 5. To start the day off, President Muma and other university leaders will be at the Rhatigan Student Center with donuts between 8 and 9 a.m. for those who are able to swing by.
Employee appreciation tips for supervisors
We know leaders are probably looking for ways to show appreciation for faculty and staff on tighter budgets and modified for the remote work environment. While the usual catered lunch or in-person recognitions may not be in the plan (or in the budget) this year, it's still important for leaders to show their employees that they are valued both as people and for the work they contribute to the University.
Below are a few no-cost, creative ways to celebrate Employee Appreciation Day modified for your remote workforce.
Host a virtual Employee Appreciation Day for your remote team. Choose a fun theme, ask everyone to dress up (optional) and find virtual backgrounds that go along with your theme. You can ask your leader (next up the chain) to share an encouraging message or to facilitate a fun game for employees.
Write a handwritten note to your staff and personalize it with recognizing something they have done that has made a positive impact on your team.
Have a drawing to give away prizes during a Zoom call. Prizes can be university swag already on hand, and you can use

wheelofnames.com

to pick winners.
Create a Kudo Board to celebrate employees with an online group card filled with messages, GIFs, photos and videos.
Share praise received from customers. This shows employees that their work matters and may give them a needed boost.
Create a Hall of Fame where leaders can recognize someone in their division or college who made an extraordinary contribution to the institution's ability to manage during the pandemic.
---
Kansas Severe Weather Awareness Week
In conjunction with the National Weather Service, the State of Kansas will participate in https://www.weather.gov/top/swawSevere Weather Awareness Week, March 1-5.
At 10 a.m. on Tuesday, March 2, Sedgwick County Emergency Management Services will sound the severe weather sirens throughout the county. In past years, Wichita State has used this annual drill to have all employees, students and visitors report to their severe weather shelter area. However, this year, due to social distancing restrictions, we will not report to the designated severe weather shelter areas.
Instead, use this opportunity to review where your severe weather shelter area is in your building.
If you have any questions, please contact Mike Strickland, Director, Environmental, Health & Safety department. He can be reached at mike.strickland@wichita.edu or 978-3347.
---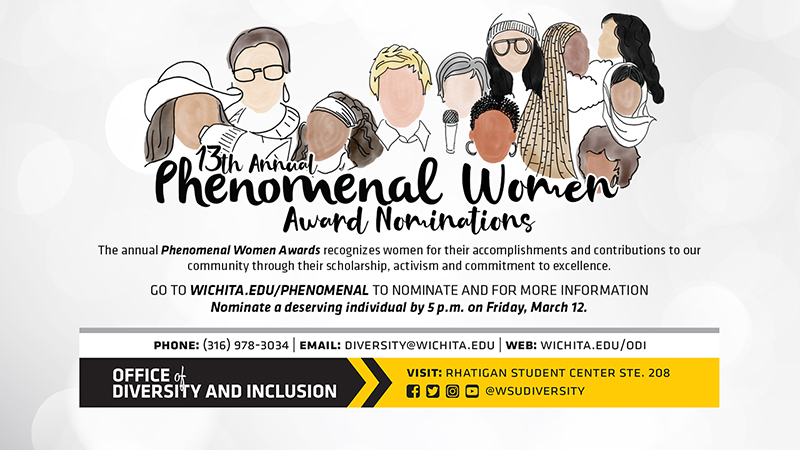 Nominate a Wichita State phenomenal woman
We are excited to kick off Women's History Month with the Wichita State Office of Diversity and Inclusion's 13th annual Phenomenal Women Award program. The Phenomenal Women Award recognizes women for their accomplishments and contributions to our community through their scholarship, activism and commitment to excellence. Individuals are encouraged to nominate women who have made a difference in their lives.
Nominations are now open to the Wichita State University community. For questions, contact the Office of Diversity and Inclusion at 316-978-3034 or diversity@wichita.edu.
HR, BENEFITS AND TRAINING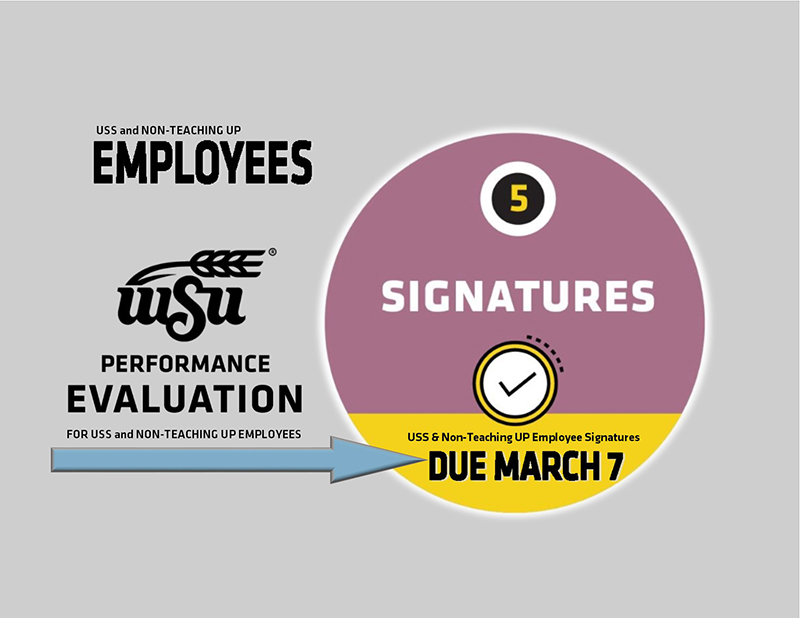 USS and Non-Teaching UP Employees: Signatures are due this week
Employee Signatures for 2020-2021 myPerformance Evaluations are due this week! USS and non-teaching UP Employees should log in to myPerformance in myWSU to submit electronic signatures by 11:59 PM on March 7.
Your evaluation will be available for the employee signature once your manager has submitted your evaluation with ratings.
For more information (including quick reference guides and other assistance) go to www.wichita.edu/myPerformance.
---

March HealthQuest upcoming events
Employees enrolled in 2021 coverage through the State Employee Health Plan can earn a premium discount worth $480 annually and HSA/HRA rewards dollars up to $500 per year for each employee and covered spouse, just by participating and logging healthy activities throughout the year!
In March, there are two events currently scheduled worth up to 34 points.
Wednesday, March 3, 10:30-11:30 am, "Eating Healthy on a Budget", EAP webinar. Register online. (1 point)
Monday, March 8, on-campus Biometric Screening in RSC 266 Pike Room. Schedule your appointment today in the HealthQuest portal

, or by calling 1-888-275-1205, option 3. Limited appointments available. (Up to 23 points)

Monday, March 8, registration opens for the second Naturally Slim class of 2021. Register online. (10 points)
Now is good time to take advantage of some of the On-Demand and online options to earn HealthQuest points.
Virtual Health Coaching Sessions: You can earn up to 15 points (max 1 health coaching per day, 1 point each) by scheduling Health Coaching Sessions. You can choose a health coach who is a nurse (RN), a dietitian or a trainer when scheduling sessions.
Learning Modules: You can earn up to 5 points by completing on-demand learning modules in the HealthQuest portal. There are 18 different topics to choose from.
EAP On-Demand Trainings: You can earn up to 8 points (max 1 point per day) by completing EAP On-Demand trainings and webinars that you can access through the HealthQuest portal. There are 32 different topics to choose from.
HealthQuest Financial Wellness Learning Module: You can earn 5 points by completing this four-week learning module.
Online Wellness Assessment: You can earn 10 points for completing this assessment.
2021 HealthQuest Program Overview Video & Quiz: You can earn 3 points for watching this video and completing the short quiz.
We'll be publishing upcoming events each month, but if you'd like to plan in advance, check out all currently scheduled HealthQuest events.
NEWS
Trade food, supplies to pay off parking fines
It's time for Food for Fines! Donate food or supplies to the Shocker Support Locker March 2-4 to help pay off any outstanding parking citations.
Food for Fines is an initiative that is offered monthly to support the Shocker Support Locker, while providing a cheaper opportunity to pay parking citations. This semester we are also offering Supplies For Fines, which is an addition to Food for Fines.
This is an effort to help address the current needs of our students during this global pandemic. It works exactly the same as Food for Fines, but with a slight change to the number of items needed to be donated. Special thanks to the Fairmount College Student Advisory Council and Parking Services for being so helpful and supportive in implementing this addition to the program.
If you have any questions or concerns please reach out to the Student Advocate via email at student.advocate@wichita.edu
Learn more about Food/Supplies for Fines
---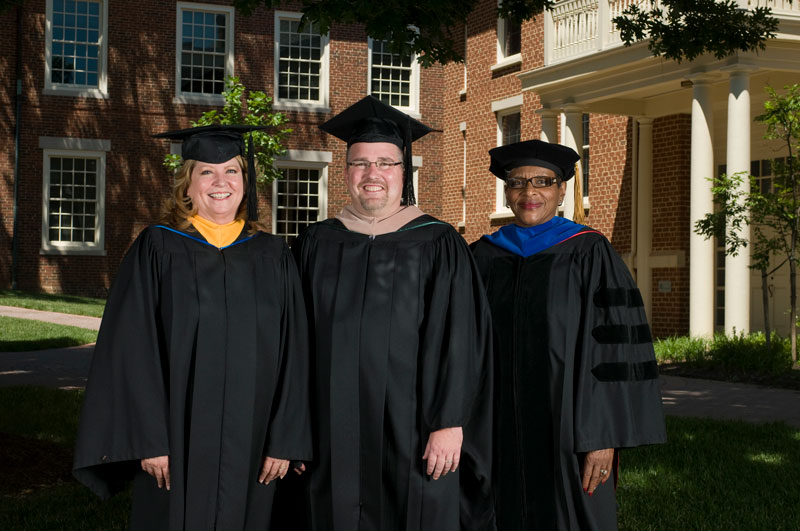 Order faculty commencement regalia
The Shocker Store is taking regalia rental orders from faculty and staff members who are planning on attending the spring 2021 commencement. The deadline to place your rental order is 4 p.m. Friday, April 9. If you would like to purchase custom academic regalia, the deadline is 4 p.m. Friday, March 12. Payment is due when order is placed. To order or ask a question, please email shockerstore@wichita.edu or call 316-978-7021.
---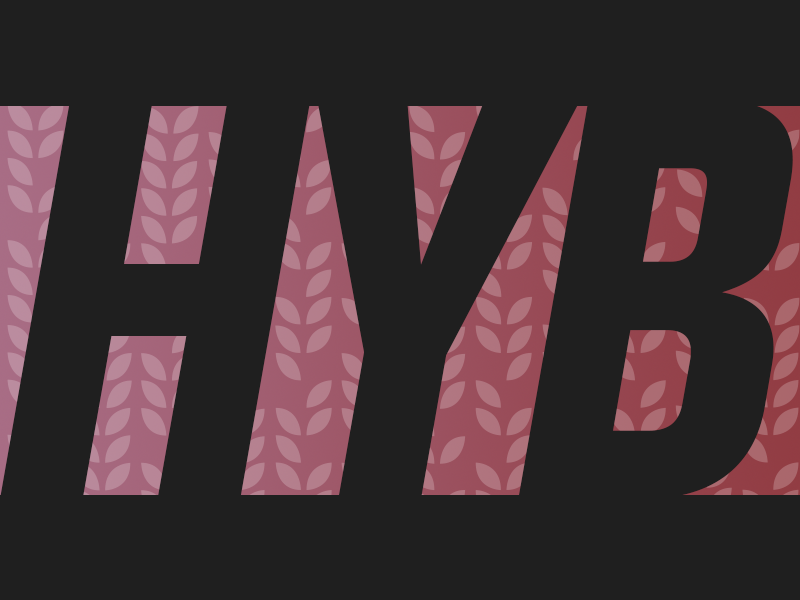 Understanding course codes in a nutshell
With so many changes in instruction this past year, we thought it might be helpful to provide some reminders:
Fully in-person courses (TCI): Same time, same place, on campus [not currently being offered]
Hybrid courses (HYB): Combination of in-person and online content (in real time or on demand)
Hybrid Online (HYO): Online instruction with no assigned meeting day or time, but with in-person tests
Online Synchronous courses (IIS): Offered in real time at an assigned day and time
Online Asynchronous courses (IIE): Content is 'on demand' with no assigned meeting day or time
---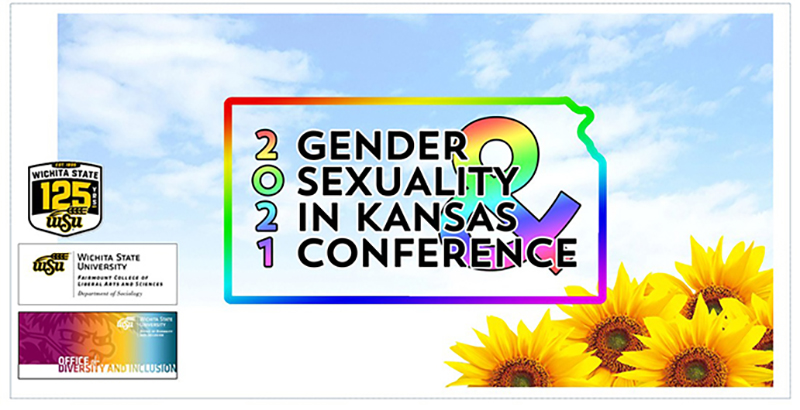 Register for the 2021 virtual Gender & Sexuality in Kansas Conference
Registration is now open for the eighth annual Gender & Sexuality in Kansas Conference, which will be held virtually on from 9 a.m. to 4:30 p.m. Friday, March 12.
Whether you plan to drop in and out to attend conference sessions or keynotes, or if you plan to the full day, attendees must you pre-register in order to receive conference Zoom links. (Note: Zoom authentication will be required, so you must create a free Zoom account if you don't yet have one). Pre-registration will be open until midnight on Monday, March 8. Conference links will be sent to those who register by Thursday, March 11.
As always, the conference is free and open to the public. To register, visit: wichita.edu/genderconference.
---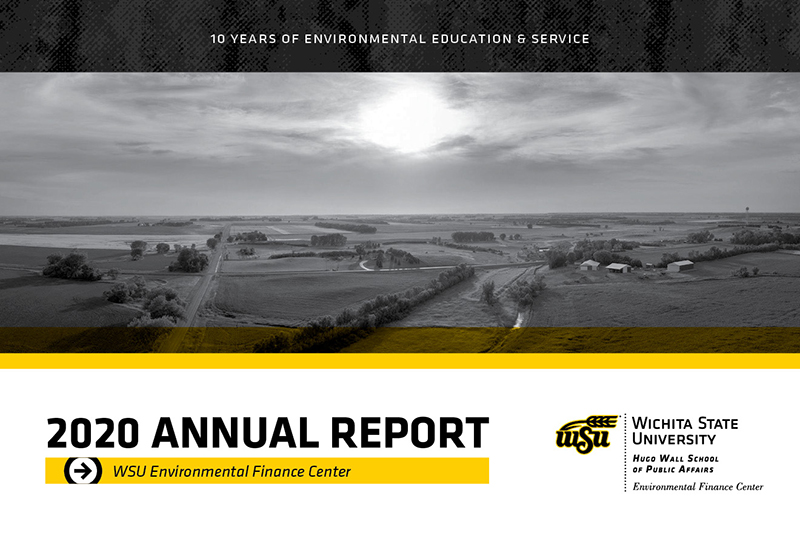 Environmental Finance Center celebrates 10th anniversary in 2020 annual report
Wichita State's Environmental Finance Center is proud to release tis 2020 Annual Report. The year 2020 was a difficult one. However, the Environmental Finance Center has so many things to celebrate, including its 10th anniversary.
Report Highlights:
The EFC received more than $790,000 in new grants and contracts in 2020. The EFC will continue to work on these diverse projects over the next few years.
The switch to online platforms resulted in broader regional participation at EFC professional development events, helping us reach more than 1400 participants.
The EFC developed an online cost comparison tool to help decision makers compare costs and benefits of installing various nature-based treatments on vacant lots in the Middle Blue River Watershed in Missouri. https://vacanttovibrantkc.org/
More About the WSU Environmental Finance Center
The Wichita State University Environmental Finance Center (WSU EFC) was established in 2010, to build on the Hugo Wall School of Public Affairs' 50-year history of providing quality financial and managerial support to local governments. The EFC expanded the school's reach outside the boundaries of Kansas while concentrating services on environmental issues of importance in the region. The WSU EFC is part of the nationwide Environmental Finance Center Network established by EPA to help address funding challenges communities face as they implement environmental improvements. www.wichita.edu/efc
EVENTS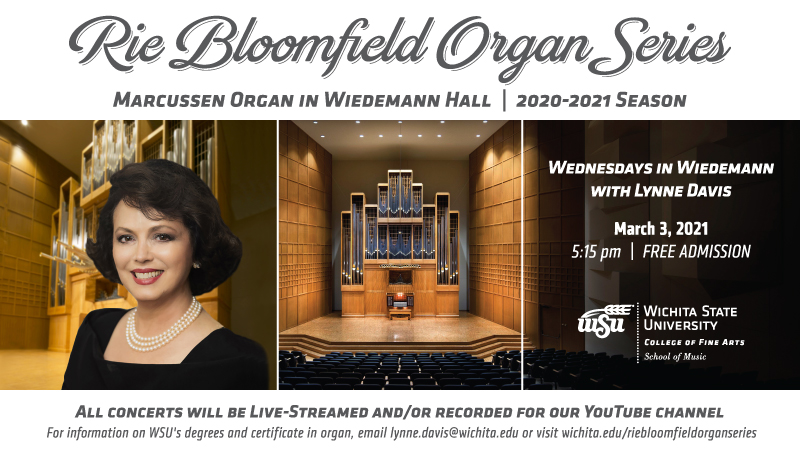 David Perez, to perform at Wednesdays in Wiedemann
Please join us for a special Wednesdays in Wiedemann in Wiedemann Hall on the Marcussen organ as we welcome master's degree candidate in organ performance, David Perez, in a recital of music by Franz Liszt and Maurice Durufle. It's the name game with each of the two pieces written on the names of well-known composers: B-A-C-H and A-L-A-I-N. The half-hour recital begins at 5:15 p.m. March 3, and admission is free. You can watch it on the live-stream through the WSU School of Music FaceBook page, or attend in person (social distancing and masks are required). This is part of the Rie Bloomfield Organ Series.
---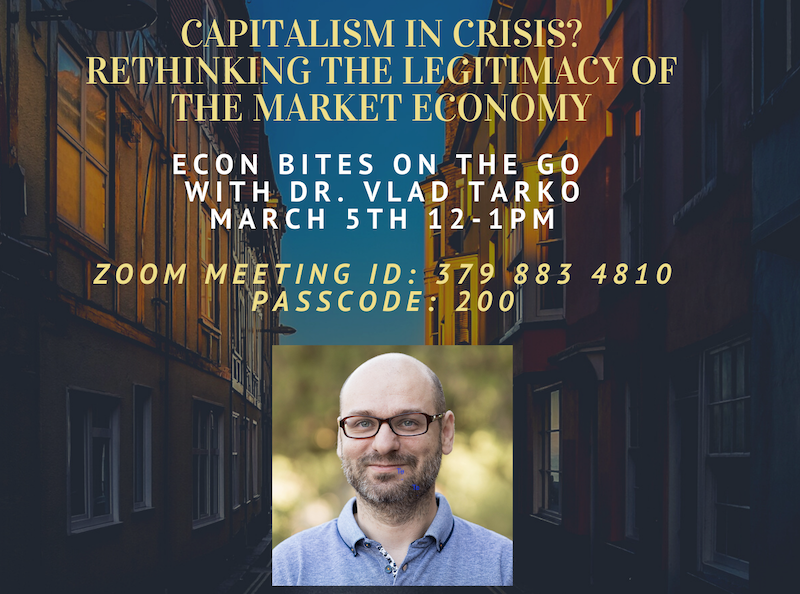 Speaker presents 'Is Capitalism in Crisis?'
"Economics Bites on the Go" invites economist Dr. Vlad Tarko from University of Arizona to have a conversation with Wichita State faculty and students to discuss the legitimacy of the market economy at noon on Friday, March 5. Zoom meeting ID: 379 883 4810; passcode: 200.
---
Physics seminar features P. Albright on March 3
Join us for this week's physics seminar, featuring P. Albright at 2 p.m. March 3 via Zoom. The title is "A Career in Physics Outside the Academy." Find more details on our website: