---
Upcoming Philosophy Events
---
Distinguished Lectures in History of Philosophy
Dr. Deborah Boyle
Professor of Philosophy, College of Charleston
Thursday, March 23, 2023
3:30 -- 5:00pm, LH 100: "Mary Shepherd's Causal Principles and Divine Causation"
Friday, March 24, 2023
3:30-5:00pm, LH 100: "Sympathetic Curiosity: Joanna Baillie's Account and Elizabeth Hamilton's Critique"
---
Recent Philosophy Events at WSU
---
2022
Distinguished Lectures in Philosophy of Psychology

Associate Professor and Director of Graduate Studies, University of Kansas
Thursday, April 7, 2022
3:30 -- 5:00pm, RSC 142 Harvest Room: "The Memory Trace in Philosophy and Neuroscience" Academic lecture, open to the public
Abstract: Memory traces are a persistent yet puzzling feature of our thinking about memory. They have been a part of theorizing about memory for as long as there has been theorizing about memory. But they're also mysterious. The primary way of 'making sense' of them is via metaphors—traces are likened birds in aviaries, impressions in wax, items in a warehouse, or grooves in a record. As philosophy of memory has grown recently into an active subfield, many working in this area consider traces an unnecessary and outdated idea. Meanwhile, memory researchers in neurobiology proclaim that we are in the midst of "engram renaissance" (Josselyn, Köhler, & Frankland, 2017). Engram is a new word for an old idea, the current scientific term for the memory trace. New tools like optogenetics have produced a number of discoveries, exciting not only for what they reveal about the basic mechanisms of memory, but for the opportunities they provide to connect with broader areas of memory science. What are memory traces, and do we need them? The memory trace (or engram) remains woefully undertheorized—a neglect that persists even as the philosophy of memory expands. In this talk, I sketch a way to address this, developing a theory of the engram/trace that captures work in contemporary neurobiology and conveys its significance for our theorizing about memory more broadly. The account also serves to appropriately situate the neurobiology of memory as a central contributor in the interdisciplinary inquiry into memory, and as an area of memory science worth the attention of philosophers of memory.
Friday, April 8, 2022
11:00am: Moral Motivation and Behavior (Special discussion for students only. Email susan.sterrett@wichita.edu for details.)
3:30 -- 5:00pm, Clinton Hall 200: "Why Philosophy Matters for the Mind-Brain Sciences" Public lecture for general audience
WSU Colloquium
Ethics in Engineering
Assistant Teaching Professor, Wichita State University

"Champlain Towers Collapse: The Canary in the Coal Mine?"

March 9, 2022 in 201 Ahlberg Hall

Two opportunities! 11:00am and 12:30pm
---
2021
Special Guest Speaker
Assistant Professor, Department of Cyber Science, United States Naval Academy
"The Economic and Philosophical Significance of Cryptocurrencies"
Oct 27th, 3:30 - 5:00PM. McKinley Hall 324. Zoom meeting 95755174831; Password: PhilColloq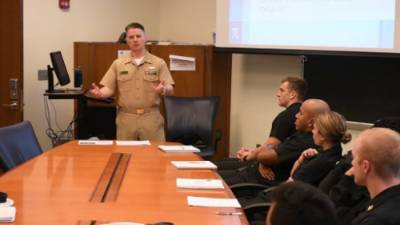 Overview: In this talk I will explain what cryptocurrencies are, such as Bitcoin and Ethereum, how they work, and examine their economic, entrepreneurial, and philosophical significance. Philosophically, I will discuss how independently executed programs on a blockchain, also called "smart-contracts," have ushered in the return of classical Aristotelian notions about teleology, which presents economic and legal challenges as these technologies become adopted. Ethically, cryptocurrencies give rise to both challenges and promises which will be discussed as well. No prior knowledge of any technology will be assumed.

"Intelligence under Democary and Authoritarianism: A Philosophical Analysis"
Oct 28th, 3:30 - 5:00PM, McKinley Hall 324. Zoom meeting 95755174831; Password: PhilColloq
Overview: A proper philosophical analysis of the differences between secret state intelligence activities operating within political communities of dissimilar type reveals enough heterogeneity to undermine the assumption that these are the same activities at all. Comparing intelligence endeavors under democracies and dictatorships, this talk discusses philosophical ramifications that justify this heterodox conclusion. As different activities, they do not always share the same characteristics, processes, or purposes. Much follows from this recognition. For example, while analytical objectivity is traditionally considered the goal of all intelligence analysis, I argue that in authoritarian systems objectivity both isn't and should not be the goal. Using poststructuralist critical theory, particularly the work of Michel Foucault, I further show that some traditional Western evaluations of authoritarian intelligence sometimes suffer from conceptual assumptions that treat the latter as merely a degenerate form of Western activities. I also introduce the fallacy of the omniscient customer as a critique against conventional evaluative models of the intelligence cycle that assume universalist assumptions.
Perspectives: Reestablishing Reality
Fairmount College of Liberal Arts and Sciences Spring Lecture Series
Dr. Susan G. Sterrett
Curtis D. Gridley Distinguished Professor of History and Philosophy of Science, Wichita State University
"Science and Bias" (Wednesday, May 11, 2021)
Distinguished Speaker Series
Assistant Professor of Philosophy, Bard College
"Reasoning with the Mad: On Charles Darwin's Strange Debt to John Locke" (Thursday, April 22, 3:30 PM)
"John Locke on Persons and Punishment" (Thursday, April 29, 3:30 PM)
---
2020
Online Workshop July 30, 2020 (password: Equations)
Professor of Philosophy and Affiliate in the Department of Science, Technology, and Society, Viginia Tech
"Fishbones, Wheels, Eyes, and Butterflies: A Heuristic Account of Models and Simulations"
Truman P Handy Professor of Philosophy and Professor of Mathematics, Case Western Reserve University
"Fluid Motion for Philosophers of Mathematics"
Assistant Professor, Munich Center for Mathematical Philosophy; Senior Research Fellow, Black Hole Initiative, Harvard University; Research Fellow, Smithsonian Astrophysical Laboratory
"What To Do When You Can't Solve Equations"
Curtis D Gridley Professor of History & Philosophy of Science, Wichita State University
"How Mathematics Figures Differently in Exact Solutions, Approximations, Simulations, and Experimental Physical Models"
---
We regret that due to COVID-19 our distinguished lectures for 2020 were cancelled.
Distinguished Lecture in the History of Philosophy
Assistant Professor, Bard College
Distinguished Lecture in Philosophy of Psychology
Professor of Philosophy and Philosophy-Neuroscience-Psychology, Washington University in St. Louis
---
2019
Associate Professor of Linguistics, Bowling Green State University
"Cripping the Trip to Space: How Disabled Astronauts Will Save Space Colonization" November 14, 2019
---
Associate Professor of Philosophy & Biological Sciences, Clemsen University
"One Religion Please, Hold the God: Complexity, Natural 'Religion' and the Prospect of a Universal Ethic" November 13, 2019
---
WSI
Space Exploration Lecture Series

November 7, 2019

Lawyer Christopher McHugh, spoke about a legal case involving Apollo lunar samples.

November 10-15, 2019

WSU hosted a major, NASA-funded interstellar research conference: The Sixth Interstellar Symposium and Interstellar Propulsion Workshop featuring cutting-edge research on advanced propulsion concepts, interdisciplinary discussions of interstellar travel, and a science fiction author panel. Visit the conference website for more information: https://tviw.us/tviw-2019/

Through November 17, 2019

WSU hosted the Lowell Nesbitt: Apollo 1969 art exhibit in the John Bardo Center. This installation was made possible by the Ulrich Museum of Art. https://www.facebook.com/events/2392342870881134/

October 19, 2019

Keynote Speaker: Dr. Roger D. Launius, former NASA Chief Historian

Funded by a grant from the NASA Kansas Space Grant Consortium. For more information, please contact James.Schwartz@wichita.edu.
---
Washington University, St. Louis
Distinguished Lectures in the Philosophy of Psychology 2019
"Living with Memory: Can Individuals with Amnesia Consent?" April 18, 2019
"Gloomy Prospects and Roller Coasters: Finding Coherence in Genome Wide Association Studies of Psychiatric Disorders" April 19, 2019
---
Associate Professor of Philosophy, Wichita State University
"Aristotle and Aztec Human Sacrifice" April 11, 2019
---
February 9, 2019: The WSU Department of Philosophy hosted the
Annual Meeting of the Kansas Philosophical Society
Introduction: Susan Sterrett, Wichita State University
Welcome address: Andrew Hippisley, Dean of the Fairmount College of Liberal Arts and Sciences, Wichita State University
Session 1
Chair: Jim McBain, Pittsburg State University
"Fake News on Social Media: Eliminating a Uniquely Noxious Market" Megan Joanna Fritts and Frank Cabrera, Kansas State University
"On the Contractualist Case for Eating Meat" Keith Harris, University of Missouri
Session 2
Chair: Jim Schwartz, Wichita State University
"Self-Reflexive Cognitive Bias" Joshua Mugg, Park University and Muhammad Ali Khalidi, York University
"Confucian Ethics and the Challenge of Gender" Dennis Arjo, Johnson County Community College
Session 3
Chair: Patrick Bondy, Wichita State University
"Epistemic Injustice in Aristotelian Ethics" Noell Birondo, Wichita State University
"Knowing Disability Transactionally: A Pragmatist Response to Epistemic Injustice" Sarah Woolwine, University of Central Oklahoma
Keynote Address
Chair: Susan Sterrett, Wichita State University
"The Mnemonic Puzzle" Sarah Robins, University of Kansas
---
2018
Associate Professor of Philosophy, Southwestern College
"First, We Laugh; Then, We Think Its Funny" October 26, 2018
---
Associate Professor of Philosophy, University of New Mexico
Distinguished Lectures in the History of Philosophy
"Descartes on Imagination, Truth, and Knowledge" April 26, 2018
"Induction, Deduction, and Truth in Newton's Principia" April 27, 2018
---
2017
Professor Emeritus, University of California, Davis
Distinguished Lectures in Philosophy of Psychology 2017
"Neuroscience, Psychology, Reduction, and Functional Analysis" April 5, 2017
"Representation in Kant's Aesthetic" April 6, 2017
---
2016
Craig Macy, J.D.
B.A. Wichita State University, J.D. Harvard University
"Dangerous Brains: The Convergence of NeuroScience, Philosophy, and Law" September 29, 2016
---
2015
Associate Professor of Pediatrics, Internal Medicine, and Philosophy, University of Utah
Fall 2015
---
Assistant Professor of Philosophy, Wichita State University
"Virtue and Prejudice: Giving and Taking Reasons" May 8, 2015
---
Ph.D. Student, Ghent University
"Determinism and Continuity: Irregular Vibrations of the String" April 28, 2015
---
Assistant Professor of Philosophy, University of Central Oklahoma
"Gender and Moral Virtue in Kant's Critique of Judgment: The Third Critique as a Template for Identifying Femiine Deficit' April 20, 2015
---
Shocker Philosophy Conference
Organizer and Chair: Tyler Hiebert
Hannah Erickson, "Philosohical Elucidations in the Application of Eudaimonia"
Ben Porter, "Power and Pleasure in Locke"
Shawn Odom, "Figuring Math"
Stephen Grillot, "How Emotion Shows Us the Way and Reason Leads Us Astray"
Joseph Sellers, "Issues Involving Sexual Use"
---
Fairmount Lecturer in Philosophy, Wichita State University
"Why Should Philosophers Care about Space Exploration?" March 11, 2015
---
2014
Professor, Center for Automated Learning and Discovery, Professor of Philosophy, Carnegie Mellon University
"A Framework for Causal Discovery from Experimental and non-Experimental Data" November 13, 2014
Sponsored by the WSU Departments of Philosophy; Electrical Engineering and Computer Science; and Mathematics, Statistics, and Physics
---
UC Boulder College Professor of Distinction, Philosophy and Women and Gender Studies Research Coordinator, University of Oslo Center for the Study of Mind in Nature Distinguished Research Professor at the University of Birmingham, UK
"Measuring Gendered Poverty: Methodology and Morality" October 17, 2014
Sponsored by the WSU Fairmount College of Liberal Arts and Sciences, the Department of Philosophy, and the Center for Women's Studies
---
Curtis D. Gridley Distinguished Professor of the History and Philosophy of Science, Wichita State University
Curtis D. Gridley Distinguished Lecture in the History and Philosophy of Science
"The Use of Analogy in the Works of Darwin, Einstein and Turing" October 14, 2014
---
Fairmount Lecturer in Philosophy, Wichita State University
"Unfinished Business: The Burgess-Rosen Objection to Nominalism" January 29, 2014
---
2013
Dr. Susan V.H. Castro
Assistant Professor of Philosophy, Wichita State University
"The Metacognitive Character of Kant's Formula of Universal Law of Nature: Acting "as if" and Autonoetic Mental Time Travel" Septemer 19, 2013
---
Associate Professor of Philosophy, Oklahoma State University
"The Many Gods Objection to Pascal's Wager: A Decision Theoretic Response" April 11, 2013
"Kant's Touchstone of Communicability and the Public Use of Reason" April 12, 2013
---
2012
31st Annual Meeting of the Kansas Philosophical Society
February 18, 2012 at Wichita State University
"Agent-Centered Epistemic Deontologism" Gregory Stoutenburg, University of Iowa
Commentator: Patrick Epley, University of Oklahoma
"Liar-Like Paradox and Metalanguage Features" Klaus Ladstaetter, Washburn University
Commentator: Tim Murphy, Fort Hays State University
"Phenomenal Information and the Ability Hypothesis" Ian Harmon, University of Illinois, Urbana-Champaign
Commentator: Dennis Arjo, Johnson County Community College