Update on our 2020-2021 Season
The College has always been committed to providing the highest quality in arts programming. We recognize, however, that current circumstances necessitate changes in the presentation of this programming. Some may be live with limited audience participation, and some will be totally presented on virtual platforms.
Our promise is to keep you informed of these changes as we navigate this situation together – through our website, newsletters and social media. We appreciate your continued support and feedback.
---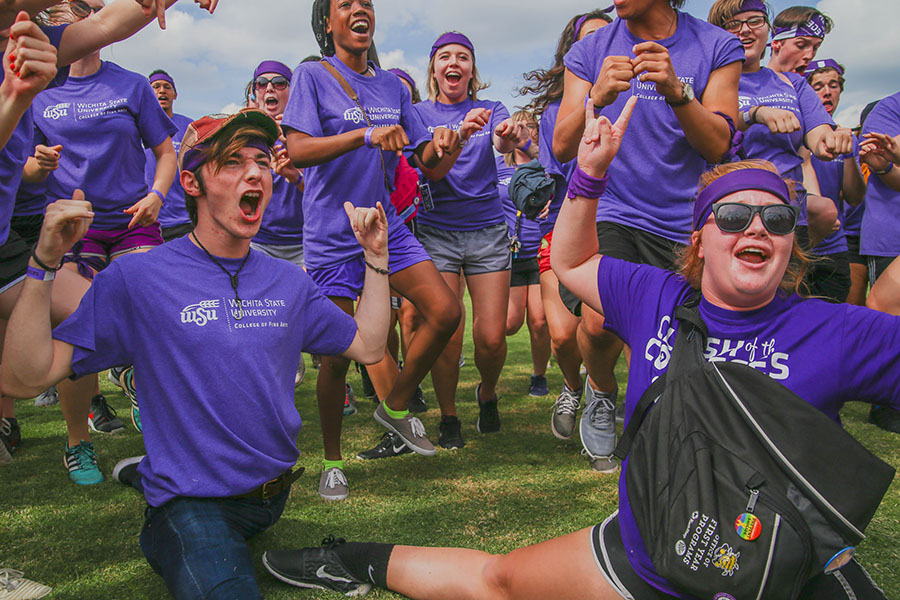 Welcome message from Dean Rodney Miller
From the very beginning, the arts were a part of Fairmount, and when Fairmount became the University of Wichita in 1926, the College of Fine Arts was founded. That's why we are dedicating this 125th anniversary year to a celebration of significant and memorable events of both past and present. For now, however, COVID-19 has put most of our events, especially those involving an audience, on hold. What we are presenting instead is this newsletter, which will showcase the many wonderful happenings going on in our College despite our ever-changing circumstances.
Since its inception, the College of Fine Arts has proven its impact not only locally in Wichita and Kansas, but nationally and internationally as well. We have a storied legacy of hiring superb faculty and staff who mentor, teach, and train students that go on to change the world. Faculty and alumni from the College of Fine Arts have won or been nominated for just about every major arts award there is, and the seeds of those accomplishments can be found in every facet of the College today.
I have no doubt that faculty, staff, and students will continue to accomplish great things even during this time, and together with our community of supporters, we will persevere for the sake of what binds us together—a passion for and dedication to the arts.
---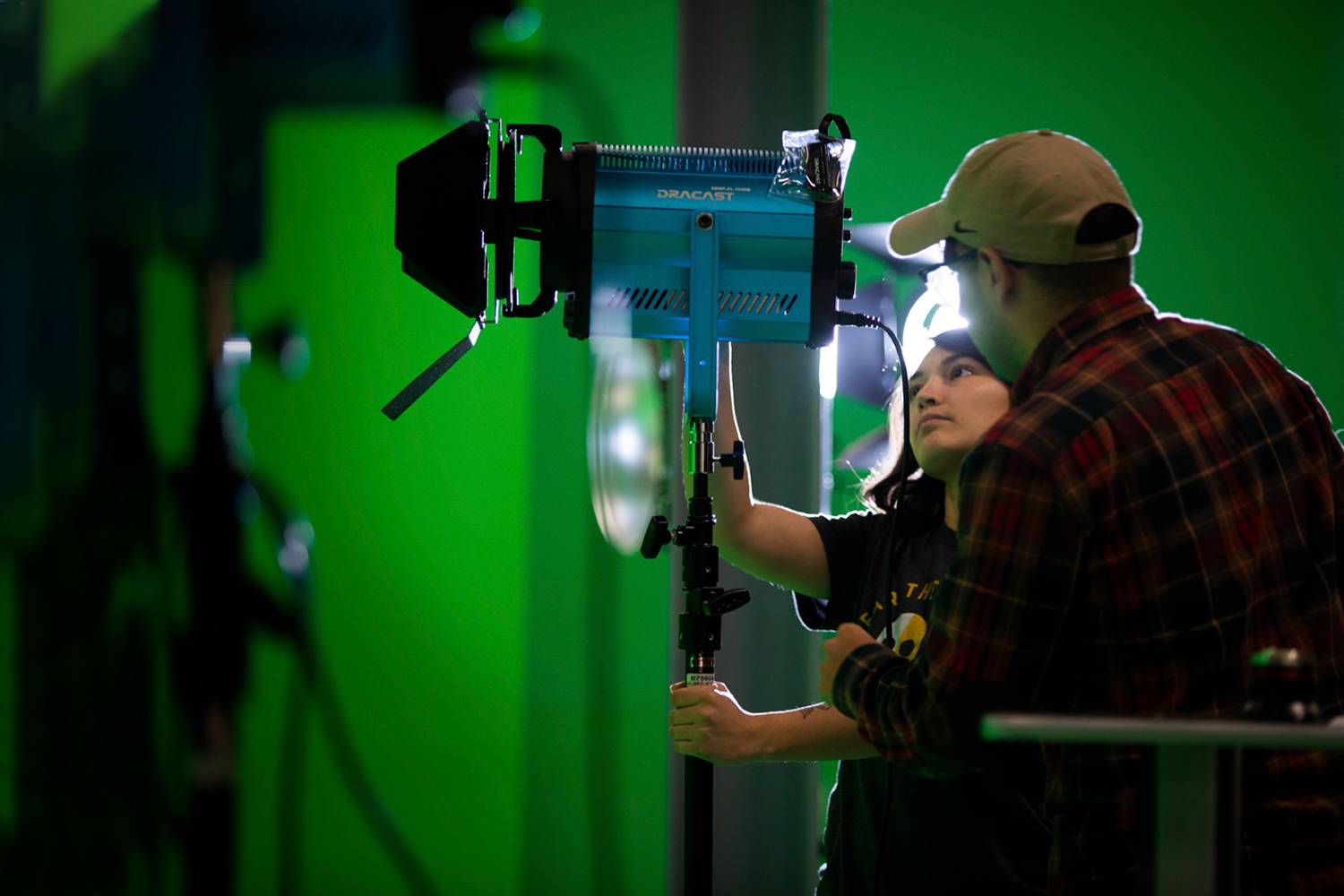 WSU creates new School of Digital Arts
---
2020 Mickey and Pete Armstrong Faculty Excellence Awards
---
Music Associates inducted into College of Fine Arts
Hall of Fame after reaching $1 million in fundraising
At the end of December 2019, Music Associates passed the $1 million milestone in donations received since 1993. For this notable achievement, the patron group was inducted into the 2020 College of Fine Arts Hall of Fame.
Music Associates was founded in 1993 to support the Wichita State University School of Music. Since then, community members have been pooling their financial resources into a single fund dedicated to aiding students within the School of Music. Members of the organization range from School of Music alumni who want to give back to the university that shaped them, to music enthusiasts who enjoy supporting musicians in the Wichita community.
Members of Music Associates share one common goal—enhancing opportunities for Wichita State University music students. Their gifts mainly fund scholarships, but they also fund trips to perform across the country, bringing guest artists to campus, and sending students to symposiums. Without Music Associates, students would not be able to partake in these experiences that prepare them for successful careers after graduation.
Below is a video of Joe Emery, President of Music Associates, accepting the 2020 Hall of Fame award.
---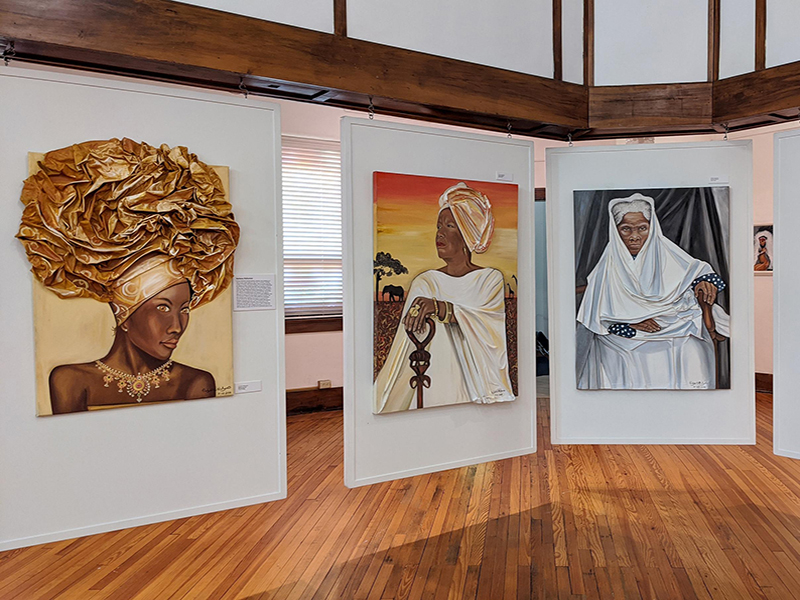 Kansas African American museum exhibition spotlights women artists of color
(Original story by Emily Christensen)
The works in The Kansas African American Museum's exhibition "Shades of Strength and Beauty" portray women of color in all their complexity: defiant, nurturing, wise, proud, relaxed and celebratory.
"I looked for pieces that showed women of color in ways that they aren't necessarily conventionally shown," says Paris Cunningham, who is both the curator and an exhibiting artist.
Eight students and alumni from Wichita State's School of Art, Design and Creative Industries contributed work to the exhibition, a juried show of portraits of and by 20 women of color. A gallery of work from "Shades of Strength and Beauty" appears below this story.
Cunningham said she was attracted to work that portrayed softness and femininity as well as strength. One of her favorite pieces is "Boy, Bye!" a painting by Wichita State alumna Joanna Herman. "Boy, Bye!" reinterprets Roy Lichtenstein's "Ohhh ... Alright..." The iconic pop art painting depicts a white woman cradling a phone, seemingly disappointed by (but resigned to) what the man on the other end just said. In contrast, Herman's Black subject has no time for passive agreement.
"I think there's great strength in how brash it is," says Cunningham, who first encountered Herman's work at R Coffeehouse in Riverside.
Cunningham is also inspired by the work of Lily Guillen, a third-year graduate student at Wichita State. She pauses in front of "Incepción," a large mixed media piece that includes an unfocused black and white photo of a woman. If you look a little closer, you can see the subject is blurred by movement; she seems to be looking downward and to the right, then left and quickly back again. The photo is affixed to canvas in part with lines of gold embroidery, which match the gold-painted matchsticks that criss-cross the photograph and embellish the canvas.
"It does what good art makes you do," Cunningham says. "It makes you look into it, but also past it, to the concepts behind the piece."
---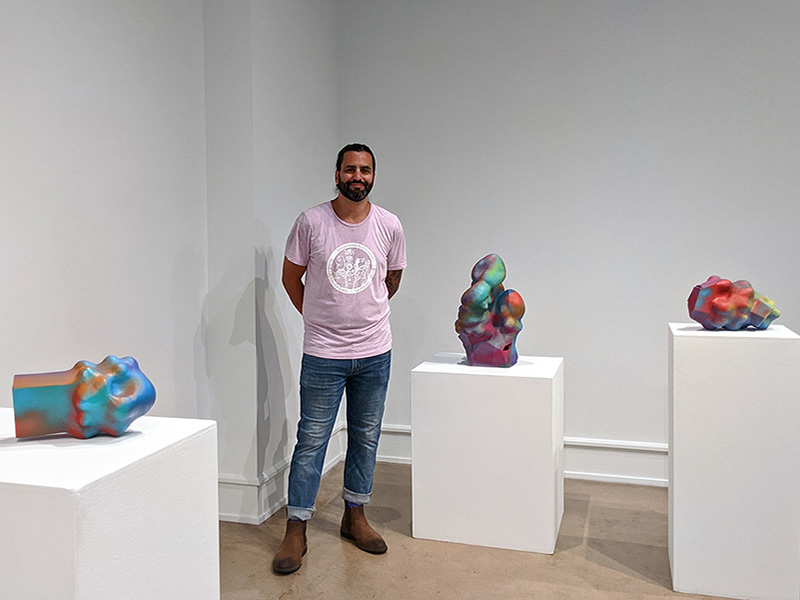 "Hiding in Plain Sight" surfaces an artist's anxiety
(Original story by Emily Christensen)
Chuck Purviance's ceramic sculptures function as a visual representation of anxiety, a heightened state that interferes with how a person interacts with the world.
"No piece is a representation of a day, or an event, or an anxiety attack," Purviance said. "They all collectively represent different elements, imagined representations of my anxiety."
The brightly hued sculptures also represent how the artist has accepted anxiety as part of his identity.
"I see the work as a way to showcase and display these inner states, take ownership of them, and make the intangible tangible," he wrote in his terminal paper.
"Hiding in Plain Sight" is the result of Purviance's three years of graduate study at Wichita State.
The Pittsburgh native and alumnus of Edinboro University made functional pottery before he entered graduate school. At Wichita State, Purviance found himself drawn to sculptural and specifically figural ceramic work.
Purviance began cranking out figural sculptures after returning from the 2018 iteration of NCECA, the massive annual ceramic education conference.
Another major influence was Ted Adler, associate professor of ceramic media, who encouraged Purviance to take an intuitive approach to his work.
"Shut your brain down, stop thinking about critical writing, just start making stuff almost from your gut," Purviance said. "I really took that to heart."