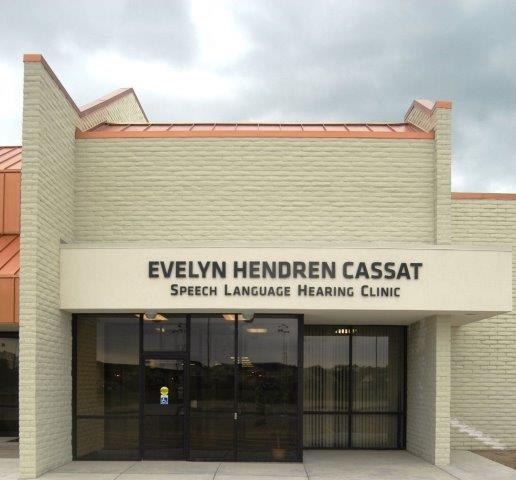 About Us
We are passionate about improving lives through better communication. With our dedicated clinicians, staff and students, the Speech-Language-Hearing Clinic provides clients with high-quality, affordable care.
The Speech-Language-Hearing Clinic is a university-affiliated practice that has provided comprehensive speech, language and audiology services for individuals and families in the greater Wichita area for over 60 years. The clinic also serves as a clinical training and research laboratory for graduate students, who work under the direct supervision of faculty with decades of experience in numerous specialties.
Why our students choose Wichita State
Wichita State University is the only four-year Kansas Regents' institution located in a large metropolitan area. Wichita State's Evelyn Hendren Cassat Speech-Language-Hearing Clinic provides clinical professional education for students whose primary goal is to serve children and adults who have impairments of communication.
The Department of Communication Sciences and Disorders has built strong working relationships with the Wichita educational and health communities, resulting in unique and abundant opportunities for students. For example, off-campus practicum experiences are available through Wichita's four major hospitals and several clinics, as well as through the Wichita schools which comprise the state's largest public school district. Wichita State also has affiliation agreements with numerous practica sites throughout the U.S.
---
Mission Statement
To provide opportunities for graduate students to develop their clinical knowledge and skills directed by certified, licensed speech-language pathologists and audiologists.
The clinic objectives are to provide:
Clinical services to individuals with communicative and hearing disorders.
Consultative services to agencies in the community.
Facilities and opportunities for students to develop diagnostic and clinical skills to demonstrate competencies required for entry in the professions.
Promoting the generation and dissemination of new information through clinically applicable research.
---
Clinic Affiliation with the Scottish Rite:
A Perfect Partnership (RiteCare Clinic)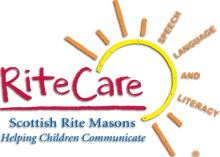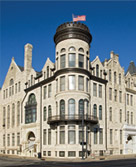 Wichita Scottish Rite building in Old Town
Robert C. "Bob" Talbott, 32°, K.C.C.H:
"With this new and personal relationship between the Kansas Scottish Rite Foundation and, in Wichita, our Wichita Scottish Rite Charitable Trust, we have no doubt that we can raise the level of awareness and support for children with speech, language, and hearing disorders. Such awareness prompted a bequest from the family of one of our Wichita Scottish Rite members in support of continuing education for WSU Speech-Language-Hearing students. This large gift is being used to establish and perpetuate the Wichita Scottish Rite Charitable Trust Fellowship Fund. Income from this fund will endow an annual scholarship for graduate and post-graduate students in the communicative disorders & sciences field at WSU."