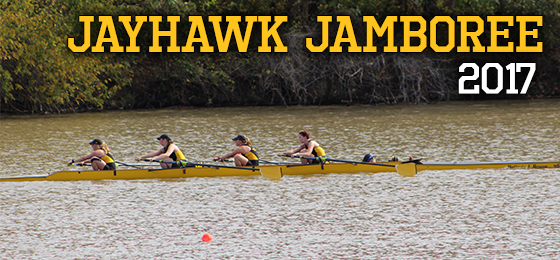 Date : October 22, 2017
Men's 2- Silver
Women's 2x 4th
Men's Novice 4+ A Gold
Men's Novice 4+ B Silver
Men's Novice 8+ Gold
As expected the Jayhawk Jamboree was a great regatta and the Shockers were excited to face tough competition.
For our varsity, this fall we place placed a major emphasis on building overall skill by investing in time in the small boats and not much time in the team boats working on race pace rating. The sculling paid off with quality finishes for the varsity in the small boat events on both the men's and women's sides. The men's 2- took silver and the women's 2x was 0.44seconds away from taking 3rd against all the women's 2-,2x and 1xs.
On the novice men's side, first place finishes occurred in both the men's novice 4+ A and 8+ A, as well as second place finish in the men's novice 4+B.
The women's novice side faced many strong NCAA teams, including Univ. of Central OK, Kansas, Kansas St, Iowa, Tulsa, Oklahoma Univ. and Creighton. The novice women finished 7th of the 13 entries, beating all of the ACRA programs they were up against as well as Creighton. This was also the second time to face K-State, Oklahoma and UCO in the novice women's 8+; while they once again finished behind their "A" boat, the Shockers closed the margin by 18%, 49% and 9% respectively.