A premier dynamic testing facility for the nation's aircraft and aircraft component manufacturers.

The Crash Dynamics lab is driven by the Hydropuls® CSAadvanced Crash Simulator, a modular crash simulation system. The lab's combination of a wide range of applications and solutions developed by Instron; a streamlined lab configuration; and specialized equipment allow for up to 2,000 test shots per year with short transition time between shots. A high degree of automation and the ability to run test pulses offline generates significant additional time savings. Existing pulses can also be reproduced accurately for many years without the need to iterate the test system or signals. The CSA advanced is characterized by a high availability due to minimal annual preventative maintenance requirements. It includes a single-ended 2.5MN nominal capacity purpose-designed actuator with 1700mm working stroke.
The lab has a wide variety of Hybrid II and III, Euro and DOT test dummies in various sizes and a full-service in-house calibration lab.
Physical Testing Capabilities
Hybrid Testing Capabilities/Test Planning
Dynamic Sled Testing Crashworthiness Applications

Aerospace
Automotive
Military
Space
Child Safety

Full-Scale Crash Facility

Aerospace Airframe Crashworthiness
EVTOL Crashworthiness

High Speed Photogrammetry
Test Article Scanning
Hydropuls® CSAadvanced Crash Simulator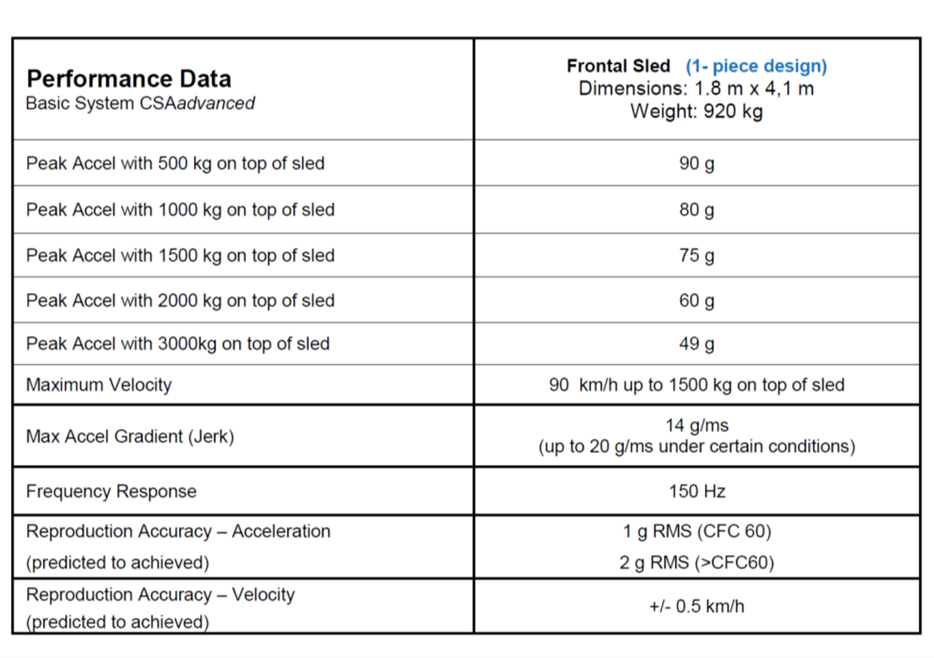 Anthropomorphic Test Dummies (ATD)/In-House Calibration
7 HII 50th Percentile ATDs
4 HIII FAA 50th Percentile ATDs
2 HIII 50th Percentile ATDs
1 HIII 95th Percentile ATD
1 HIII 5th Percentile ATD
3 ES-2 re Side Impact ATDs
1 DOT SID Side Impact ATD
3-yr-old child ATD
6-yr-old child ATD
12-month-old child ATD