Welcome to the Group
Counseling and Prevention Services (CAPS) provides a variety of group counseling services via Zoom to students, faculty and staff in multiple areas of focus/concern. Group therapy is offered due to its effectiveness in addressing multiple challenges individuals face in their lives as well as the unique experience it provides. CAPS runs various groups per year to address the ever-changing needs of the WSU campus.
How Groups Can Help
The benefits you can have as being part of a group are vast. Participating in groups can help you gain greater insight into your identity, thoughts, feelings, behaviors and interactions with others. Groups can also help you learn new ways to manage challenges as well as improve your school success.
Group therapy provides an opportunity where compassion, empathy and respect for all members are the cornerstone for growth and development. Through the group process, you can grow as an individual, learn from others, and contribute to and witness another person's growth.
Groups run by Counseling and Prevention Services can be skills-based, interpersonal/process focused, supportive and/or psychoeducational. Groups offered can change every semester based on need.
Misperceptions About Group
I will have to disclose everything to everyone
Group members are asked to participate at their level of comfort and are not forced to disclose information they do not feel comfortable sharing with the group.
Individual therapy is better
Group therapy has been found to be just as effective as individual therapy in the treatment of mental health concerns. Additionally, group therapy offers the opportunity to receive support from peers and gain greater insight into how to relate to others.
I won't fit in
Group therapy is setup for individuals with different experiences to be able to come together in a safe, nonjudgmental environment where all are welcome.
My issue is too big or too small for group therapy.
No issue is too big or too small for group therapy. Group therapy is a great place to receive support and feedback from peers on whatever challenges you face.
Cost
Groups provided by Counseling and Prevention Services are FREE for all students, faculty and staff to attend.
Groups Offered Spring 2021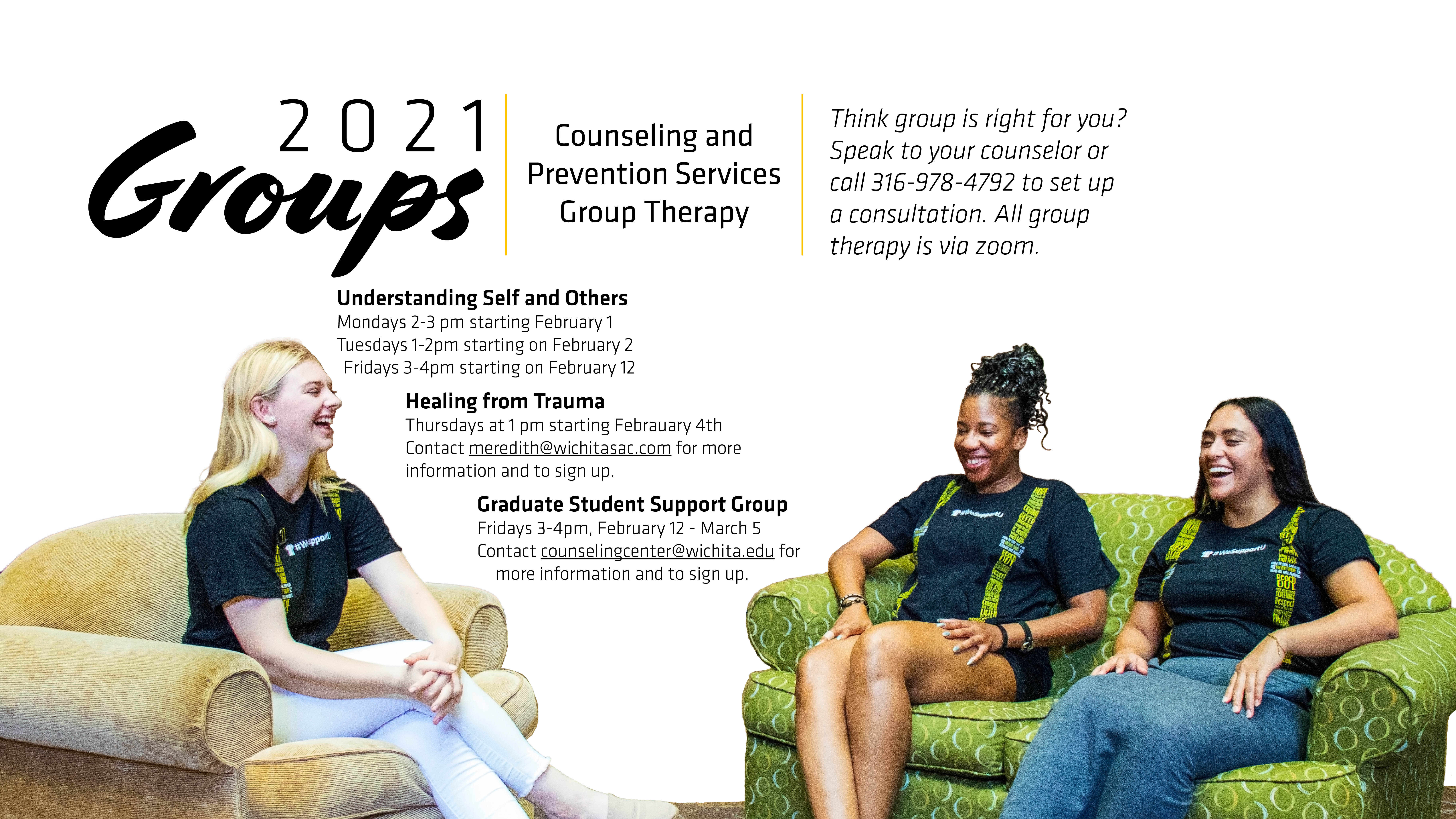 Understanding Self and Others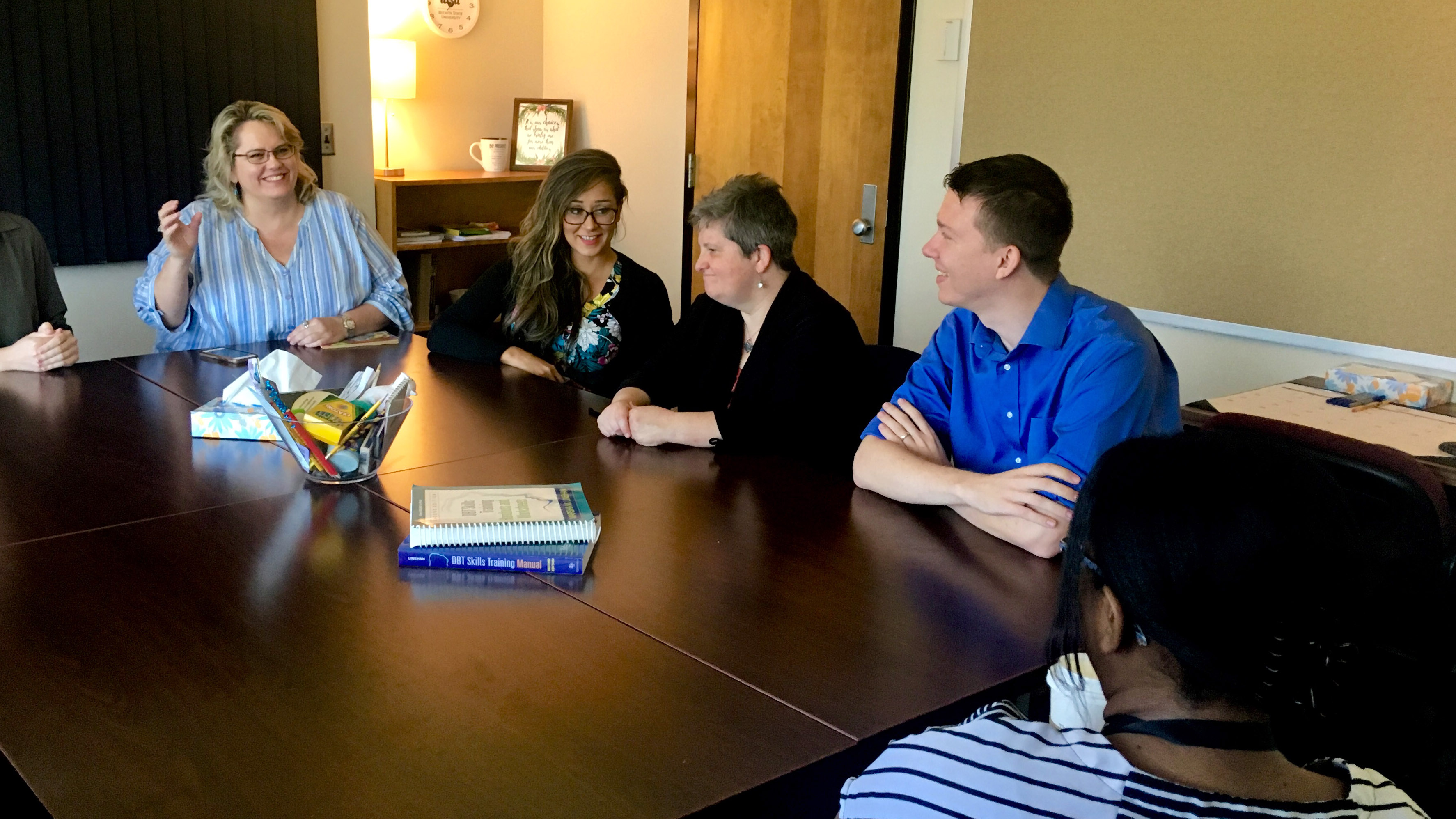 In the Understanding Self and Others Process Group you will explore how you relate to others with the goal of developing a greater understanding and acceptance of yourself. Our hope is that you gain perspectives on various issues/concerns, engage in personal growth and recognize that you are not alone. Multiple groups will be offered each week. Contact CAPS for more information on joining this group at 316-978-4SWC (4792).
Keep Calm and Breathe On

Join us Wednesdays at 1:00 pm on Facebook Live for our weekly mindfulness and meditation livestream, Keep Calm and Breathe Online. Stop by, learn about mindfulness and ask your mindfulness related questions!
Healing from Trauma

This group will focus on healing from traumatic experiences. Group memebers will explore the healing processm coping mechanisms, and learn how to identify and manage triggers. Sign up or inquire further by emailing meredith@wichitasac.com.
Graduate Student Support Group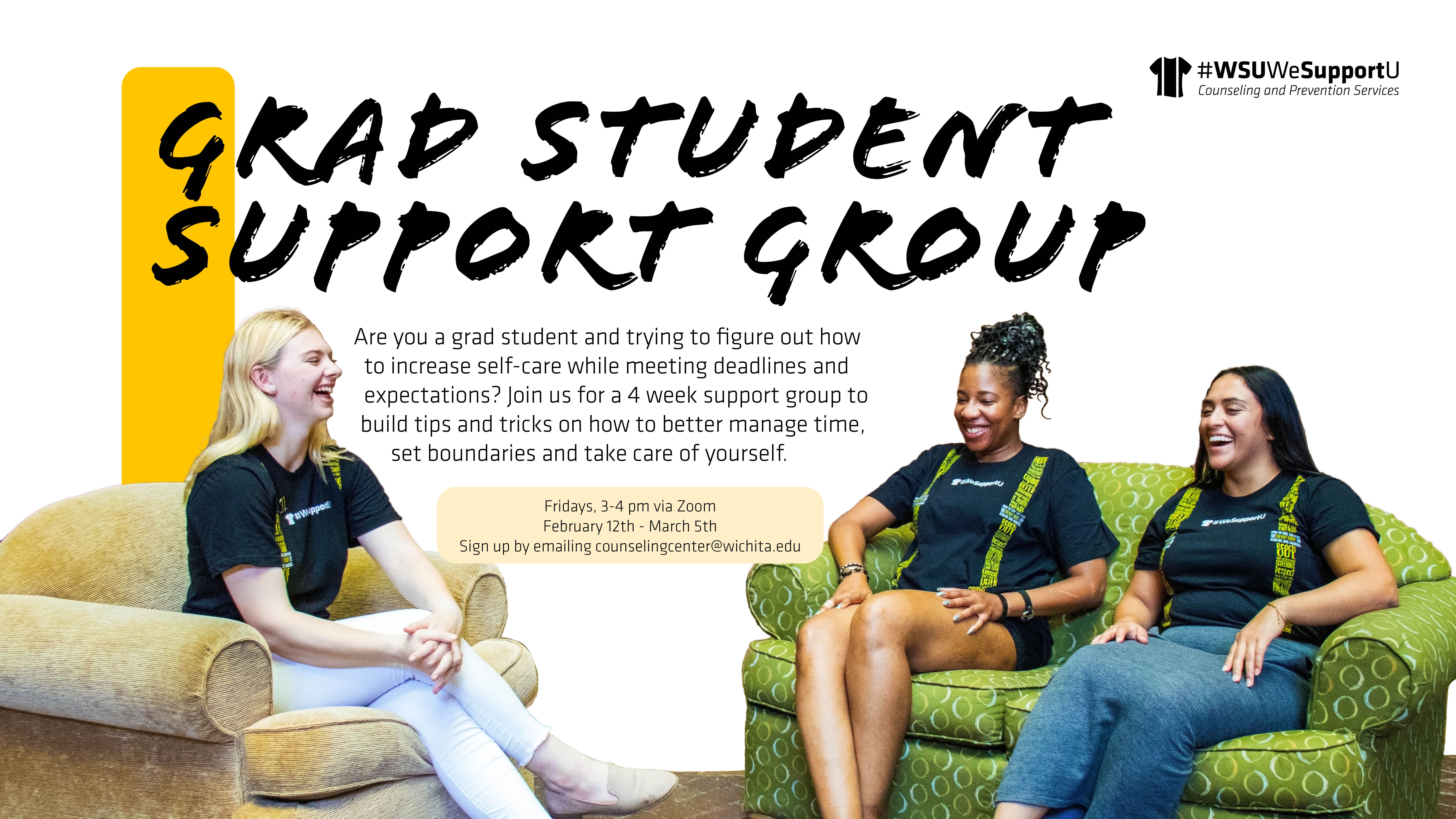 Stresses of being a graduate student got you feeling isolated? Need help balancing self-care and deadlines? Join the Graduate Student Support Group from CAPS! Meet via Zoom Fridays, 3-4 pm, February 12th through March 5th. Sign up by emailing counselingcenter@wichita.edu.