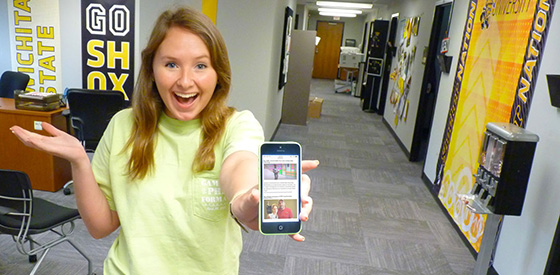 Wichita State changed the student email system and email address formats. Beginning August 30, 2016 all official WSU student email will be sent to @shockers.wichita.edu addresses.
Changes include
The ability to receive WSU email on mobile devices.
A much larger mailbox – 50 gigabytes.
Integration with the faculty and staff email system (calendars, address lists, etc.)
Free use of many Office 365 products.
For currently enrolled students this means information such as financial aid, tuition and fees, Blackboard notifications and student newsletters will be delivered to the new email/webmail address.
Login to your email/webmail at: http://o365.wichita.edu
Frequently Asked Questions
Why was this change made?
The university's goal is to serve you better. The current system was severely limited by space, and could not be easily accessed by smartphones and mobile devices.
How much email storage will I have?
Each user will now have 50GB of storage.
Can I receive email/webmail on my mobile device?
Yes. Smartphones or mobile devices that support Exchange/Active Sync (Corporate on older phones) should be able to connect.
Can I forward my email/webmail?
You will not be able to forward your @shockers.wichita.edu email/webmail.
Will I lose my existing email and contacts?
Learn how to transfer email from your old WSU account to your new email (@shockers.wichita.edu account):
Logon to myWSU and open Help (blue cube, top right)
Open Student email at the top of the page
Look for the two Office 365 guides
Will mail still be delivered to my old email/webmail address?
All student email deliveries to @wichita.edu stopped on October 3, 2016.
Which calendars can I view?
You can view free/busy entries for faculty, staff, and other students who keep their calendars up to date. Confirm with your instructor if their Outlook calendar is up to date.
I have questions that aren't covered here. Where can I go?
For more information, login to
myWSU
and select