Encouraging All Voices
Guest Column: Dr. Rick Muma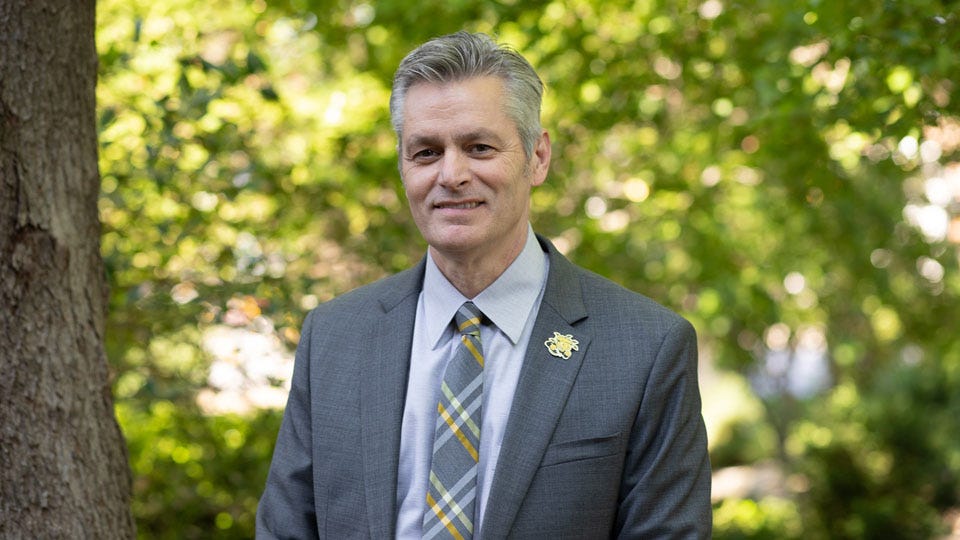 At Wichita State University, we encourage rigorous debate, differing ideas and difficult conversation; and
it's our duty as an academic institution to seek out a variety of opinions and experiences in our efforts to grow as a university.
A hallmark of any flourishing academic institution — in particular, an urban-based public research institution like WSU — is to stand firmly, and even uncomfortably, on the principles of free speech and free expression as a vehicle to find and understand the truth.
As President, one of my personal goals is to guide the university into a future where we can more easily discuss the big ideas that will help our community and country grow. New ideas are at the core of innovation, and innovation is at the core of Wichita State. It's our obligation and part of Wichita State's value system to teach our students the lessons of responsibility that accompany the right of free expression. When we welcome a diverse set of ideas, we grow as global citizens and increase our understanding of the world.

Goodbye ProctorU! Hello Examity!
Guest Columnist: Mark Porcaro
In an effort to help lower student costs for proctoring services, Wichita State University has joined KBOR's proctoring contract with Examity. This service will replace ProctorU as of Spring Term 2022.
Examity can be set up for four different levels of proctoring
Automated Proctoring Standard: Recorded with artificial intelligence flagging irregularities - without a proctor audit ($3.75/test)
Automated Proctoring Premium: with a human audit of the recording ($5.75/test)
Live Proctoring Standard: live authentication, session recorded and reviewed by AI, followed by Examity review of the session ($11 first hour/$5 each additional hour)
Live Proctoring Premium:

Overseen by a live proctor the entire session ($12 first hour/$5 each additional hour)
Faculty who are wanting to use student-paid proctoring options in their classes are encouraged to learn about Examity directly from their website.
We will be working on installing the Examity's Blackboard integration in December so that it is available for Spring courses.
NOTE: Respondus LockDown Browser and LockDown Browser with Monitor (recording that uses AI-flagging) are both still available to the university at no cost to the students. We have a limited number of Monitor licenses for the entire year, so we ask faculty to be considerate of how many Respondus Monitor exams they use. There is no cost or limit to Respondus LockDown Browser tests that do not use Monitor.
Questions about proctoring? We have answers here.

Improve Your Course's Visual Design
Have you ever wanted to improve the look and feel of your online or in-person course? Thanks to John Hammer's Academic Creative Services, OIR's newest group, you now have the information you need to make your course as beautiful as it is informative! As part of a major push to improve OIR's visual design services, John is creating a wealth of information to help instructors, staff, and others learn design and how to apply design-principles to their work projects. "Basics of Design," a suite of instructional webpages and videos, is now ready for you! You can
find Basics of Design here
, and you can begin by clicking the "play arrow" on the "Design Basics" video on the left side of the page. Of course all the videos and other materials are accessible too, and if you prefer a text-based version, you will find links there too!
Please Take our Survey
The Media Resources Center is currently surveying instructors about educational technologies on campus and their support and training. Please consider taking our survey. We will be using this data to help us prioritize our efforts here in the MRC, and your voice will be VERY valuable to us. Thank you!
Hop Into a Webinar, Learn Some Stuff
Blackboard offers regular webinars for instructors and staff, and you can easily register and join one! Since they are also recorded, if you miss a webinar, you still have access to it so long as you pre-registered, so what do you have to lose? Here are links to some that will benefit you here at Wichita State, and you can register for any of them by using this link:
Free Teaching Conference in November
On Friday, November 5 from 8:00-3:00pm central, Blackboard will be hosting the Digital Teaching Symposium (DTS). The DTS is a instruction-focused conference filled with ideas, discussion, and useful tips for instructors of any rank. The conference is FREE and online, and we encourage everyone to sign up! You can register for the DTS here.

Remember: Human Captioning is FREE
Thanks to federal COVID relief money, Wichita State is able to offer free human captioning to all members of the university community who put their videos into Panopto. This service allows you to caption videos you created in previous semesters, videos you have recorded "to the cloud" in Zoom, and any videos you create in (or upload to) Panopto. This service will go away at the end of the Spring, 2022 semester, so please get your videos captioned soon!
Choose the Right Video Source
You might already know that when you open a Panopto recorder, you will have the option to choose from a Primary or Secondary video sources. Primary source is your device's web-camera, while the secondary source can be the PowerPoint of your presentation or a capture of your screen.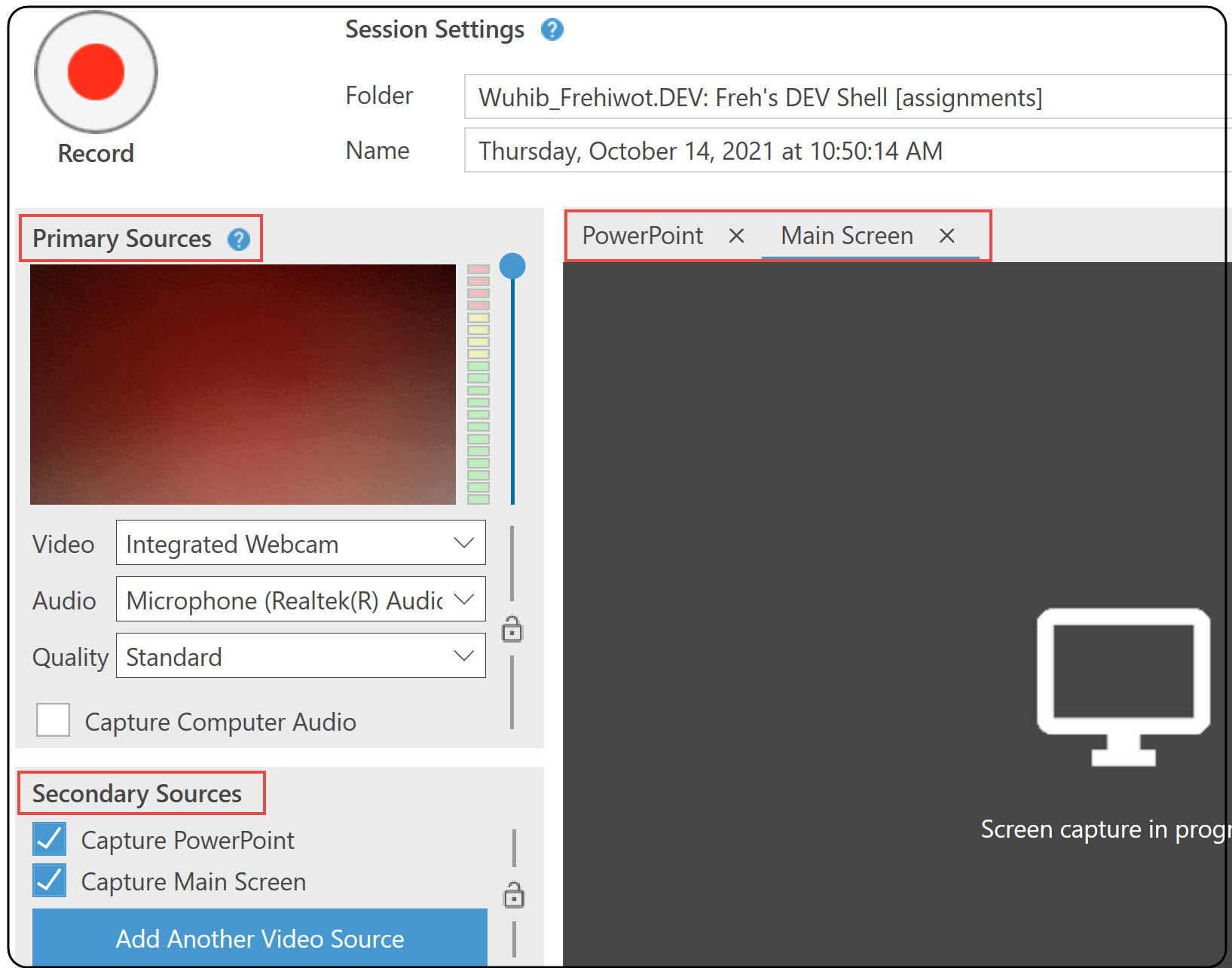 If you do not want to show yourself in the video, you can select "None" from the Video dropdown button for the Primary Sources. From the Secondary Sources options, you can choose both PowerPoint, or Main Screen options.
What is the difference?
If only "Capture PowerPoint" option is selected from Secondary Sources, nothing except the Powerpoint will be captured. If only "Capture Main Screen" option is selected, anything on the screen will be captured. And, if both options are selected, you have the option to capture either PowerPoint or Main Screen.
NOTE: If you are using multiple screens, make sure you are capturing the screen of the monitor you want to capture.
Can I change the Video Source after recording is ended?
Yes and no. It depends on the video setting. If you recorded both Primary Sources (webcam) and Secondary sources (PowerPoint or Screen Capture), but you want to show only one of them or show both with different views, you can change the "Output" options after recording is complete.
To do this, hoover your mouse over the settings gear by the video, and select the "Outputs" tab from the left menu. Then select your choice of video source from the Video Podcast "Type" drop down options. The options are Primary Video Only, Secondary Video Only, Picture-in-Picture, Side-by-Side, and Tile All Streams. You can play around it to see how the video looks with each option. Once you choose the view of your preference click "Apply" to save the change. It might take some time to save the changes.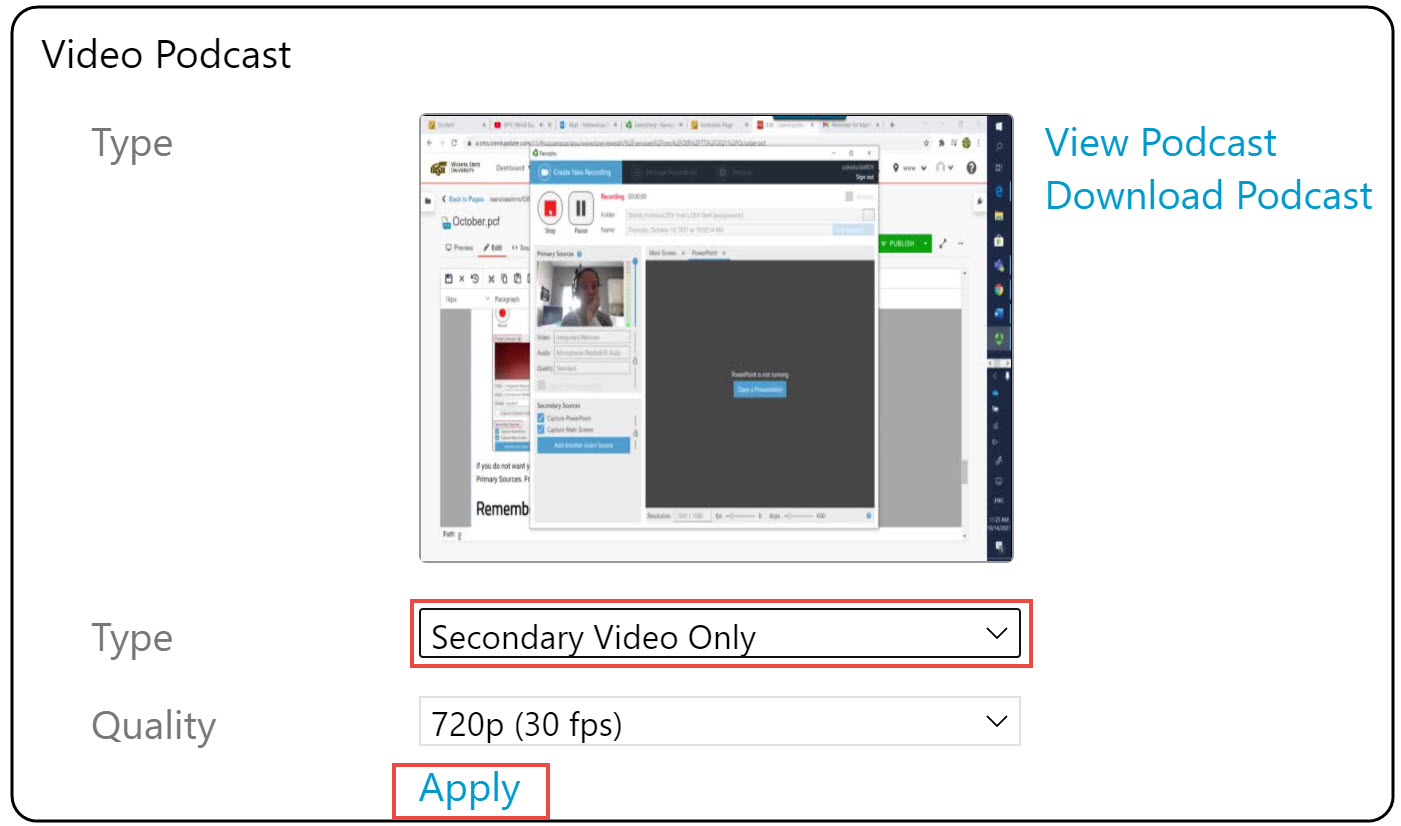 If you do not see the Video Podcast option to change the video source from the Outputs, then you need to check your "Downloads" setting. Hoover over the settings gear by the video, scroll down on the "Overview" page and click on the down arrow by the "Downloads" option. It must have been set to "No one" option. Change it to the default "Use folder settings" option. Another major problem if the downloads option is set for "No one" is that the video can not be seen on mobile devices.

If you get stuck along the way, reach out to OIR! You can always reach us via email at OIR@wichita.edu.