AutoSave Your Zoom Recordings to Panopto
Zoom recordings can now be uploaded straight to Panopto for editing, captioning, and sharing directly after your Zoom meeting has ended! No downloading and searching your computer for the file, Zoom will now allow you to select the "Record to Cloud" option to save your recording so that your recorded video is uploaded directly to the Panopto site. Follow the training steps to direct your Zoom recording to upload to Panopto automatically once your meeting is complete.
Step 1 -- Inside Zoom
Click record in your Zoom meeting.

Select the "Cloud" recording option.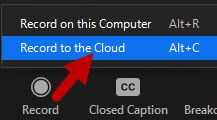 These recordings will automatically be added to your to Panopto.
Step 2 -- Check in Panopto for the Recording
Log in to Panopto (be sure to use the Blackboard option from the dropdown).
Open your "My Folder" tab located on the left side of your screen in the Panopto menu.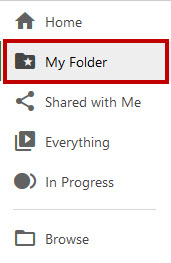 A new sub-folder called "Meeting Recordings" has been created to house your Zoom meeting recordings.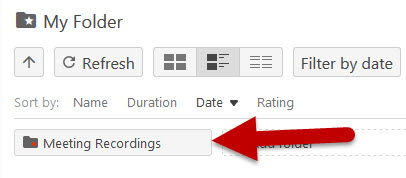 All new videos added to Panopto will automatically have captions requested through the Cielo24 professional captioning services. These captions will be completed for the video in its original, unedited, form so please allow some time before editing the video or captions.