Community Education Classes
Through the Community Education Department, we will be offering these FUN, noncredit community education classes. These popular classes will fill fast, please enroll early. If there is any noncredit class you would like to see scheduled, please let us know.
Updated list of community education classes at WSU South and WSU Haysville. Enroll soon to do something fun in this pandemic!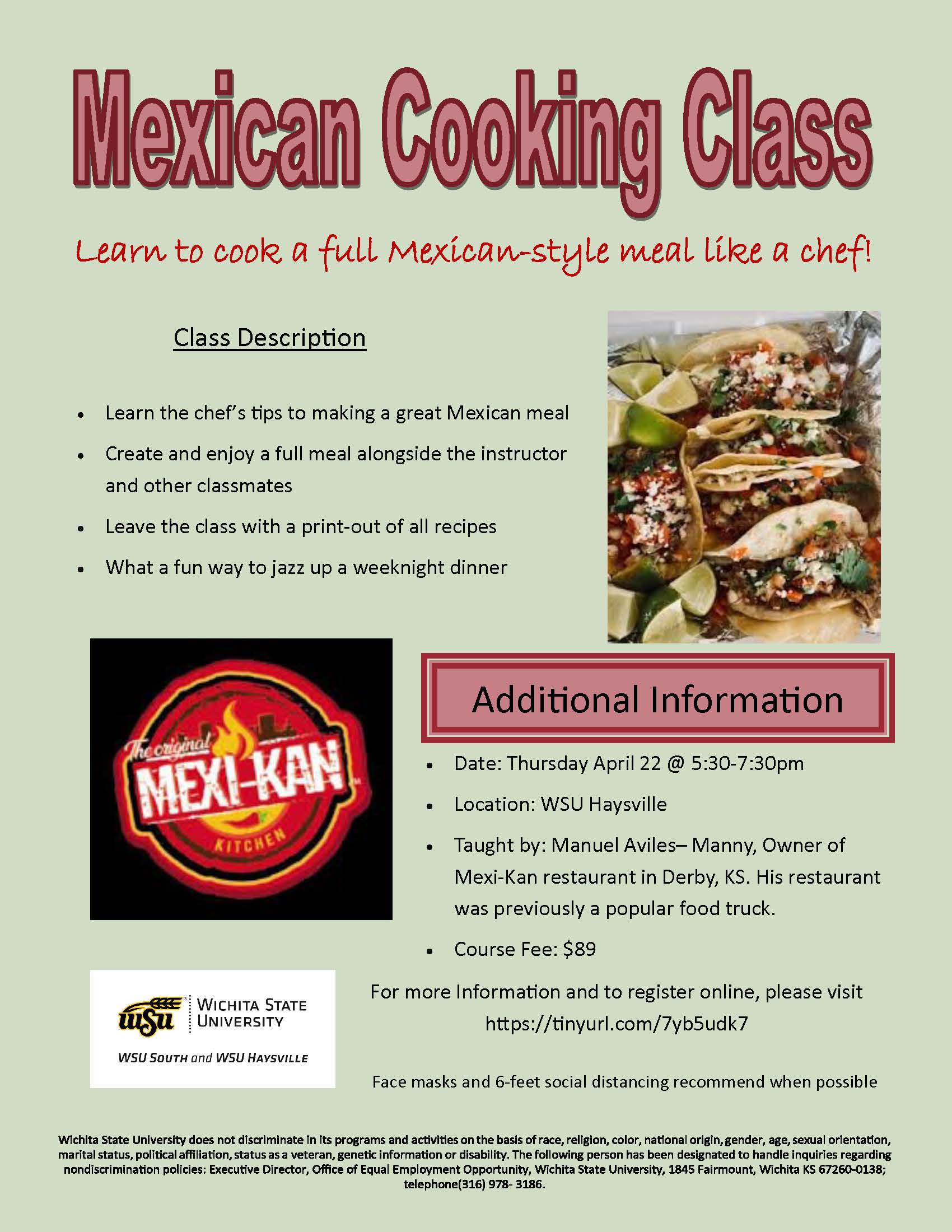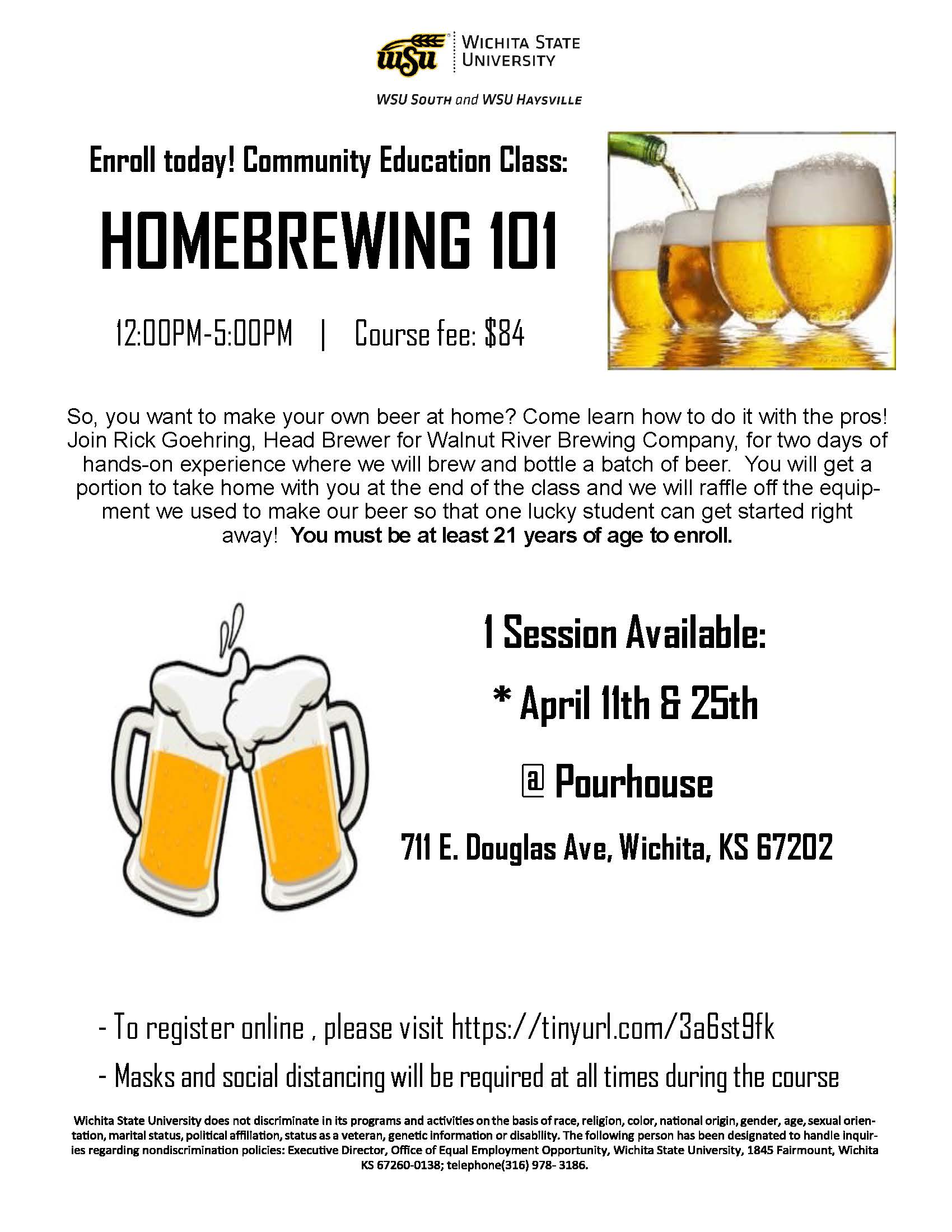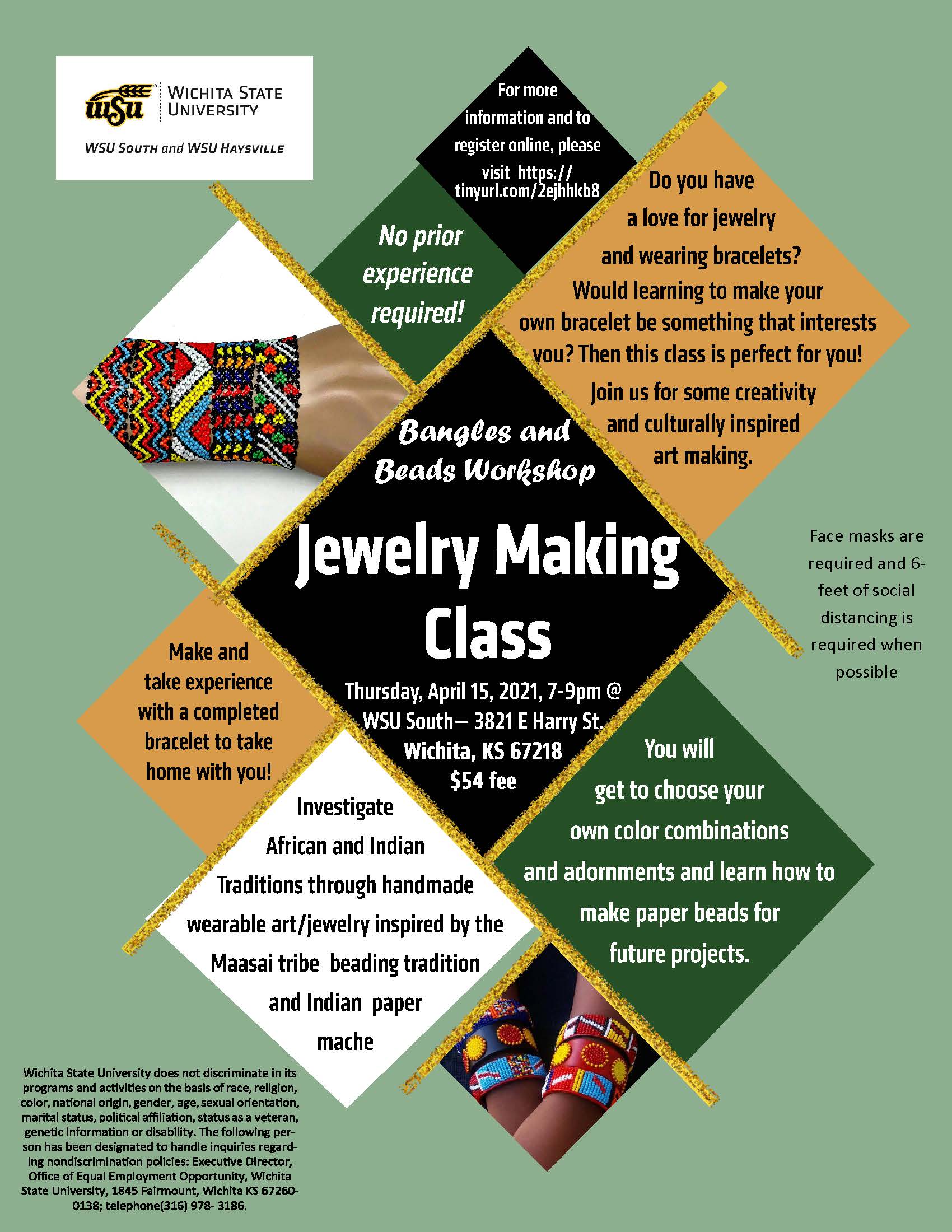 All spring '21 classes: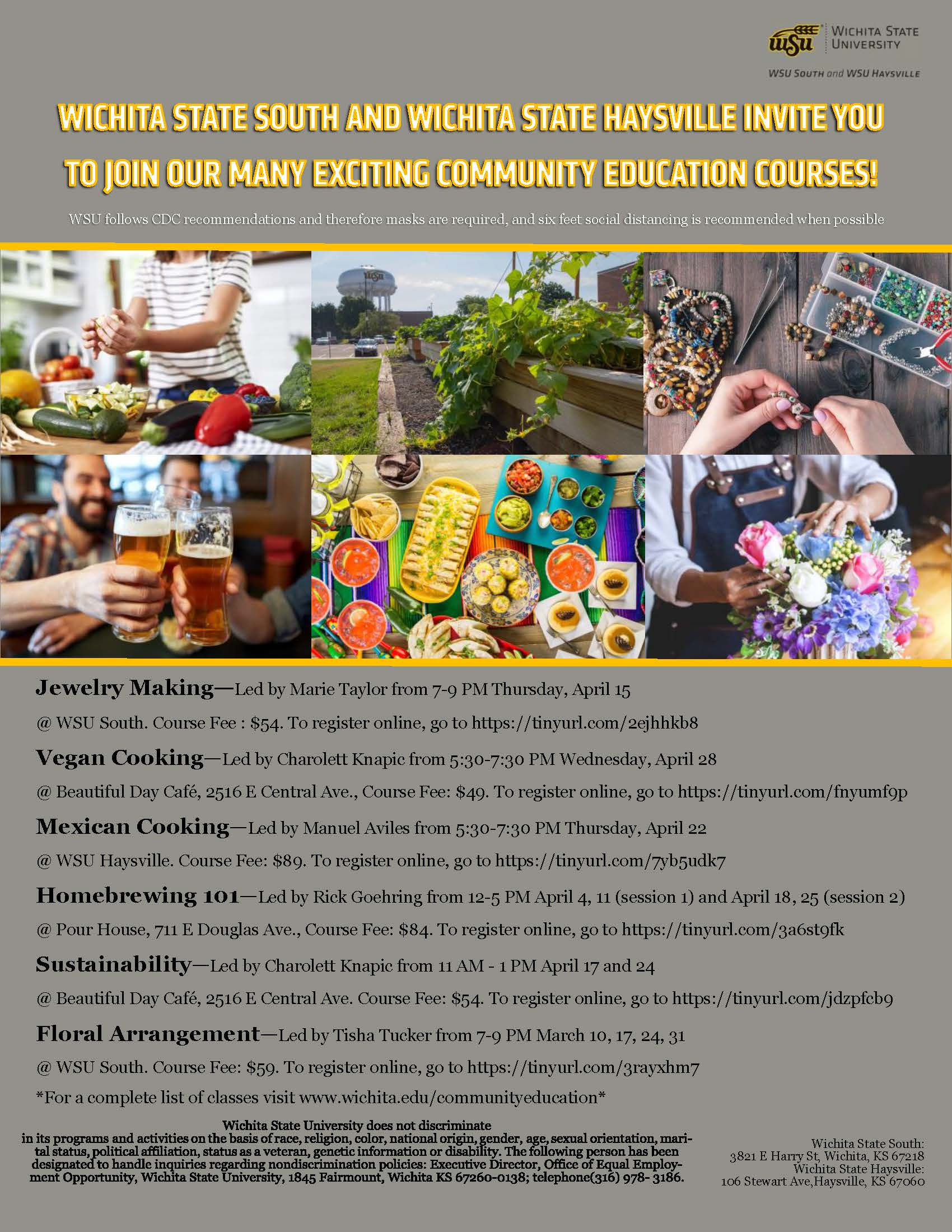 Easy and Fun Landscpaing class: http://wichita.edu/communityeducation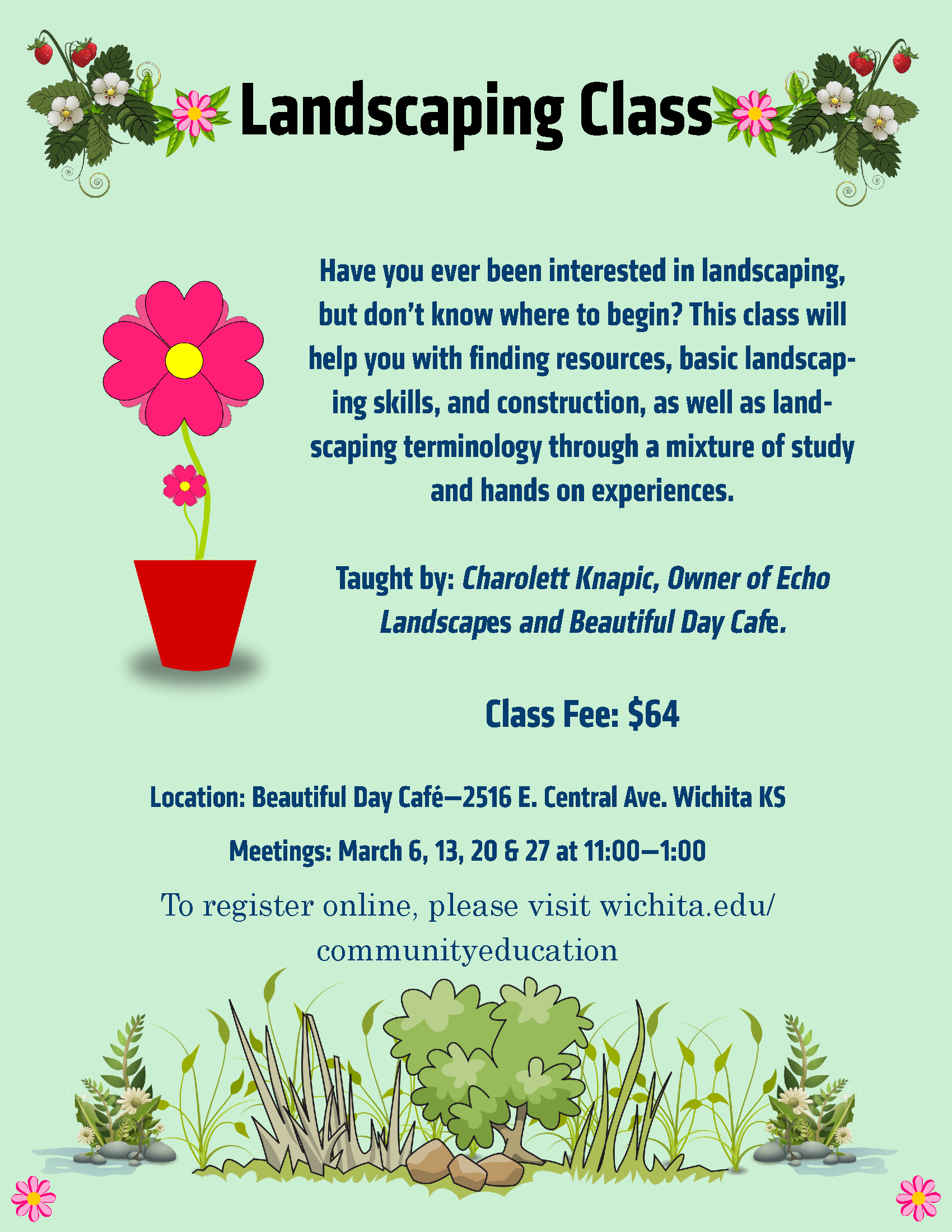 Easy and Fun Floral Arrangement Class: http://wichita.edu/communityeducation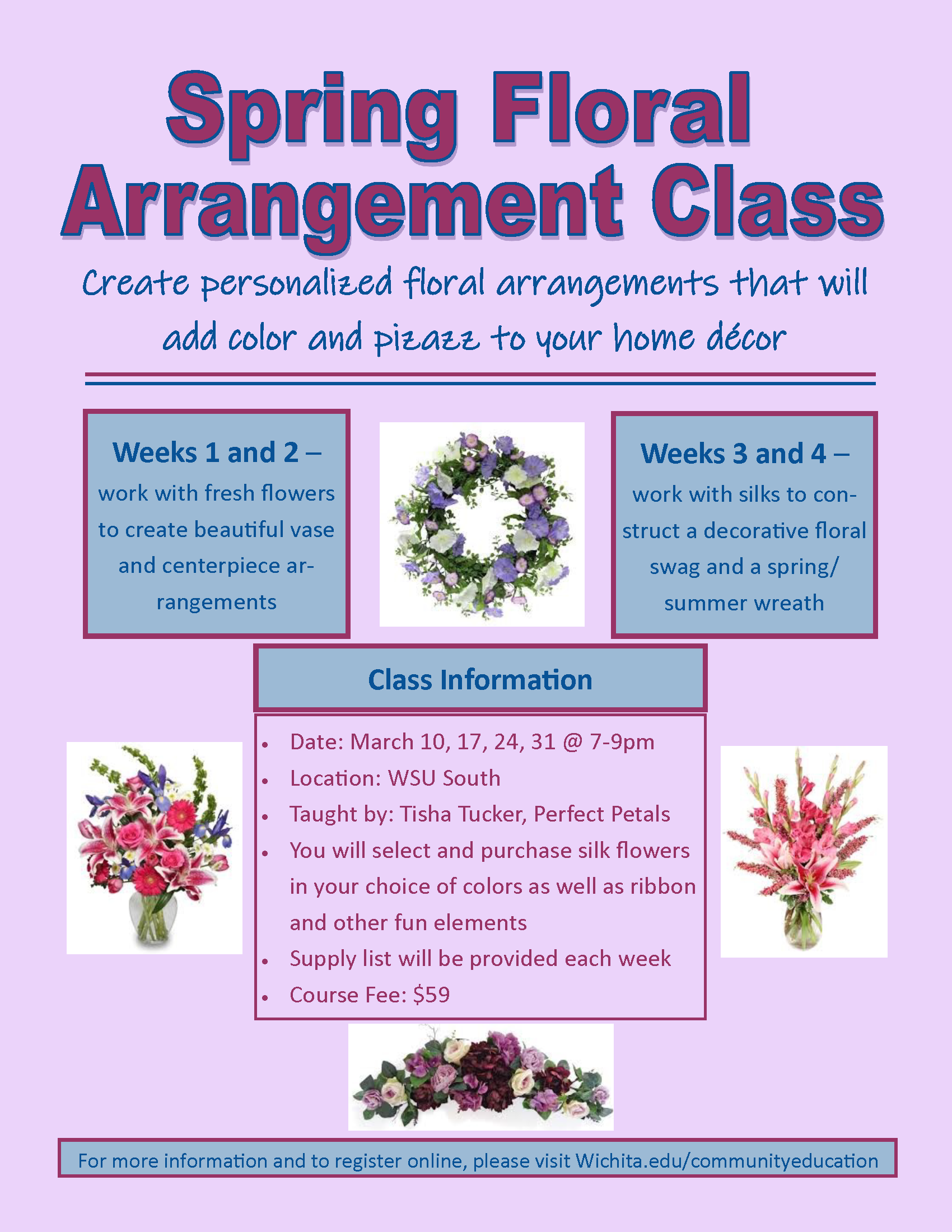 Vegan Cooking: Wednesday, April 28 5:30-7:30pm
Description: Whether you are a vegan, curious about vegan cooking, or interested in trying new foods, this vegan cooking class can get you started. You will gain hands-on experience in creating delicious, healthy, and fun, new meals that anyone, including (dare I say) carnivores, can enjoy. You will learn tips and tricks to create nutritious vegan meals, help harvest, prepare and sample dishes, and you will walk away with some great new recipes. A scrumptious vegan dinner is included in this fun learning experience! Bon appetite! Instructor- Charolett Knapic, Owner Beautiful Day Cafe and Echo Landscapes.
Location- Beautiful Day Cafe- 2516 E. Central Ave. Wichita KS
Fee: $49 per person
Landscaping Class: March 6,13,20,27, 11:00 - 1:00
Description: Have you ever been interested in landscaping, but don't know where to begin? Whether you want flowerbeds for home gardens, lawns for family fun, fruits and veggies for quality food, walkways, or fences for home improvement, learning about landscaping can be a delight in many areas of your home life. This class will help you with finding resources, basic landscaping skills, and construction, as well as landscaping terminology through a mixture of study and hands on experiences. Instructor- Charolett Knapic, Owner Echo Landscapes and Beautiful Day Cafe.
Location- Beautiful Day Cafe- 2516 E. Central Ave. Wichita KS
Fee: $64 per person
Sustainability Class: April 17 and 24, 11:00 - 1:00
Description: Is saving the environment something that interests you? Have you ever wondered
how to use your own abilities to help avoid the depletion of our natural resources? This
sustainability class will give you a great place to start. You will get a hands-on approach to
managing water on your piece of planet, saving on heating and cooling costs, lowering cleaning
and food costs, composting for healthy fertilizer, growing food in pots, and outdoor gardening,
for a happier, sustainable life. You will have a planted window pot to take home and a surprise
bonus if you ride your bike or car pool! Instructor- Charolett Knapic, Owner Echo Landscapes
and Beautiful Day Cafe.
Location- Beautiful Day Cafe- 2516 E. Central Ave. Wichita KS
Fee: $54 per person
Mexican Cooking Class: Thursday, April 22, 5:30-7:30pm
Description- Have you ever dreamt about your favorite food truck becoming an actual
restaurant? That is exactly what Manny did. His food truck was so popular that he turned it into
the well-known Mexi-Kan restaurant in Derby, Kansas. If you are interested in learning about
some great Mexican style recipes or in participating in a fun class with family or friends, this
class will be perfect for you! You will get the opportunity to create and enjoy a meal alongside
Manny and learn about his tips to creating a great Mexican meal. You will even get to leave the
class with a printout of all the recipes made in hand! Come ready to cook a meal as a group,
with Manny's guidance, and enjoy a full meal at the end as a reward! What a fun way to jazz up
a weeknight dinner! Instructor- Manuel Aviles, Owner Mexi-Kan
Location- WSU Haysville
Fee: $49 per person
Bangles and Beads Workshop: Thursday, April 15, 2021, 7-9pm
Description- Do you have a love for jewelry and wearing bracelets? Would learning to make
your own bracelet be something that interests you? This class is perfect for you! Join us for
some creativity and culturally inspired art making. We will investigate African and Indian
traditions through handmade wearable art/jewelry inspired by the Maasai tribe beading tradition
(from central and Southern Kenya, and Northern Tanzania) and Indian paper mache with
colorful combinations. No prior experience required. You will get to choose your own color
combinations and adornments and learn how to make paper beads for future projects. This will
be a make and take experience with a completed bracelet to take home with you!
Instructor- Marie Taylor, Valley Center Art Teacher, OatK12 Teachers Art Facebook Group
Administrator and Power to the Girls Online Workshop Instructor
Location- WSU South
Fee: $54 per person
Homebrewing 101- first session (two weeks) on April 4th and 11th and a second session (two weeks) on April 18th and 25th. Meeting 12pm-5pm.
Description: So, you want to make your own beer at home? Come learn how to do it with the pros! Join Rick Goehring, Head Brewer for Walnut River Brewing Company, for two days of hands-on experience where we will brew and bottle a batch of beer. This class will go over the equipment needed to get started, how to use it, and the basic procedures and techniques you'll need to know to make great beer. The first day of the course we will brew a beer using an extract kit that most homebrewers typically start with. The second day of the course will include bottling and conditioning of the beer, which you will get a portion to take home with you. At the end of the final day, we will raffle off the equipment we used to make our beer so that one lucky student can get started right away! Instructor: Rick Goehring, Walnut River Brewing Company
Location- WRBC
Fee: $84 per person
Spring Floral Arranging- March 10, 17, 24, 31, 7pm-9pm
Description: Learn to create unique, personalized, one-of-a kind floral arrangements that will add color and pizazz to your home décor. Each week you will make one new arrangement using a variety of fresh and silk materials. Weeks 1 and 2: You will work with fresh flowers to create beautiful vase and centerpiece arrangements. Weeks 3 and 4: You will be working with silks to construct a decorative floral swag and a spring/summer wreath. You will select and purchase silk flowers in your choice of colors as well as ribbon and other fun elements that you want to incorporate into your designs. A supply list will be provided for each week. Instructor: Tisha Tucker, Perfect Petals
Location- WSU South
Fee: $64 per person
Click here to enroll in these classes now.
For other community education classes:
https://www.wichita.edu/academics/communityeducation/communityeducation.php
For assistance or further information, please call us at 316.978.8000.