Wilner Auditorium East Entrance: East entrance of Wilner Auditorium
Wilner Fine Arts Box Office: Wilner Fine Arts Box Office
Wilner Auditorium: Inside Wilner Auditorium.
---
Location:
Located in the Wilner Auditorium lobby (near the south east entrance). Locate this building.
---
Parking:
There are a few spaces in front of the building, however, most of the parking is south of the building across 17th Street. Closest available parking is the lot west of the building. Read more about parking.
For the closest WSU Shuttle System drop off location read about the WSU Shuttle System.
---
Tickets:
The Box Office for Wilner Auditorium opens 1-hour prior to the start of a ticketed event for will-call and ticket purchases. Arrive early to avoid lines!
Advance ticket purchases are advised. You may purchase tickets online or in-person during regular Box Office hours at the Duerksen Fine Arts Center.
---
Seating Capacity:
553 Total Seats Available (537 regular seating + 16 ADA seating)
---
Tornado Shelter:
| Building | Shelter | Persons needing help go to |
| --- | --- | --- |
| Wilner Auditorium | Go to basement | Stairwell area |
---
About this Venue:
In the 1930's, student dining, recreation facilities and an auditorium for drama, music, and convocations were all high on the list of space needs for the new Municipal University of Wichita. Federal funds provided under the Public Works Administration made possible construction of the Auditorium and Commons Building in 1938. It was later renamed Wilner Auditorium to honor George Wilner who joined Fairmount College as head of speech and theatre in 1923. Mr. Wilner retired from WU in 1960.
Although other stages are now available, the 553-seat Wilner Auditorium still serves as the main stage for theatre activities. Recreation and food service functions were moved from the building when the Campus Activities Center (now Rhatigan Student Center) opened in 1959.
---
Namesake:
(No Photo Available)

George D. Wilner

In the early 1920s, Dr. George Wilner began his career in theater by coaching college students in classroom exercises for $25 a month. After teaching at Ann Arbor in Michigan for four years, he and his wife packed their Model T with a few possessions and moved to Wichita. His desire to work in a smaller institution led him to Fairmount College where he founded a university theatre centered on instruction rather than entertainment. For 35 years, he led countless thespians to perform mostly Shakespearian theatre stage classics. In 1959, he retired but continued to attend almost all theatre performances with his wife, Vera. In 1964, the university recognized Dr. Wilner for his remarkable efforts and named the auditorium staging all major shows after him. The George D. Wilner Achievement Award, established in 1972, serves as an extension of that recognition. Dr. Wilner passed away November 1976.
---
Seating Chart:
The seating charts below show fixed seating within the Fine Arts venues. Most events are General Admission (first-come-first-served). Please follow this link to our online ticketing system to see if your event is a General Admission or a Reserved Seating show.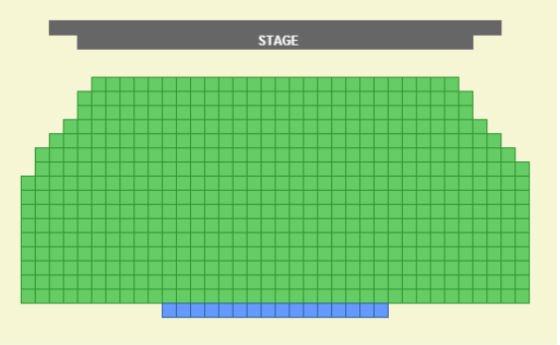 ---
Concessions
There are no concessions currently available at any of the Fine Arts Venues. Please remember that food of any kind is not allowed inside any of the performance venues.
Water fountains can be found in Wilner.
Vending machines (with soda and snacks) are located in the Commons Area in Wilner.
---
Reserve Wilner Auditorium/Lobby
To reserve Wilner Auditorium/Lobby, follow this link to contact Performance Facilities.