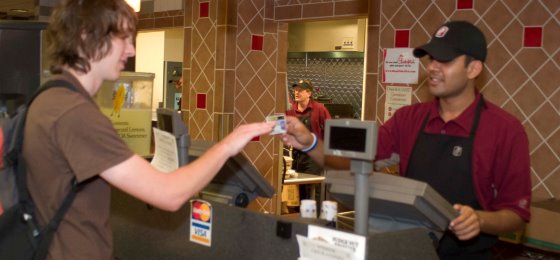 The Shocker Card is your all access pass to dining at Wichita State. All campus meal plans require a Shocker Card to enable access to your plan. A variety of meal plan options are available to WSU students, faculty and staff at WSU making it a fast and convenient way to purchase meals at multiple locations across campus.
Students in University Housing
Meal plans are purchased through the Housing and Residence Life office on campus at Fairmount Towers Commons.
For more information contact:
Housing and Residence Life
(316) 978-3693
housing.wsu@wichita.edu
Commuter Meal Plans
Shocker Dollars can be purchased directly from WSU Dining Services office located in the Rhatigan Student Center room 235.
For more information contact:
WSU Dining Services
(316) 978- 3477
WSU Dining
You can open a new Shocker Dollar declining balance plan with an investment as little as $25.00!