Wichita State University's institutional logo unifies our colleges, departments, centers and organizations. Like its predecessors, the institutional logo incorporates wheat as a symbol representing our place and our history. Harking back to our earliest days when students shocked wheat as a means of financial support, the use of wheat within the logo continues to represent the hard work and commitment to quality that Wichita State is known for as Kansas' only urban-based research university.
Naming units for colleges, departments, centers and institutes
Naming units provide a way for organizations to have a greater sense of identity, increased recognition, and easier application on promotional items and other materials.
Wichita State institutional logo
WSU's institutional logo is trademark protected. By using any of the logos, you are agreeing to follow WSU's Visual Identity Standards and the university's policy governing rules of use. The WSU horizontal logo is the preferred form.
Downloads
WSU institutional logo How to set up naming units
Troubleshooting
Helpful tips for logo files
Signature elements
Wichita State University's institutional logo is the combination of three elements. The institutional logo is the physical combination of the Wichita State logo, the Wichita State University logotype and the dotted line that serves as the connecting unit between the two. They are placed in a specific scale and relationship to each other that prevents the independent altering of elements.
The primary institutional logo is horizontal in orientation. This is the preferred configuration. There is a centered vertical configuration of the institutional logo that should be used only when limited space requires it.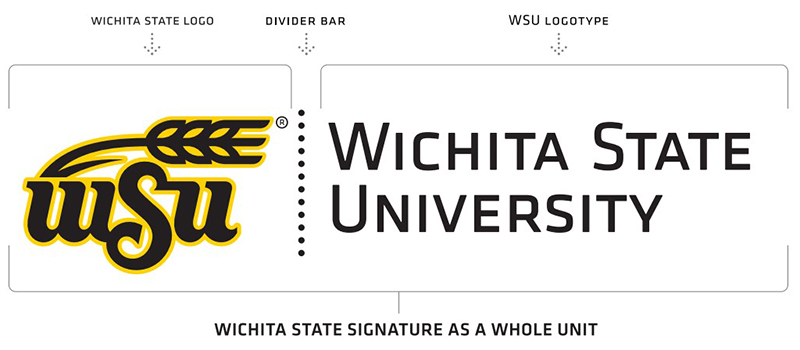 Wichita State logo
This three-letter acronym is the abbreviation adopted generations ago for Wichita State University. It is crowned by a stalk of wheat, which refers to the university's heritage as Wheatshockers and to WuShock, the university's mascot. Origins of this association date back more than a century to a time when students took on summer jobs harvesting and stacking shocks of wheat in the fields surrounding the campus. Crafted in the school's traditional colors of black with an outline of yellow, the logo embodies the bold forward motion of Wichita State.
Divider bar
This graphic device serves both to visually separate and create linkage between the logo and the logotype.
Wichita State University logotype
The name of the university is designed to project a contemporary forward-thinking appearance while at the same time maintaining a classical aesthetic. Because it is a modified variation on the font Klavika, it cannot be reproduced by simply resetting. Always use the complete institutional logo in digital form as provided by the university.
How to use our logo
For more information or questions about usage, please contact Strategic Communications at 316-978-3045.