SBIR Webinars

The Small Business Administration has several upcoming SBIR webinars that will discuss understanding intellectual property (IP), which includes patent practice and cooperation, trade secrets, trademarks, and copyrights. Webinars will also introduce SBIR programs in the Departments of Transportation and Education.
May
NXTSTAGE Competition Release
Wichita, Kan. – NXTUS, Inc. on May 6th announced the launch of the 2021 NXTSTAGE Financial Technology Pilot Competition alongside 2021 Premiere Sponsors Emprise Bank and Fidelity Bank.
This innovation program allows startups from around the world to present their innovative technologies to Kansas organizations.
The startups hope to gain market feedback and earn pilot tests and paying customers. Emprise Bank, Fidelity Bank and other pilot partners get the benefit of collaborating with innovative young companies and being an early adopter of next-generation "FinTech" solutions. These are technologies designed to help banks, credit unions and financial services businesses enhance their digital banking offerings, data analytics, digital marketing and other capabilities.
Read more about the release below.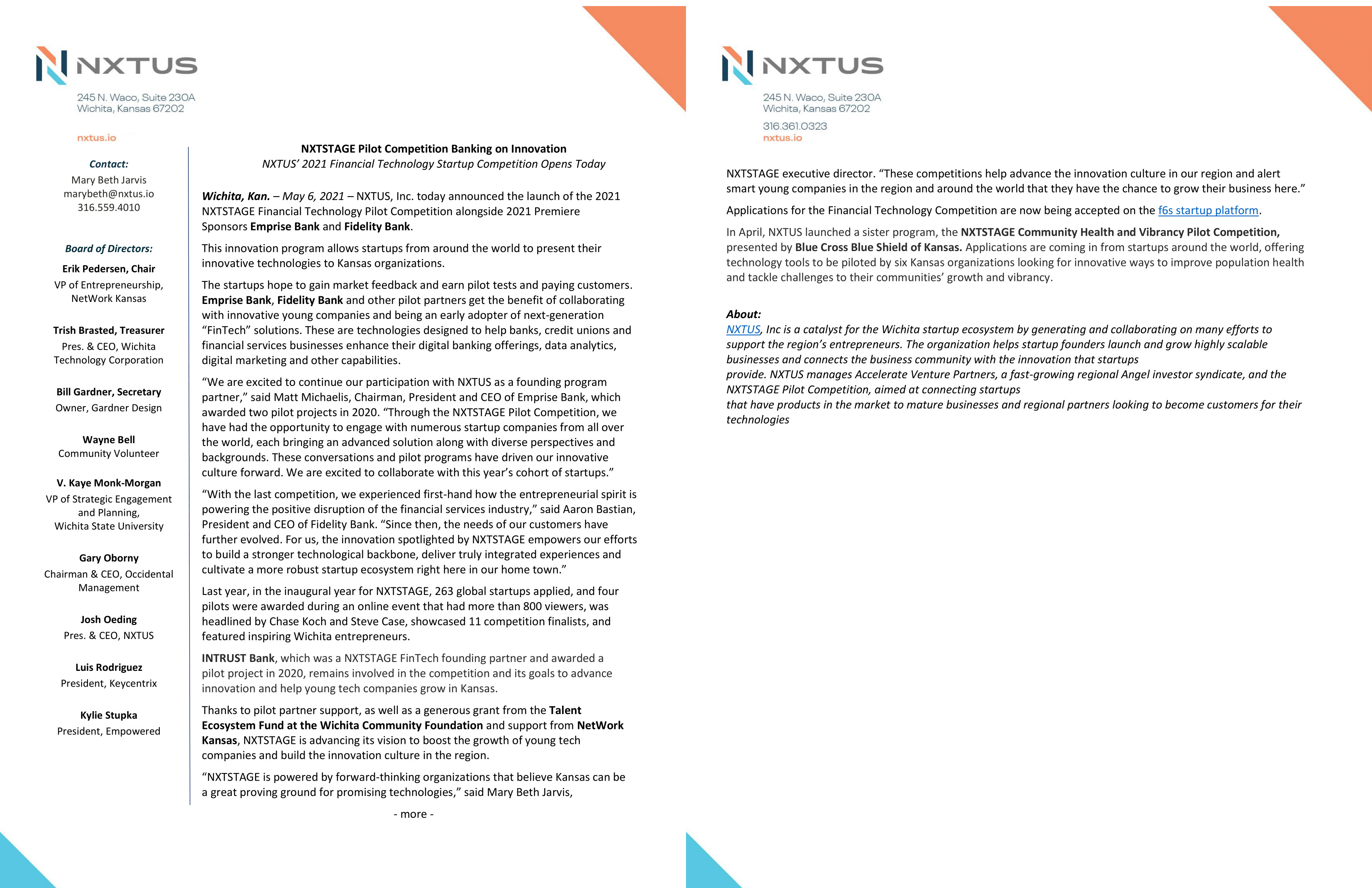 ---
DoD Funding Alert
The DoD Small Business and Technology Partnerships Office announces the pre-release of the following Broad Agency Announcement (BAA) topic:
"Robotic Combat Vehicle (RCV) Sustainment"
·
May 25, 2021: Topic Q&A opens to questions
·
June 3, 2021: BAA opens (begin accepting proposals in DSIP)
·
June 9, 2021: Topic Q&A closes to questions at 12:00 p.m. ET
·
June 23, 2021: BAA closes, full proposals must be submitted in DSIP no later than 12:00 p.m. ET
---
KSBDC at WSU May Webinars
No-Money Marketing
May 19 | 12pm-1pm
The most effective marketing solution for small businesses also happens to be completely free! Learn how to leverage content marketing tools and solutions to build relationships with leads and turn them into lifelong clients.
May 20 | 12pm-1pm
Do you want a business loan? This webinar offers insights from a former banker to help you understand what lenders require, the loan application process, and how a lender makes a decision on a loan request. Vince Haworth with the Kansas SBDC Capital Access Center will cover:
documentation needed
business plans
credit requirements
the credit decision process
different loan programs available
how to find the right lender
getting straight answers from a lender
the five C's of credit
State Tax For Construction Contractors
May 25 | 10am-12pm
Carl York with the Kansas Department of Revenue will focus on sales tax issues for construction contractors and subcontractors, including those who provide services such as plumbing, carpentry, electrical, roofing, HVAC, and landscaping. Learn about applying sales tax to materials and labor, Project Exemption Certificates, tax returns, billing, and more.
State Tax Webinar
May 25 | 1pm-4pm
Carl York with the Kansas Department of Revenue will give you the basics in this free webinar. Topics include sales and compensating use taxes, tax forms and how to file them, estimated taxes, and recordkeeping.
---
May 20 | ARMY/SPARTN Event
9am-10am
The Special Program Awards for Required Technology Needs (SPARTN) was created to incentivize small technology firms to work with the Department of Defense to propose Army modernization solutions. Join this one-hour overview to learn the goals of the program, what technologies they need and how to create a competitive proposal.
June
SHARPhub Live Virtual Training Events
ABC of SBIR/STTR Funding
June 9 | 8:30am-10am
Find out whether your research is a candidate for SBIR/STTR federal R&D funding and learn SBIR/STTR program basics, including program purpose, eligibility, and sources of funding. This presentation will provide ample information to help you determine if you should seriously pursue proposal development and tools to help begin the process
.
Identifying SBIR/STTR Funding Opportunities and Developing the Aims Page for Your Project
June 14 | 11am-12:30pm
Are you considering applying for Small Business Innovation Research (SBIR) and Small Business Technology Transfer (STTR) programs? Are you planning to reach out to SBIR/STTR program managers to gauge interest in your project? This is the right training for you.
SBIR/STTR Proposal Prep for NIH
June 21 | 8:30am-1pm
Discover the differences between SBIR and STTR, review how to navigate the NIH's SBIR website to research awarded projects, learn how to prepare an SBIR proposal, and find out how to avoid common pitfalls.
Entrepreneur Workshop Series: Licensing and Partnering Agreements
June 22 | 2pm-3pm
Join the next session in this workshop series, hosted by NIA OSBR and the National Heart, Lung, and Blood Institute Small Business Program. The workshop includes breakout rooms on startup and university license agreements, partnerships and collaboration agreements, and negotiation tips.
---
June 16 | Life-Changing Tricks in Microsoft Office
9am-10am
This session will reveal some life-changing tricks in popular Microsoft Office Applications (Excel, Word, PowerPoint, Outlook, and Teams). We will discuss new features in Office 365, how you can use Artificial Intelligence (AI) to boost performance, and also uncover some secret, hidden tools in your favorite MS Office programs