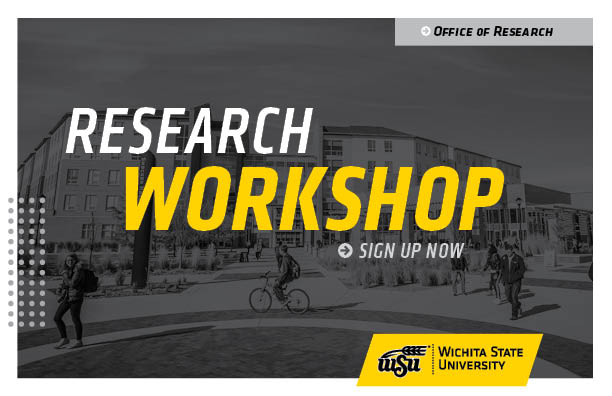 Office of Research Workshop: Using Pivot to Find Funding
Wednesday, March 22, 2023 at 1:30pm
Fran Cook, from the Wichita State Office of Research, will host a workshop demonstrating tips and tricks for using Pivot to search for funding opportunities at 1:30 p.m. Wednesday, March 22 via Zoom.
Participants should sign up for a Pivot account before the workshop to practice searching Pivot during the workshop. For more information or to receive a link to the workshop, contact proposals@wichita.edu.
Email proposals@wichita.edu to register or sign up on MyTraining.
Office of Research Workshop: Writing Proposals
Tuesday, April 4, 2023 at 2:00pm
Fran Cook, CRA, from the Wichita State Office of Research will cover the basics of proposal writing for grants as well as tips for improving grant applications.
Email proposals@wichita.edu to register or sign up on MyTraining.
Office of Research Workshop: National Science Foundation Research Experiences for Undergraduates (REU)
Ongoing - email funding@wichita.edu to register for upcoming sessions.
A common first step in establishing an NSF research center is to demonstrate success with an REU Site in the field of interest. REU Sites are also helpful in recruiting graduate students. NSF REU proposals are typically due in August or September. Vice Provost for Research, Dr. Coleen Pugh, and any interested teams, will coordinate and work on their proposals in 2023 to separate NSF Divisions.
Email funding@wichita.edu to find out more information.
---
NCURA Webinars:
Developing Compelling Budget Justifications
Budget justifications have taken on increasing significance in recent years, moving from explaining to reviewers the basis of cost calculations to persuading them that the items are critical to the success of the project. In this webinar, you will learn how to craft a budget justification that not only conforms to Uniform Guidance expectations but also effectively establishes the credibility of the proposed project. Infrastructure supports will also be explored, including sample questions, templates, and automation. Inserting a few more specific details in targeted places in the narrative and budget justification can earn the essential benefit of the doubt points that elevate your projects into the "Funded" category.
This session is designed for individuals who have at least a couple years of experience with proposal writing or have responsibility for assisting faculty with proposal development.
Speakers:
Jeremy T. Miner, MA
Director of Grants and Contracts
University of Wisconsin-Eau Claire
Irina P. Diaz, BA
Preaward Specialist
University of Wisconsin-Madison
Dennis J. Paffrath, MBA
Associate Vice President of Research Administration
University of Maryland, Baltimore
Developing Compelling Budget Justifications - August 16, 2021
Developing Compelling Budget Justifications Presentation Slides
---
Past Workshop Recordings: