About the Department of Physical Therapy
Mission: The mission of the College of Health Professions Department of Physical Therapy program is to educate entry-level PT generalists who practice in a variety of health care settings. Through academic and clinical course work, students assimilate knowledge, acquire skills, and develop professional judgment and behaviors appropriate for safe and ethical practice to engage with diverse populations in an ever-changing social and health care environment.
Goal: The goal of the Physical Therapy Program is to prepare students with the basic skills, knowledge, and attitudes to function effectively in the multifaceted role of an entry-level physical therapist.
The foundations upon which the program is built are the mission of:
The College of Health Professions
The Department of Physical Therapy
The Evaluative Criteria for Accreditation of Education Programs
A Normative Model of Physical Therapist Professional Education
The Guide to Physical Therapist Practice
Objectives: Each student is expected to make progress toward the achievement of these objectives. This achievement will be measured throughout the didactic and clinical curriculum in accordance with specific course objectives and evaluation criteria.
Satisfactory performance in the program prepares the graduate to:
Synthesize physical therapy science through integration of the biological, physical, social, and behavioral sciences.
Identify, organize, and utilize resources to effectively develop and efficiently provide health care services.
Practice as physical therapist generalists by integrating liberal arts, basic science and clinical knowledge and skills.
Demonstrate professional competence in accordance with the Guide to Physical Therapist Practice and in an ethical and equitable manner.
Recognize when treatment other than physical therapy is required and make referrals accordingly.
Collaborate with colleagues for the advancement of the profession and promotion of health and wellness.
Demonstrate a personal value system of respect for the rights of others and acknowledgement of responsibility for individual actions.
Use the scientific method to problem solve in carrying out professional responsibilities.
Communicate efficiently and effectively with patients, families, colleagues in the health care system, referral agencies, regulatory agencies, policy makers and the general public.
Utilize PT personnel resources in ways that reflect understanding of their legal/ ethical roles in providing the best possible services in patient care and health promotion.
Apply effective teaching/learning theories and methods in health care, academic, and community environments.
Continue personal and professional growth based on self-evaluation recognizing self needs, strengths and limitations.
Apply management principles and skills in the multifaceted roles of the physical therapist.
Accreditation: The Commission on Accreditation in Physical Therapy Education (CAPTE) granted the WSU PT program another ten years accreditation through 2021. WSU's PT program has maintained accreditation status since its establishment.
CAPTE Program Outcome(s) Data
Student Assessment Performance Indicators 2014-2016
For the three recent academic years (2015, 2016, and 2017) the performance of graduates of the Wichita State University Doctor of Physical Therapy program, as provided on the 2017 Annual Accreditation report to the American Physical Therapy Association, was as follows: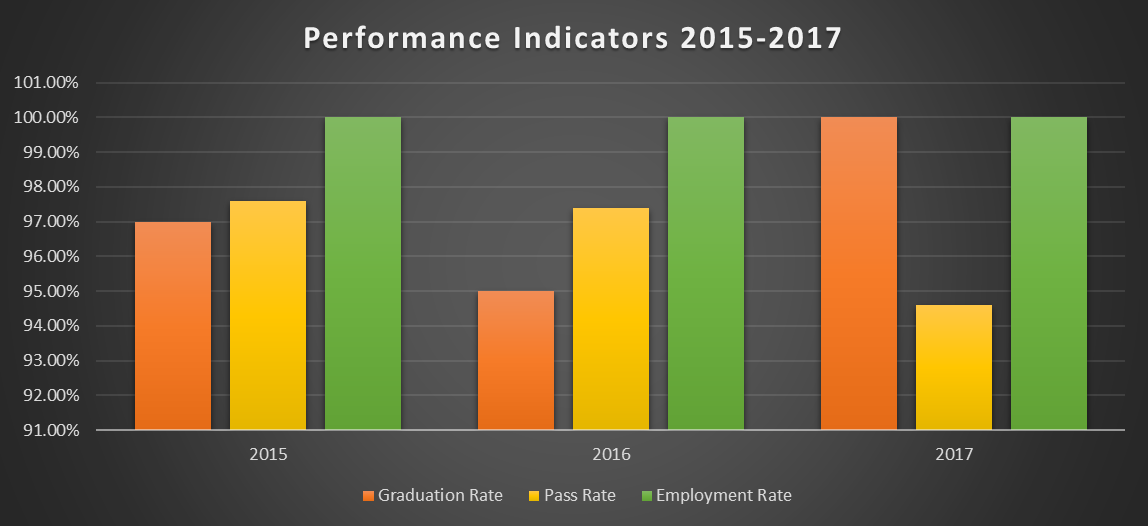 | | | | |
| --- | --- | --- | --- |
| Year | Graduation Rate | Pass Rate | Employment Rate |
| 2017 | 100% | 94.60% | 100% |
| 2016 | 95% | 97.40% | 100% |
| 2015 | 97% | 97.60% | 100% |
Pass Rate: Ultimate licensure exam the years listed.
Employment Rate: Percent of graduates employed as PTs within six months of passing licensure exam for the years listed.
To Contact CAPTE: http://www.capteonline.org
The Wichita State University Doctor of Physical Therapy Program is accredited by the Commission on Accreditation in Physical Therapy Education (CAPTE), 1111 North Fairfax Street, Alexandria, Virginia, 22314; telephone: 703-706-3245; email: accreditation@apta.org; website: http://www.capteonline.org.
Licensure: Licensure requirements are a function of state governments through a physical therapy board. To identify requirements, individual graduates must contact the state physical therapy board of the jurisdiction(s) where they plan to practice. Graduation from an accredited program is only one requirement; satisfactory completion of the physical therapy program does not guarantee licensure for graduates. A list of boards, contact information, and licensure examination information is readily accessible at the Federation of Physical Therapy Boards web site at http://www.fsbpt.org