Events
Women of Wichita State University members can be as active as they wish or as their schedule permits. A most important part of being a member is no matter how active you are, you are assured that your support allows WSU students to attain the college education they so desperately want. Often times, this is only possible because of the financial help received from the association.
Due to the ongoing nature of the COVID-19 pandemic, our social events for the year will depend on any surges in the area. Several interest groups will be meeting and there are activities and events in planning so check back often, join us on Facebook, and watch your WSU email!
Not yet a member? Join now!
---
Upcoming Events
Stay in the loop on quick meet-ups by connecting with us on Facebook!
BINGO and Lunch Fundraiser!
April 4, 2023 | Ratigan Student Center room 265 | 11:30am - 1:00pm
Join the Women of Wichita state University for a BINGO and Lunch fundraiser event! Every year, WWSU provides scholarships to female-identifying WSU students to help support academic goals.
We will play BINGO for prizes, eat lunch, bid on silent auction items, and have fun! Everyone is welcome. You do not have to be a member of WWSU or WSU to join the fun and support our scholarship!
BINGO is $15. You can purchase a lunch from WSU catering for $12 or feel free to bring your own.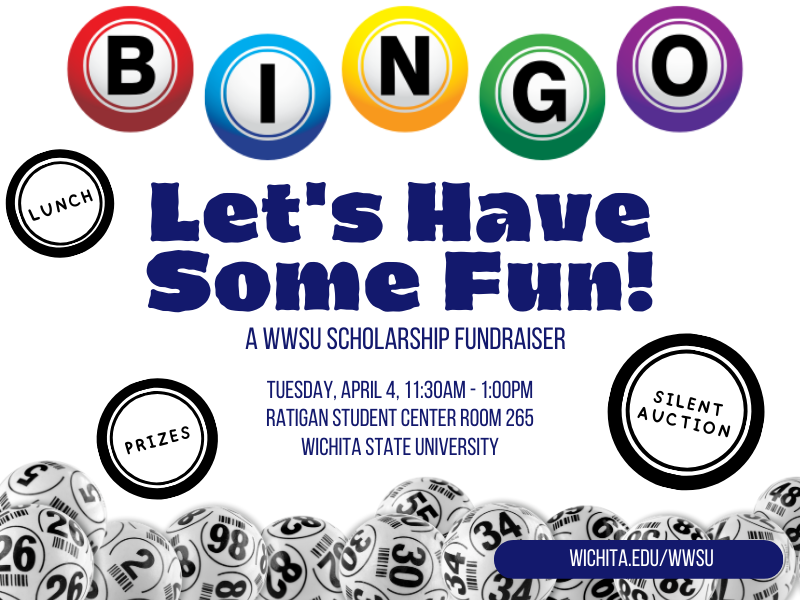 More events coming soon!!!
---
Past Event Resources
January 12, 2022
Rebecca McMahon presented information that will help you decode some of the local food lingo that is floating around, know what is in season at different times of the year, and how to find the produce you want in our local area. Here are some links to resources that were shared during the event!