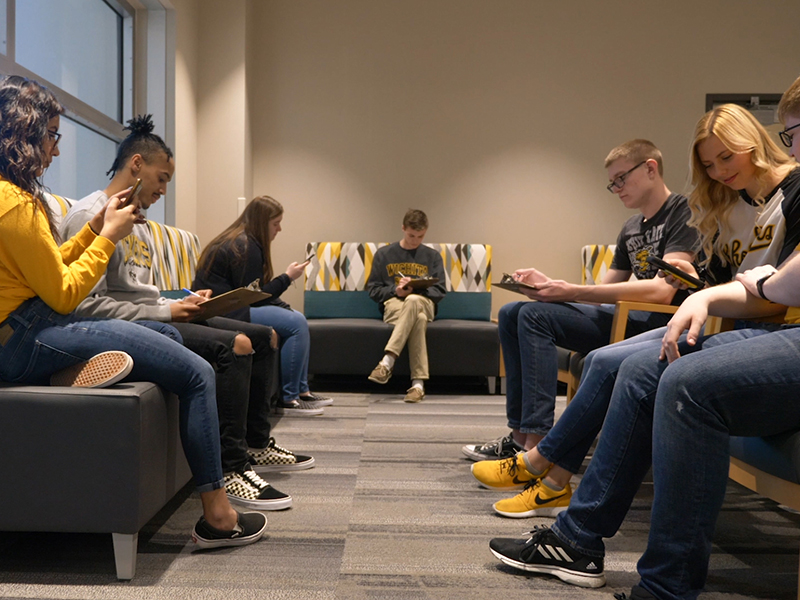 Campus Resources
Campus Recreation On-campus recreation is a great way to get moving, meet people, and unwind after class. Campus rec offers several competitive sport options, including intramural athletics and club sports.
Care Team The Care Team (formerly University Behavioral Intervention Team, or UBIT) applies a multidisciplinary approach to preventing individuals from harming themselves or others and assists those in need. Follow this link to find out more or to notify us of a concern.
Counseling and Prevention Services - In addition to affordable counseling services, this office assists students in earning credit from the following areas: Advanced Placement, International Baccalaureate, SAT, ACT, CLEP and more. Also check out their site for suicide prevention information.

Disability Services - Disability Services provides individuals with learning, mental or physical disabilities an equal opportunity to attain their academic and personal goals to the fullest of their abilities.
Office of Student Success - This office helps students maximize their academic potential and reach their personal goals through a range of programs and services, regardless of personal background. Our goal is to help students develop skills and plans to graduate in a timely manner while engaging with our community of learners. Some of the resources found on this page are Military and Veteran Student Center, Child Care options, Office of Diversity and Inclusion, MyCollegeMoneyPlan.org, Career Development Center.
Office of Institutional Equity and Compliance Title IX forbids sexual harassment and sex discrimination and holds all members of the university community responsible for promoting a positive working and learning environment. At WSU, all persons are free to discuss any problems or questions they may have concerning sexual harassment at the university without fear of intimidation or retaliation.
Shocker Family Programs - Starting a college career can be overwhelming, but it doesn't have to be. Use this site as a tool to stay informed about campus news and events, deadlines, and resources to encourage your student's academic success and well-being.
Shocker Support Locker There is a variety of non-perishable food items such as canned fruits, vegetables, proteins, snacks, soups, meals and mixes, and grains and starches such as rice, noodles, and pasta. To find out if you are eligible check out their web page.
Community Resources
Off campus resources that can be used by any person regardless of enrollment status. These resources are not affiliated with Wichita State University but may be beneficial.
Income-based sliding fee scale medical centers/clinics:
Sedgwick County Health Department - SCHD offers many services including but not limited to Immunizations, Health Screenings, Tuberculosis testing, family planning, HIV and sexually transmitted disease testing and care, Women's health services: breast and cervical cancer detection. Call to schedule and appointment.
HealthCore Clinic - HealthCore clinic provides quality family healthcare through improved access and heightened and unrelenting focus on education and prevention.
Medical Service Bureau - Medical Service Bureau, Inc. works to help people with limited resources needing prescription medication and vision care.
GraceMed Good Samaritan Clinic - Income-based medical, dental, behavioral, and vision care.
Hunter Health - Income-based medical, dental, behavioral, and vision care, as well as a 340b pharmacy
Mayflower Clinic - Income-based sliding fee scale services available; Primary care, Chronic Illness care, Diabetes care, Lab, X Ray
Cairn Health - Cairn Health has programs that can assist the uninsured and underinsured with prescription vouchers, vision programs, pharmaceutical drug programs, and community navigation of all available resources that aid those with healthcare needs.
Free Safety-Net Clinic
Guadalupe Clinic - Primary care clinic. Specialty services include Allergy, Cardiology, Dermatology, Endocrinology, Gastroenterology, and a vision clinic. Free of charge services for those equal to, or less than 200% of the Federal Poverty Level. $5.00 donation appreciated.
Documentation requirements- Photo ID, Proof of Income. No residency requirements.
Diagnosis-specific Assistance
Leukemia and Lymphoma Society - Offers support groups, including peer-to-peer, caregiver and financial support/assistance (must apply for financial support) to those with various blood cancers.
Victory in the Valley - Offers limited prescription and grocery assistance with an oncology referral.
CPRF - CPRF has funding for equipment assistance, for those with a physical or neurological disorder.
Food and Basic Need Assistance
A Hand Up Ministries - Offers clothes, shoes, hygiene products, and non-perishable food to those with need. No eligibility requirements. Must schedule through Facebook Messenger.
Antioch Food Bank - Food bank for those with need. Sunday pick-up from 11:30am and 12:30pm every Sunday. Those needing assistance should find the Connections Center Info Desk to be assisted. Church attendance at 10:00 am is welcome, but not a requirement to receive food assistance.
Bread of Life - Food pantries available on Tuesdays from 10 am- 1:45 pm, and every 3rd Saturday at 11:30 am. No eligibility requirements, but must have proof of address, photo ID, Social Security card, and proof of income, if any. 316-689-6866
College Hill UMC Food Pantry -Food pantry is available on the 1st Tuesday of the month from 9 am- 12 pm, and the 3rd Saturday of the month, from 9-11 am. Breakfast is also served on-site on the 3rd Saturday of the month. No eligibility requirements, other than a photo ID.
United Methodist Open Door -Food box program that provides once-a-month food assistance to individuals and families in need, who have income of 130% or less of the federal poverty level. Hours are 9 -11:45 am and 1 - 3:45 pm Mon-Fri. Documentation requirements- Proof of income, identity (photo ID) and residency (utility bill, other mail with your name and address on it). Clothes Closet is available to all those in need of clothing. It is open Monday, Wednesday, and Friday from 9:00 am – 1:45 pm. The first 80 people in line will be allowed to shop on any given day.
Kansas Birth Justice Society - Self-serve, no questions asked, community fridge and pantry. Schedule appointment online. No eligibility requirements
Dear Neighbor Ministries - Food and hygiene pantry available to those in need. Pantry hours are from 9 am- 1 pm Mon-Thurs. and households may receive food once every 30 days. The lobby is closed so call once you have arrived and they will bring food out to you.
HealthCore Clinic - The Kansas Food Bank will be at Healthcore clinic on the last Saturday of the month doing a fresh produce giveaway starting at 9 am. The produce is free and anyone in need of food is invited (while supplies last). No eligibility requirements.
Giving Center - Food pantry, household items, and clothing closet. Hours of operation are from 8-11 am on Tuesday and Wednesday, and 5-7 pm on Thursday. Documentation requirements- Photo ID with current address and a piece of mail within the last 60 days with address matching ID.
Grace Revolution Church Neighborhood Love Pantry - One week of food available to all that are hungry. Hours of availability: 5:30-6:30 pm on the 2nd and 4th Mondays of the month. Complete information card on first visit
Heart of Christ UMC Food - Free organic food from Whole Foods every Thursday from 2:30-4:30 pm. Walk-in during hours for service. No eligibility requirements.
Hillside Christian Church - Free walk-in food pantry available on Thursdays, from 9-10:30 am. Eligibility- One visit allowed per month. Documentation required: Photo ID with first visit.
His Helping Hands Food Pantry - Later hours food pantry on the 1st and 3rd Tuesday of the month from 3-5 pm. No eligibility requirements.
ICT Community Fridge - Community-sustained fridge open to all. Multiple locations listed below: Dead Center Village: 1 - 6 pm Tues - Thurs & Sun; 12 - 7 pm Fri, Sat. Restoration Knox Center: 24/7 Outdoor Fridge Access. CHD Boxing Club: 5 - 8 pm Mon, Wed, Thur; 12:30 - 2 pm Sat. Leslie Coffee Co: 6:30 am - 4:30 pm Mon - Sun. East High School: 24/7 Outdoor Fridge Access. South High Fridge: 24/7 Outdoor Access. No eligibility requirements
Shelter Resources - This takes you to a resource page where you can download community resources document with numerous options.
United Way 2-1-1 of Kansas - Compiled lists of resources for Sedgwick County including Counseling and Mental Health, Shelters, Food/Meals, Clothing , Medical, Housing and more. English and Spanish guides available.
Kansas Food Bank - The Kansas Food Bank supplies free and low-cost food to pantries, soup kitchens and churches who give out food to the hungry. If you are looking for a source ...
Kansas Food Source - This website addresses food insecurity by county! It allows you to pull up the county you are interested in and find a pantry near you, or someone who may need assistance, through the Sunflower State.
The new website allows you to pull up the county you are interested in and find a pantry near the families in need throughout the Sunflower State!
Mental Health Resources:
Mental Health Resources - This takes you to another page that has a listing of self help options as well as additional community resources for mental health.
9-8-8 Suicide & Crisis Lifeline - There is hope. Providing 24/7, free and confidential support to people in suicidal crisis or emotional distress works. The Lifeline helps thousands of people overcome crisis situations every day.