Wiedemann Natatorium
The Wiedemann Natatorium is a hidden jewel on the Wichita State University campus. This consistently clean and controlled water/air temperature facility is available to you for lap swimming, diving, open recreation, and more!
Pick from one of the eight, 25 meter lanes to put in your laps under the watchful eye of a trained American Red Cross lifeguard. Splash away with your friends while playing water basketball or going off a diving board. Jog in the diving well for an awesome, zero-impact on your joints workout.
Chair assist available for anyone who needs assistance.
Aqautics Program Swim Lessons Lifeguard Certification
---
This natatorium is named in grateful recognition of Gladys H.G. Wiedemann, President of the K.T. Wiedemann Foundation, whose generous financial support provided the University with its first facility for aquatic education and recreation. It was dedicated May 12, 1983.
---
Location
The Wiedemann Natatorium is located in the Heskett Center from the first floor locker room facilities. A chair assist is located in the lap pool for individuals who may need assistance. Check in with our guest services attendants or lifeguards for additional assistance.
---
Approved Swimwear
Here are just a few reasons why it is important to wear approved pool attire:
Street clothes (especially those made of cotton) can transport air and waterborne contaminants to the pool.
Absorbent materials such as cotton can break down in the water. These fibers can clog pool filters and create the need for expensive repairs. Lycra and Nylon are the best non-absorbent materials for swimwear.
Any colored or dyed materials (unless specifically made for swimming) can bleed into the pool, affecting the water chemistry.
Swimwear requirements
All individuals, both on the pool deck and in the swimming pool,

must

wear proper swim attire.
Infants and toddlers are required to wear a swim diaper.
Individuals can wear clean cotton t-shirts and sarongs on the pool deck only. They must also wear proper swim attire underneath these clothing items.
Underwear and other undergarments are not allowed to be worn under swimsuits.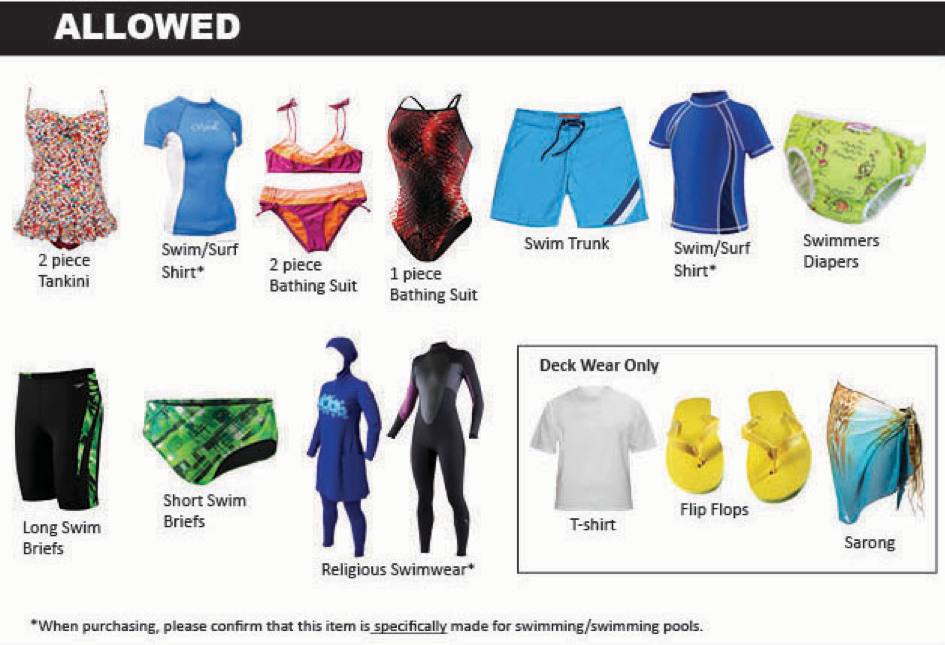 ---
Prohibited Attire
Brazil/French-cut, thong-style, and/or translucent swimwear.
Street clothes
Jeans (including cut-off jeans)
Skirts
Shorts
Sports bras
Leotards
Leggings
Dri-fit wear
Compression shorts and shirts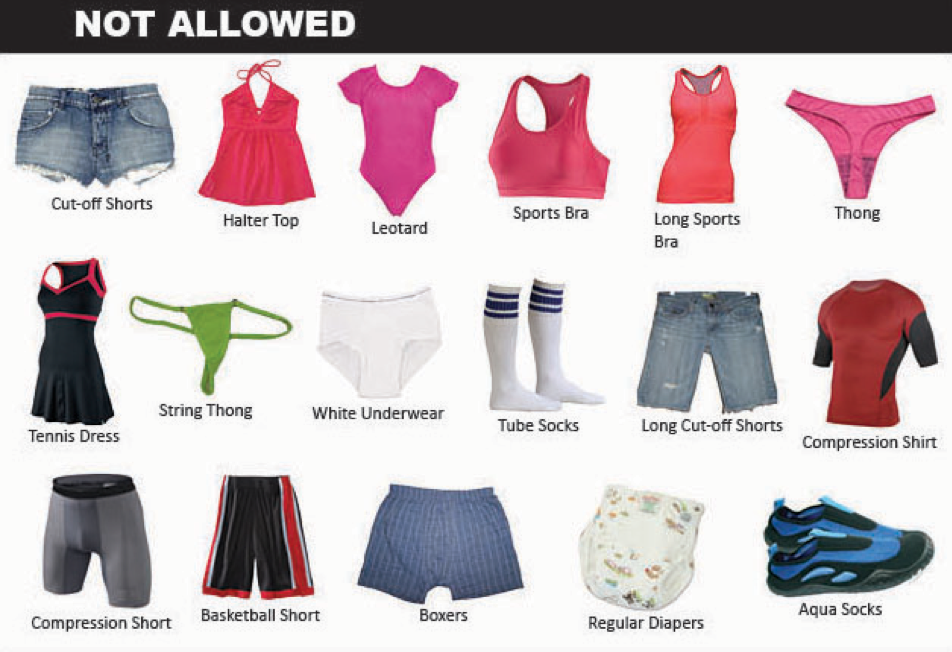 ---
Policy & Procedures
Swimmers will only be permitted to enter the natatorium (or use the patio) when there is a lifeguard on duty.
The Emergency Alert System is three short whistle blasts. All patrons must exit
the pool immediately.
For your health and hygiene, only swim suits may be worn in the pool. No t-shirts, running shorts or cutoffs allowed. To cover the body for medical or religious reasons, please wear shirts or shorts constructed of swim suit material.
A complete head-to-toe shower is required before entering the pool.
Horseplay and exhibitions that could jeopardize personal safety are prohibited.
Purposeful hyperventilation is prohibited. (Under water for longer than 30 seconds or 25 meters)
No running on deck.
Persons with open sores or contagious infections, such as poison ivy, athletes foot, impetigo and ringworm, are not permitted in the pool (please see a lifeguard if you have questions). Band-aids are not allowed in the pool. If the wound is open enough to require a band-aid, please do not swim.
Children 7 years and under must be accompanied by a parent. Children 8 years and older (at least 48" tall) may enter the pool without parents if they can pass a swim test administered by a lifeguard. Parents must stay in the building.
Parents must be in the water and within arm's reach of children who cannot swim. Infants and toddlers who are not potty trained must wear a swim suit over a swim diaper. Disposable diapers or heavy cloth diapers are not allowed.
Please check with the lifeguard if bringing in flotation devices for your child(ren).
Only individuals who can pass a swim test are allowed to use the diving well.
Diving is permitted only in the diving well. Back dives and somersaults from the edge of the diving well wall are not permitted.
Training equipment is not permitted in the diving well except for water exercise
led by an instructor.
No spitting, spouting or nose blowing in the pool.
Anyone using the sun deck must take a shower before entering the water.
We are not responsible for any lost jewelry in the pool.
Only lessons registered through the Campus Activities and Recreation program are permitted
in the Natatorium.
Starting blocks are for the sole use of approved groups with a certified coach on deck.
Diving Well Guidelines
Only members who swim sufficiently may use the diving well. If a lifeguard determines an individual is unable to swim sufficiently the lifeguard has the right and responsibility to move the member to the recreational swim area. This information will be stated in all rental agreements and may be verbalized at the start of each rental.
One person on the board at a time (next person must wait on the floor).
Only one bounce on the board is allowed.
Go straight off the end of the board.
Running on the board is not allowed.
Immediately swim directly under the rope or the nearest side of the pool.
Cartwheels, sitting on the edge and handstands are prohibited.
Diving for distance is not allowed.
Goggles are not allowed when diving from the board (possible eye injury).
When classes are in session, or during scheduled events, some areas will not be available at specific times during the day. Please refer to the signs posted by those areas or check our facebook and twitter for adjusted hours.