E-Verify is an internet-based system that compares information from an employee's Form I-9, Employment Eligibility Verification, to data from U.S. Department of Homeland Security and Social Security Administration records to confirm employment eligibility.
---
A presidential Executive order and subsequent Federal Acquisition Regulation (FAR) rule required federal contractors to use E-Verify to electronically verify the employment eligibility of employees working under covered federal contracts. The order and the rule reinforce Federal government policy that the Federal government does business only with organizations that have a legal workforce. WSU is a federal contractor and any employees working on a mandated federal contract will be verified through the e-Verify system. A single verification will be sufficient for all federal WSU contracts as long as the employee continues to work for WSU without a break in service. If the employee terminates from the university and is rehired on a federal contract, a new e-Verify verification will be required.
The F-1 student working on a federal contract and applying for their 17-month STEM extension needs to provide the E-Verify company identification number on her/his Application for Employment Authorization (Form I-765) in order to be granted the 17-month STEM extension.
Company Name: Wichita State University
Company ID Number 296670
---
Who to contact:
Operations & System Team
HR.ServiceCenter@wichita.edu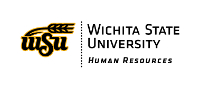 Reviewed: 03/30/2015 DC
Revised: 03/27/2018 DC