2019
SAE International and NCAMP Announce Agreement to Develop Global Aerospace Material and Process Standards
April 2, 2019
---
SAE International
and the National Center for Advanced Materials Performance (NCAMP) of Wichita State University (WSU) have signed an agreement to collaborate on the development of globally harmonized aerospace material and process specifications for advanced materials in the aerospace and air transport industries.
"SAE International is pleased to partner with NCAMP on the development of aerospace material and process specifications for advanced materials for new design as well as repair," David Alexander, Director of Aerospace Standards for SAE International, said. "By utilizing industry consensus SAE Aerospace Material Specifications (AMS) with associated PRI Qualified Products Lists, the aerospace industry benefits from the availability of pedigreed materials which meet the requirements of aviation regulations pertaining to material qualification and control."
The agreement encompasses material and process specifications for composites, which are developed by the SAE AMS P-17, Polymer Matrix Composites Committee and non-metal additive manufacturing, which are developed by the SAE AMS-AM Nonmetals Committee.
"NCAMP's continued partnership with SAE will benefit industry users by providing multiple options for specifications, all linked to a public NCAMP material property qualification database", said John Tomblin, NCAMP director and WSU vice president for research and technology transfer. "By continuing to implement the model set in place with composites in 2010, NCAMP databases will benefit industry worldwide as both the Federal Aviation Administration (FAA) and the European Aviation Safety Agency (EASA) accept the values developed through the NCAMP process."
FAA Policy Memo AIR100-2010-120-003, Acceptance of Composite Specifications and Design Values Developed, which recognizes the NCAMP Process, identified NCAMP's intention to work closely with SAE International to convert NCAMP specifications to SAE AMS specifications. One outcome of the MOU will enable the aerospace industry to utilize either NCAMP Material Specifications or SAE Aerospace Material Specifications, depending upon which specification meet their needs.
SAE International's Aerospace Standards repository includes nearly 8,500 documents. Its 350 committees are comprised of 10,000 experts from 56 countries. They represent industry (airframers, suppliers, operators, MROs), regulatory authorities, military agencies, researchers, and consultants. Document development serves the full spectrum of aerospace businesses in both the commercial and military sectors thereby meeting the engineering, advanced technology, safety, regulatory, and defense needs of a world market.
SAE International is a global association committed to advancing mobility knowledge and solutions for the benefit of humanity. By engaging nearly 200,000 engineers, technical experts and volunteers, we connect and educate mobility professionals to enable safe, clean, and accessible mobility solutions. We act on two priorities: encouraging a lifetime of learning for mobility engineering professionals and setting the standards for industry engineering. We strive for a better world through the work of our philanthropic SAE Foundation, including programs like A World in Motion® and the Collegiate Design Series™.
NCAMP works with the FAA, as well as other government and industry partners to qualify advanced material systems and populate a shared materials database that can be viewed publicly. NCAMP provides the nation's commercial and military aviation industry with a center for the validation and quality assurance of composites and advanced materials through data-sharing among multiple users, statistical continuity and reduced testing. NCAMP works closely with the Composite Materials Handbook-17 (CMH-17) to approve advanced material specification and design values. NCAMP is part of the National Institute for Aviation Research at Wichita State University and stemmed from NASA's Advanced General Aviation Transport Experiment (AGATE).
www.niar.wichita.edu/ncamp
$2 million grant will fund advanced composites technology at WSU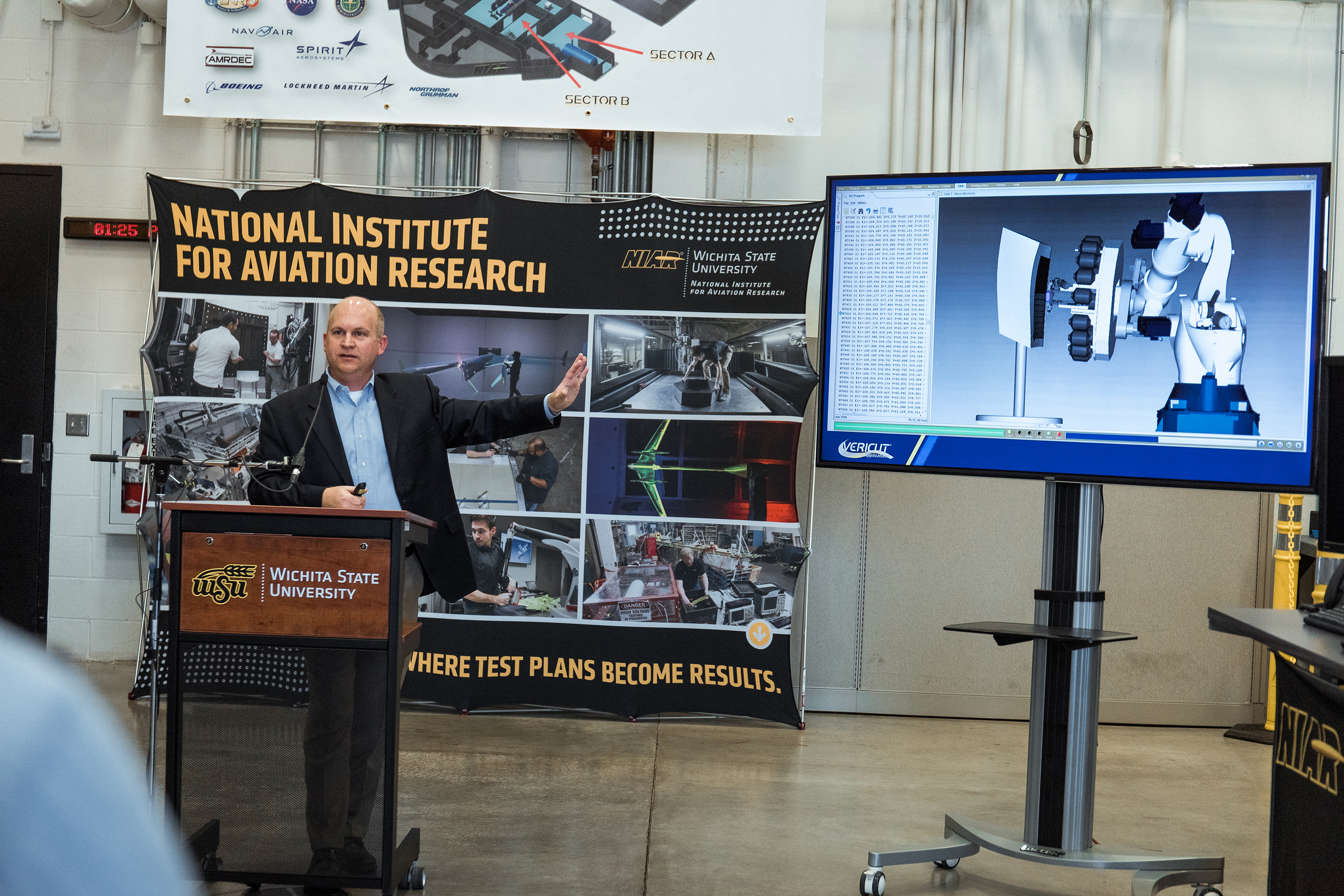 John Tomblin discusses the $2 million grant awarded to Wichita State to fund advanced composites technology.
---
Wichita State University has received a $2 million grant contract from the U.S. Economic Development Association to develop and demonstrate advanced composite material manufacturing technology.
The grant, secured by WSU Strategic Initiatives, will provide funding for essential equipment needed for the Advanced Technology Laboratory for Aerospace Systems (ATLAS) within WSU's National Institute for Aviation Research. ATLAS investigates the development of manufacturing protocols for automated fiber placement (AFP) and automated tape laying (ATL) for aircraft systems.
The grant will provide funding for the purchase of a tape slitter; vacuum table; autoclave with wireless sensors, rheometer, nitrogen generator and a heated platen press, which will be used in the development of manufacturing protocols for automated fiber placement processes for thermoplastic aircraft primary structures.
Currently, labor-intensive nondestructive inspection for quality assurance interrupts automated fiber placement processes. The proposed project will develop and demonstrate incorporation of real-time inspections with automated fiber placement processes and machine learning algorithms.
Investments in emerging advanced manufacturing technologies are critical to maintain economic growth in our region.
John Tomblin,
WSU vice president for research and technology transfer
The in-process inspection system developed by ATLAS researchers will learn to automatically identify manufacturing defects that are common during AFP/ATL, such as gaps, overlaps, twisted tows, missing tows, puckers, and foreign object defects and feed digital information into machine learning algorithms to take corrective actions on subsequent manufacturing runs to improve part quality. This also fits well into the Digital Factory of the Future concept and will aid in increasing production rates of commercial and defense aircraft.
"In the current environment, there are increasing pressures facing the aerospace and defense industries to innovate with flat budgets, record-setting production rates, increasingly complex programs and an evolving workforce," said WSU vice president for research and technology transfer John Tomblin. "Investments in emerging advanced manufacturing technologies are critical to maintain economic growth in our region. We want to thank the EDA for acknowledging the importance of the advanced manufacturing sector in South Central Kansas with this investment."
NIAR senior research scientist Waruna Seneviratne will lead the lab.
"ATLAS provides a neutral ground for manufacturers to research advanced manufacturing concepts with various machine, software and processing options," said Seneviratne. "It will also educate and train student Factory of the Future engineers on advanced manufacturing concepts."
ATLAS will be located at NIAR headquarters building on the campus of Wichita State. The first floor will house manufacturing development facilities with computer-aided simulations and analysis on the third floor.
ATLAS already has several strategic partnerships with government agencies, aircraft manufacturers, equipment suppliers, material suppliers and other universities. In addition to support from the EDA, ATLAS has received significant funding from the Office of Naval Research and State of Kansas for acquiring advanced AFP equipment, inspection systems and test systems.
2018
2017